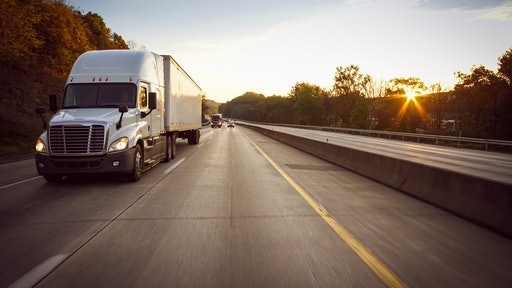 5m3photos___Adobe_Stock___On_the_Road
No industry is without its pain points, and food and beverage shipping isn't always a piece of cake. With the industry experiencing a significant driver shortage, carriers are struggling to keep drivers on the road. That is putting the squeeze on food and beverage shippers to cover their loads.
Increased diversity in the type of freight available today means drivers have their pick of what they want to haul. They're shying away from high-maintenance freight like reefer shipping and opting for more efficient freight with less risk like non-food truckload.
Understanding drivers' biggest apprehensions about food freight can help spur optimizations that keep drivers behind the wheel and food on shelves. Here are a few common concerns that carriers have about accepting food freight.
· Delays deter drivers. With a labor shortage across all aspects of the supply chain, more than ever drivers experience substantial delays for pickups and deliveries. If there aren't enough people available to load or unload trucks, drivers must wait for the next available person to help them. Depending on the product and which retailer receives it, it's not uncommon for drivers to sit from two to eight hours for live unloads.
Drivers often don't get paid for the time they sit, which impacts their ability to move loads and make money. And if a warehouse or shipping facility isn't designed to accommodate long waits, drivers may not have access to key amenities such as restrooms, break areas or parking. This makes owner-operators hesitant to accept food freight because it impacts productivity and profitability. For carriers, assigning too many of these types of loads leads to an unhappy driver base. Time is money, and detention wastes time and money.
· Frustrating facilities. Not all shipping facilities are created equal. Depending on age and location, they may not be equipped to handle the flow and volume of today's transportation needs. At a smaller facility, if a truck pulls up to a dock and there's a delay, it ripples out to other drivers trying to load or unload. If there aren't enough spaces to accommodate all trucks coming in, drivers are left to figure out where to wait. Docking trucks at a particular facility can also deter drivers. When required to back in with poor visibility or navigate within tight parameters, the likelihood of damage to the truck increases. Those aren't ideal conditions to contend with regularly.
Drivers want smooth operations from start to finish, so conditions that inhibit safety and efficiency are unattractive.
· Specialized equipment and maintenance. Food and beverage freight may require specialty equipment to ensure a secure load, and some require a reefer trailer. This means investments in the right equipment and ongoing maintenance. It's a demanding task to keep a standard trailer in peak operating condition, but the additional components of a reefer trailer – the cooling unit, telematics system and air chute, to name a few – increase the likelihood of maintenance stops or, worse, breakdowns.
Again, when a driver sits, they're not logging miles or making money. If a carrier doesn't pay drivers during maintenance, that's another drawback.
· Claims are costly and too common. There's a low margin of error for food and beverage freight acceptance. Food products have a limited shelf life. Not only does freight need to arrive on time and in full, but it can't be damaged or spoiled. Without the right safeguards to secure food freight and maintain proper temperatures, there's more likelihood claims will be filed.
Damages add up quickly, making food and beverage freight a risk that drivers aren't quick to take.
Food manufacturers and shippers want to get food on shelves. What's the secret to retaining drivers? Make freight as driver friendly as possible.
Driver-friendly freight is the secret ingredient
Drop-and-hook freight is the ultimate driver-friendly option. This type of freight increases its attractiveness and the desire for carriers to move it. Admittedly, it requires some planning for both carriers and shippers, but it has big payoffs -- it retains drivers and keeps capacity plentiful.
It's essential that shippers have the space to support on-site trailer/container pools. If your available space is minimal, you likely want as much of it as possible for the production process. One way to get around the lack of on-site space is to rent space (e.g., a parking lot) at sites that can facilitate drop and hook freight. A spotter can help move equipment, prepare trailers and make for easy pickups and drop-offs.
As a carrier, you'll need to invest in additional trailers. Instead of one trailer to one power unit, you need two trailers per power unit to accommodate the "drop" nature of drop and hook freight. But, if it requires significant time to unload cargo, this opportunity to simply drop and go keeps business and drivers moving efficiently.
When choices for drivers are plentiful, put your freight's best foot forward. Drop-and-hook freight not only facilitates quicker delivery, but it also makes freight more attractive. The shift to drop and hook may not be as simple as the flip of a switch, but it makes a big difference in how your freight is viewed and selected. If drop and hook freight isn't possible for you, assess how you can make adjustments in shipping practices to accommodate drivers. That way, you'll know you've done everything to ensure your freight isn't passed over for more appealing loads.