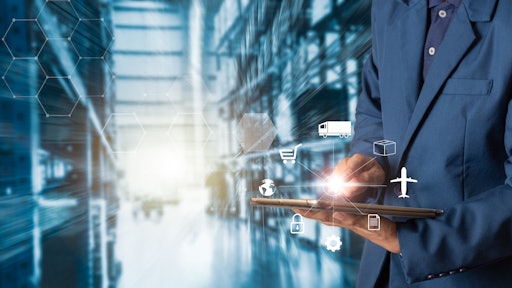 Getty Images
When the Coronavirus disease (COVID-19) hit, many facets of the supply chain experienced disruption. Restaurants closed, some permanently. Excess food went to waste. E-commerce boomed, further fueling the "Amazon Effect." And, the ever-present driver shortage gap transformed into an overall industry-wide labor shortage issue.
However, despite all of the hiccups and disruptions, trucks kept on truckin'.
In Food Logistics' August 2021 issue, editor-in-chief Marina Mayer talks with several industry experts about how the global 3PL market continues to play a pivotal role in how and why Americans receive essential goods in a safe and timely manner.
Here's an interview with Jim Wilkinson, perishables operations and business development manager of Yusen Logistics (Americas) Inc., with excerpts publishing in Food Logistics' August 2021 issue. [CLICK HERE to read the article in full].
Food Logistics: The 3PL market is set to grow to become an over $1.8 trillion sector by 2026, according to Global Market Insights, Inc. From your vantage point, what are some contributing factors to this growth?
Jim Wilkinson: At Yusen, we continue to see an increase in ocean and air freight transportation and warehousing requirements from our customers, especially retail and e-commerce customers. Working with 3PL lets companies respond quicker to shifting demand, especially in an e-commerce environment. Specifically, for food and beverage customers, 3PLs help meet changing regulatory safety requirements, mitigate operational barriers and provide access to the emergence of alternative technologies. These are costly investments, while 3PLs have already established these capabilities. Outsourcing allows customers to focus on sales and growth vs. build-out.
Food Logistics: The transportation and supply chain industry continues to face supply chain disruption after supply chain disruption. How is your company working to overcome these challenges? (think technology, re-training drivers, etc.)
Wilkinson: To overcome supply chain disruptions, flexibility, visibility and data have been key to navigating the business landscape. We offer multiple modes of transportation and technology especially as it relates to mining data for better forecasting. We offer customers IT capabilities for track and trace, inventory management and order management solutions. Our predictive ETA tools provide real-time, intelligent prediction of cargo flow and arrival time so our customers can plan and better respond when a disruption occurs.
Additionally, our teams communicate regularly with carrier partners to secure additional cargo space capacities and proactively plan shipments with customers. We help our customers to quickly secure equipment and space, allowing them to plan alternate routes and have different options when there's an unexpected crisis.
Internally, we continue to future proof our business continuity plans such as system backups, updated SOPs, training and adopting flexible work arrangements to ensure business as usual.
Food Logistics: What is your company doing to meet last-mile demands in the cold food chain?
Wilkinson: To maximize the efficiency of last-mile demands in the cold food chain, we partner with key domestic air and ground carriers to facilitate more shipment velocity. We provide tracking via GPS and monitoring temperature throughout the supply chain. Additionally, through mergers and acquisitions, we are expanding our cold chain service offerings in key markets in Japan and SAO.
Food Logistics: The driver shortage continues to plague the industry. What is your company doing to hire/retain drivers and/or attract new talent?
Wilkinson: As a transportation broker, we do not directly hire truck drivers. Still, we actively engage with our trucking partners and industry organizations to support initiatives to facilitate interest in trucking careers.
Food Logistics: To piggyback on this, what changes need to be made (whether it be government, technology, regulations, etc.) to turn this shortage around?
Wilkinson: Some fundamental changes [that] should be made to address driver shortages are autonomous trucking/self-driving trucks (won't be overnight) and implementing truck-only corridors between major seaports and distributions centers. Inland ports cannot expand on current infrastructure, and it's unlikely if not impossible to build a new rail in the U.S.
Food Logistics: Driver safety is also of top concern. What is your company doing to ensure driver safety?
Wilkinson: As a transportation broker, we support all government regulations like electronic logging devices (ELD) to ensure public safety first, including maintaining truck driver awareness.
Food Logistics: How does something like the COVID-19 pandemic affect the way 3PLs operate?
Wilkinson: 3PLs must operate in a leaner fashion while keeping with social distancing as per CDC. The net result is we can function well even with work-from-home operations currently in place. As we move forward and the CDC relax, we will still maintain some of these inherent efficiencies, which have cost-saving benefits. Also, as a result of the pandemic, we will see more innovation accelerate further (i.e., robotic processes and autonomous vehicles) for moving and storing products. With COVID-19, we see that warehouses, which use robots, could be more efficient and less likely to shut down due to employee shortages.
Food Logistics: What does the future look like post-COVID-19? What should companies be doing now to secure a more substantial, more resilient fleet in the future?
Wilkinson: Improved internal, non-customer facing operational efficiencies will drive growth. These savings will allow more investment in autonomous technology, which is inherently less flawed and improved tracking with GPS at the shipment level will become commonplace.
[CLICK HERE to read the article in full].