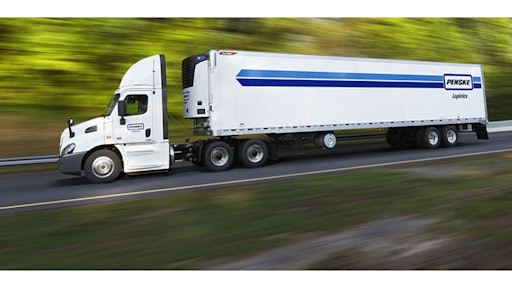 Penske Logistics
When the Coronavirus disease (COVID-19) hit, many facets of the supply chain experienced disruption. Restaurants closed, some permanently. Excess food went to waste. E-commerce boomed, further fueling the "Amazon Effect." And, the ever-present driver shortage gap transformed into an overall industry-wide labor shortage issue.
However, despite all of the hiccups and disruptions, trucks kept on truckin'.
In Food Logistics' August 2021 issue, editor-in-chief Marina Mayer talks with several industry experts about how the global 3PL market continues to play a pivotal role in how and why Americans receive essential goods in a safe and timely manner.
Here's an interview with Jeff Jackson, SVP of operations, Penske Logistics, with excerpts publishing in Food Logistics' August 2021 issue. [CLICK HERE to read the article in full].
Food Logistics: The 3PL market is set to grow to become an over $1.8 trillion sector by 2026, according to Global Market Insights, Inc. From your vantage point, what are some contributing factors to this growth?
Jeff Jackson: As the technology continues to evolve, many private fleets are looking to outsource. Equipment specifications and maintenance requirements continue to gain complexity, and every day it seems there are customers in more verticals looking for real-time visibility. Many move to a 3PL with dedicated contract carriage (DCC) capabilities to transfer the risks associated with running a private fleet. Nuclear verdicts are also aiding with motivating fleets to outsource.
Food Logistics: The transportation and supply chain industry continues to face supply chain disruption after supply chain disruption. How is your company working to overcome these challenges?
Jackson: The biggest challenge right now in the supply chain is labor. We currently have more than 600 driver openings. While we do find this challenging, we feel we are weathering the storm better than most. Last year, we implemented a centralized driver hiring center (DHC). The DHC cut our cycle time to hire by two weeks, and it has also helped with the onboarding experience, which results in higher retention rates. Our goal is to provide a white glove experience during the hiring process and a red-carpet approach to onboarding. Most of our fleet is regional and back home every night, and we operate late-model equipment that features great specifications to include a best-in-class safety package. Finally, we are constantly monitoring the wage market to ensure we are competitive, and we then make the necessary adjustments. We recently increased our driver referral bonus as well.
Food Logistics: What is your company doing to meet last mile demands in the cold food chain?
Jackson: We don't do any consumer final mile, but we do a lot of commercial, from distribution center direct to store. Last year, we obtained our cold chain certification from the Global Cold Chain Alliance to ensure food safety best practices. Through our Clear Chain technology suite, we can provide customers visibility of outbound product as well as returnable containers.
Food Logistics: Driver safety is also of top concern. What is your company doing to ensure driver safety?
Jackson: We have inward- and outward-facing cameras in our cabs; this has driven some tremendous safety results. When an accident occurs that is not the fault of a Penske driver, but a motorist on the road, the cameras help to exonerate our professional drivers. We have a safety suite in our truck specifications that includes all-wheel disc brakes, collision avoidance and lane departure technology. Penske also has safety bonus programs in place for the drivers.
Food Logistics: How does something like the COVID-19 pandemic affect the way 3PLs operate?
Jackson: During the height of the COVID pandemic, it was a challenge, and we had enhanced safety requirements that drove costs up. We also experienced more drivers out on leave due to COVID or to quarantine.
Food Logistics: What does the future look like post-COVID-19? What should companies be doing now to secure a stronger, more resilient fleet in the future?
Jackson: Capacity is very tight, and shippers should look to 3PLs like Penske who have the resources to get through this period. We also recommend that shippers and 3PLs align on wages and have candid and transparent dialogue around them.
[CLICK HERE to read the article in full].