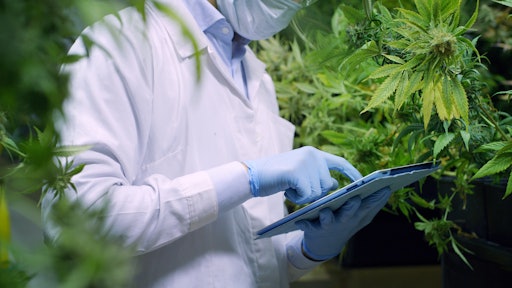 HQUALITY
The legalization of marijuana spreads throughout many states in the United States, CBD grows as a trend in wellness and hemp offers a pathway to sustainability, another growing trend. The cannabis plant is certainly an important part of the U.S. economy today, which greatly impacts the logistics industry. In 2020, cannabis sales increased 48% in just one year, reaching $21.3 billion worldwide, according to BDSA. The organization predicts an increase to $55.9 billion by 2026, a compound annual growth rate (CAGR) of more than 17%.
Third-party logistics (3PL) companies are often tapped for shipping cannabis-related goods because of this popularity influx. There are several intricacies in this area that makes a keen eye and significant know-how necessary for 3PLs that participate in cannabis transportation.
For one thing, transporting cannabis across state lines is still illegal given the federal government's stance on the legalization of marijuana. And, while the transportation of compliant hemp is allowed per the Farm Bill of 2018, there are a variety of different regulations across state lines that transporters need to pay attention to.
"Some 3PLs with no cannabis or hemp experience are attempting to jump into the industry and ship hemp to bring in more revenue for their companies without understanding the proper laws and regulations at the various state levels," says Kevin Schultz, co-founder and president of The 357 Company and 357 Hemp Logistics. "This is resulting in confiscations of product, loss of investments for shippers and breakdowns in momentum within the hemp supply chain."
Security is key
But, it is not just regulations that make the transportation of cannabis a complex sector. Security is an extremely important issue for 3PLs moving cannabis product.
"Cannabis transportation has the added element because it is coveted cargo, which exposes the transporter to theft more than other industries," says Pierre Rouleau, chief operations officer at ManifestSeven. "We have to be very careful and methodical on discretion and thoughtfulness. The BCC Regulations cover some of these situations, such as leaving unattended cargo overnight on long hauls for example, but we have to be extra vigilant and smart about our processes, as compared to other types of 3PL categories."
GrowFlow CEO Travis Steffen suggests that those who professionally transport cannabis should follow similar protocol as those who transport cash, with armored vehicles and added security. He also states that many times cannabis transporters must also be responsible for moving large amounts of cash along with the cannabis shipments, adding to the need for security.
The increased threat of security issues and possibility of loss of product due to regulation missteps requires a deep dive into the insurance policies of the 3PL partner to be sure hemp and cannabis are included. Steffen explains that the same 3PLs that are quick to jump into the industry without enough understanding may also run into trouble with cargo insurance.
"These same 3PLs are misleading shippers by telling them their cargo insurance covers hemp, when in fact many times the shipper is stunned to find out they were never covered when they file a claim for loss of product," he says.
Schultz from 357 Hemp Logistics supports the idea of needing additional insurance measures, exemplifying that his company provides up to $50,000 of verifiable hemp cargo insurance for every load transported with the option to go higher if needed. He explains that most cargo insurance does not cover hemp.
How does technology help?
As with many other sectors, technology plays a major role in the security of hemp and cannabis transportation. Visibility is a vital trend throughout all of logistics, but especially with cannabis, as the security issues mean shippers want to know where their product is at all times and want increased communication surrounding the transaction.
"3PLs are using technology providers like Onfleet, Nabis and Distru to make sure that cannabis transportation is safe and compliant," says Robert Fierro, director of partnerships at Onfleet. "The use of technology also allows for greater clarity in track and trace and better just-in-time delivery communication to operators receiving large expensive shipments. These specialized distributors focus on security through the use of specialized vehicles that include real-time video monitoring using telematics from such telematics companies as Azuga."
In addition to video monitoring, 3PLs often use such precise tracking that doesn't just track the trucks themselves, but also the individual packages within the load as well. Schultz explains that thousands of shipments were lost last year through some shippers, but the use of technology and tracking can ensure that the goods are not lost, stolen, wrongly delivered or even swapped out for inferior product.
But, it is not just location that technology assists within the logistics of the cannabis industry. Schultz also details that blockchain technology helps create one source of truth for all characteristics and information on a specific batch of hemp. 357 Hemp Logistics uses Global Smart Commodities Group to do so, integrating logistics, shipping and product into blockchain.
"Unlike a load of corn or soybeans, hemp is highly regulated, and its value can be vastly different due to minor characteristic differences," he says. "Characteristics, such as THC level or presence of heavy metals can determine whether the shipment is legal or illegal, high value or completely worthless. Providing information on the batch's characteristics can improve trust at all levels of the supply chain and can be attractive for potential investors."
Technology may also help with temperature monitoring when transporting cannabis, which is an important part of protecting the product.
Due to the numerous companies involved in the supply chain and logistics industries, there is always room for improvement when it comes to software and technology. Unfortunately, there is often fragmentation in technology for a wide variety of reasons.
"There are numerous small providers that differ by state," says Steffen. "While a few of the larger, more established cannabis software companies are moving into the distribution and transportation software game, the actual providers themselves are still state-specific operations for the most part, and there are very few (if any) transportation companies with operations in multiple states. This will also be something that changes relatively quickly."
"In many ways cannabis is similar to other high-priced goods," says Fierro. "It needs to be protected, tracked and insured. In regards to some extracts, refrigeration comes into play in order to maintain freshness."
Future growth
As cannabis becomes more popular, other trends beyond technology and insurance come into play. Since the cold chain consists of fresh product that can go bad with various fluctuations in demand, smaller vehicles with more "just-in-time" deliveries are becoming more popular says Rouleau. He also says as the industry becomes more mainstream, there is less need for cash transactions.
"There is also a trend for the industry in general to eliminate cash transacting due to the fact that banking is slowly becoming more accessible for the cannabis industry. These two trends combined allow for less cash transportation, which leads to reduced risk and enhanced safety," Rouleau adds.
These small trends, technology innovations and demand growth are nothing compared to the disruption that a federal legalization bill would cause, positive and negative. As regulations change on a federal and state level, the industry will have to continue to adjust and make changes along the way.
"[Cannabis transportation across state lines] is absolutely forbidden for now, and until there is the declassification of cannabis as a Schedule 1 Substance at the Federal level, that will not change," says Rouleau. "The Federal Government, in our opinion, will declassify cannabis eventually, then we will probably have to tackle with some additional state restrictions.
"Cannabis will remain a regulated substance for a while and the big changes will occur when state borders open up to inter-state distribution. That will change the landscape drastically. When that happens, companies from neighboring states will have the right to compete without border restrictions. That will probably result in accelerating consolidation and refining distribution as a whole."
Right now, cannabis must be locally grown and only used and sold legally by those who license by the state and only within that state, according to Fierro. He believes that federal legalization of cannabis will allow for interstate movement of goods and will transform the industry.
"Just like we receive produce from suppliers outside our home state, cannabis may soon be grown in farming states and shipped to high-demand states," he says.
Steffen agrees that interstate commerce of cannabis is also on its way, stating that it "isn't an if, it's a when." Once this occurs, security will heighten even more.
"Inevitably, cannabis transportation will look a lot more like cash transportation services, where you have trained personnel who expect and actively work to protect themselves against attempted theft," he says. "The larger software providers will very quickly provide services for transportation services in the same ways they provide services to other plant-touching businesses."
Cannabis is an exciting industry to be in today, which will attract a range of 3PLs and logistics providers to join in. However, research and industry knowledge and the ability to be flexible will continue to be key as the nation evolves its laws and regulations regarding the substance.
Companies in this article