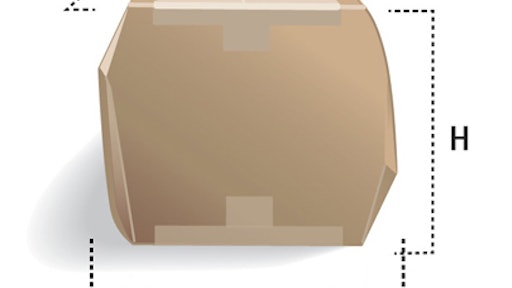 It's been over half a year since mega-carriers UPS and FedEx made changes and started charging shippers higher prices for all ground shipments based on their size, instead of being based on weight. The new dimensional weight (DIM) pricing models some carriers have started using are designed to eliminate the exemptions that used to exist on ground packages of less than three cubic feet.
In recent years, as more food and beverage companies focused on the emerging trend of online and e-commerce and delivering their products anywhere at any time, shippers used large, light packages as the preferred method of sending them to consumers. In the past, a company could just put the small or irregular item in a box with some fill-in material and send it without a lot of effort or extra costs due to its low weight.
But these types of packages are the exact ones parcel carriers targeted when initiating cost cutting measures aimed at improving profits. With capacity at a premium these days, carriers have switched to dimensional weight measurements in order to try and better align the rates for cargo of light density with the actual costs of shipping them. Now the billable weight for packages is whichever weight is greater, the actual weight or the dimensional weight.
Small and mid-sized shippers the first in line
Most of the larger companies in food and beverage (f&b) haven't seen the changes in DIM pricing affect their bottom line as much as the small and mid-sized companies have experienced in 2015, due to stronger negotiation power based on higher shipping volumes.
"Some of the larger shippers have been able to negotiate for higher dimensional factors, but it's all over the board now," says Bob Fischer, CEO of Schaumburg, Ill.-based shipping solutions provider ADSI. "It's just not clear right now, it's sort of like the Wild West."
Since most food items tend to be dense enough to not need DIM weight, many companies in f&b may not have found extra charges on their invoices yet. But if the rest of the shipping industry starts to incorporate new DIM pricing models, we could start to see more and more companies getting caught in the DIM fallout.
"If food and beverage shippers think the new dimensional weight charges will affect non-food shippers more, they are mistaken," says Justin Headley, marketing manager for CubiScan, a Farmington, Utah-based provider of cubing and weighing systems. "If (f&b) shippers think they haven't been directly or indirectly penalized by DIM pricing, then they need to prepare because the storm is heading their way fast."
The DIM changes have prompted companies to renew their efforts in accurately cubing and weighing items on the inbound process in receiving, so that they don't pay later on the outbound side with increased packaging and shipping costs.
"If shippers do not enter the dimensions at the time of manifest, they will receive out-of-week billing adjustments (back charges) and potentially lost profit," says Charles Moore, vice president of parcel logistics in a blog from full-service 3PL provider Transportation Insight based in Hickory, N.C.
The effects of the new DIM rates will be felt throughout the f&b supply chain too, not just at the manufacturer, DC or warehouse level.
"3PLs and transportation companies are not going to be able to just throw stuff on a pile and load it on a truck anymore," adds Fischer. "You're going to have to have better technology and build better loads, package it right at the cart, package it right on the pallet and package it right on the truck, too."
Tools keep shipping costs accurate, optimize loads
The good news for those hurt by the new DIM pricing models is that the need for more accurate measurements has sparked a flurry of technology designed to address the need for more accurate DIM weights.
Dimensioning systems have been around for years, but with the recent changes in DIM rates by carriers, many shipping technology solutions companies have experienced both an increase in interest and sales of dimensioning solutions.
When Vincent Nolan, the director of visual merchandising and space optimization at The Great Atlantic & Pacific Tea Co. determined that A&P needed to increase its measurement weighing accuracy for all of its irregular-shaped inventory in all of its 300 stores, it used CubiScan 125 to collect dimensions on over 32,000 retail products. The CubiScan 125 is a small, portable device that uses infrared and ultrasound-sensing technology to measure irregular items as well as boxed ones. In the end, A&P was able realize an estimated $125,000 in savings by using the automated dimensioning system when compared to the manual measurement of inventory items.
These automated dimensioning systems are especially valuable when shipping irregular packages.
"If an irregular item is presented to most courier companies, they will calculate the dimensional weight based on minimum dimensions of a package that would contain the irregular item," states a case study by Express Cube, a provider of dimensioning solutions based in Ontario, Canada. "The maximum measurements obtained by the dimensioning system will be used for invoicing, and these dimensioning systems allow shippers to package wisely and predict the effect of the irregular boxes."
ADSI offers a mobile dimensioning tool called Size-IT that calculates accurate DIM rates in seconds, and since it is literally the size of a tape measure, it can be used anyplace in the warehouse or DC, including shipping, receiving and anywhere in between.
"We're not just seeing the use of dimensioning tools in shipping, but we're seeing it in receiving, in packaging and elsewhere," says Fischer. "I think it will move upstream and it will change how the packaging is created and how the actual products themselves are designed."
Companies can also incorporate these dimensional tools into their warehouse management system (WMS), ERP system or other shipping software programs before they are picked to optimize their loads for shipping.
"Vendors are constantly changing packaging; if they don't accurately measure and weigh their SKUs, they really don't have an accurate picture of what kind of price they will pay for transportation," adds Headley. "Shippers want to see how each shipment will impact their bottom line shortly after the picking process. Exporting that critical cube and weight data for each item into a WMS, cartonization or load planning software solution will allow companies to optimize and positively impact their shipping costs."
Although changes in DIM charges may currently seem like a burden, most industry insiders feel there is little doubt the changes will continue to impact the entire global food supply chain. While the impact of DIM is currently being used to increase the cost of freight shipping, getting a firm grasp of how your company calculates DIM rates right now will only help those cut or decrease their cost going forward.
Getting Gouged By DIM Back Charges?
Control shipping costs by eliminating these four hidden dimensional rating 'gotcha's.'
Most freight carriers and logistics service providers have their own dimensioning systems to automatically measure package dim weights and calculate freight charges when the shipments reach their facilities.
Now that FedEx and UPS have expanded their dimensional rating programs, it's more important than ever to ensure that you are doing everything possible to eliminate operational oversights because dimensional rating is an area where seemingly minor differences in calculations results in significant back charges from the carrier.
Discrepancies can occur for several reasons, but here are four of the most common:
GOTCHA #1 - Actual carton measurement discrepancies: Shippers often find that the carton measurements they were using to calculate freight costs actually differed from the carrier's measurements for the same cartons. Best practice solution: Do an audit of your inventory of carton types and sizes. Make it a regular practice to verify all of your carton or box types and compare them with your carriers' measurements of the same. This can prevent back charges from occurring on future shipments.
GOTCHA #2 - Carton shape: The volume used to calculate the dimensional weight may not be absolutely representative of the true volume of the package, depending on the shape of the package. The carrier will measure the longest dimension in each of the length, width and height and use these measurements to determine package volume. If the package is a right-angled box, this will be equal true package volume, but if it is any other shape, the volume calculation will be greater than the true volume of the package. Best practice solution: Consider adding a dimensioning system to determine a configuration that is best for your fulfillment environment. There are a variety of dimensional systems available to accommodate a wide range of operations.
GOTCHA #3 - Data entry errors: For example, the shipping clerk processes a 20-pound package measuring 20" x 20" x 20" but forgets to add the dimensions. The resulting charge is $20.00. However, when the box reaches the carrier's facility, its equipment picks up the dimensions and calculates the dimensional rate at $40.00. You will be billed back for the difference of $20.00. These errors, added up over a year's time, can amount to thousands of dollars in back-charges. Best practice solution: Replace the keying of box sizes with barcode scanning. Print a template of barcoded carton sizes for each carton type so the shipping clerk scans the barcode instead of keying in numbers – and potential upcharges related to incorrect measurements are eliminated.
GOTCHA #4 - Packing processes: Do not over pack orders – it can easily result in back charges. For example, you pack a carton so full that it causes the size to bulge and you report a 20 lb. carton at 20" x 20" x 20" for a freight charge of $40.00. However, the carton actually bulges out to 22" x 22" x 22", so the carrier's dimensional system calculates freight charge to be $45.00. Best practice solution: Integrate your box types into the order process. Set up your box sizes as a series of codes that can be passed from the order system and passed to your shipping system. If you're using an automated packing solution, the operator can scan a carton type as they are packing the order.
Source: ADSI
For More Information:
ADSI, 1-877-755-2374, www.adsionline.com
CubiScan, 1-800-488-2923, www.cubiscan.com
endicia, 1-800-576-3279, www.endicia.com
Express Cube, 1-877-428-2348, www.expresscube.com
FedEx, 1-800-463-3339, www.fedex.com
Transportation Insight, 1-877-226-9950, www.transportationinsight.com
United Parcel Service (UPS), 1-800-742-5877, www.ups.com