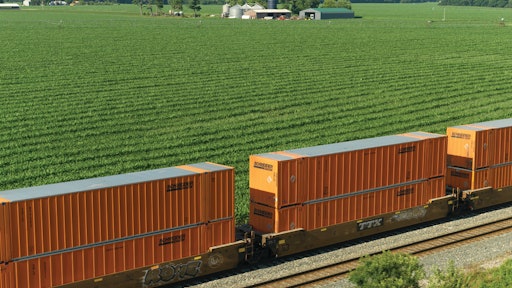 By all accounts, 2014 has been a banner year for intermodal rail. U.S. railroads continue to set intermodal volume records while shoveling billions of dollars into new equipment, infrastructure projects, and more employees to handle growing volumes.
For example, this year's capex budget for BNSF is $5 billion—the highest ever and $1 billion more than last year. Some of that investment will accommodate growth in several key sectors, including intermodal and agricultural products.
Intermodal is the highest contributing segment of Union Pacific's revenues, and in March, the railroad completed construction on its intermodal facility at Santa Teresa, N.M., which is strategically positioned to handle trade between the U.S. and Mexico.
The Port of Santa Teresa experienced a 13 percent increase in annual truck crossings between 2011 and 2013, and future expansion plans mean the Port could eventually rank as the largest inland port in North America and a major gateway for an array of shipments from Mexico, including agricultural products, computers, auto parts and other manufactured goods.
CSX announced in July it would increase its 2014 capex budget by an extra $100 million to $2.4 billion to enhance infrastructure and add freight cars. Intermodal and agricultural products are also key segments of the railroad's portfolio.
The Jacksonville, Fla.-based railroad also plans a new $43 million expansion of its National Gateway rail hub in northwestern Ohio, adding two more widespread cranes and new processing track, which could increase capacity from roughly 650,000 containers annually to over one million containers annually.
Collectively, freight railroads in the U.S. will spend about $26 billion this year, according to the Association of American Railroads' estimates.
What's fueling intermodal growth?
There are a number of factors responsible for intermodal growth in the U.S., and one may be somewhat of an anomaly. Specifically, the negotiations between West Coast longshore labor and marine terminal operators prompted shippers to expedite imports through major West Coast gateways this year, resulting in an earlier than normal peak season as well as record high intermodal volumes for major freight railroads.
However, the ongoing freight conversion from road to rail remains a big factor in the steady and sizeable growth the intermodal rail sector has experienced in recent years.
According to Schneider's Jim Filter, senior vice president of intermodal commercial services, one reason customers are converting from over-the-road (OTR) to rail is to secure capacity. Regulatory issues such as those associated with hours-of-service rules along with truck driver shortages and high fuel prices are forcing even more shippers to seek transportation alternatives.
"The shippers that are out there now securing OTR capacity are doing so at much higher rates that what they were doing before," says Filter. "So while they're looking at intermodal as an alternative way to secure capacity, they're also doing so to mitigate costs while growing that capacity."
That trend is likely to continue because the OTR carriers "still have some ground to make up in terms of pricing," he added. "They are going to be very aggressive on the pricing front and I believe that is going to drive even more shippers to convert to rail in order to increase their capacity."
Schneider is responding to increased customer demand for more intermodal rail capacity and the company is investing heavily in 53-foot intermodal containers.
"We've already added 3,000 more containers compared to what we had just 12 months ago," says Filter.
These intermodal containers hold up to 50 double-stacked pinwheel pallets, which means the shippers gets 10 to 15 percent more palletized cargo space compared to a standard container.
Food/bev shippers making the shift to intermodal
A variety of shippers see the benefits of intermodal rail, including food and beverage shippers. Filter points out that major shippers in these sectors are increasingly integrating rail into their supply chain strategies for both ambient and temperature-controlled shipments.
"This winter was challenging for everyone, but especially food shippers," he says. However, "We really saw a difference between the food shippers who had well thought-out plans and those who were caught off guard." In particular, "Those that did have good plans were able to avoid using reefers even during extreme weather," says Filter.
For example, a number of food/bev shippers use detailed weather forecasting for their intended routes, and prepare and adjust accordingly, he says. "Based on the weather forecast, they identify precautions they need to take for that route or find alternate routes or modes of transportation."
In addition, railroads and shippers are optimizing how they load the containers—keeping product off the floor, away from the container walls, and using insulated blankets on the product to guard from excessive heat or cold.
As for the long-term outlook, both the trucking and rail sectors stand to benefit from growing freight volumes. A recent report from the American Trucking Associations (ATA) states overall freight tonnage in the U.S. will grow 23.5 percent and freight revenue will surge 72 percent from 2013 to 2025.
The trucking sector's share of freight tonnage is expected to expand from 69.1 percent to 71.4 percent over that time frame, compared to rail's market share, which is forecast to drop slightly from 14.5 percent in 2013 to 13.8 percent in 2025. Nonetheless, that ATA notes that "truckload carriers will make greater use of intermodal rail for intermediate- and long-distance hauls."