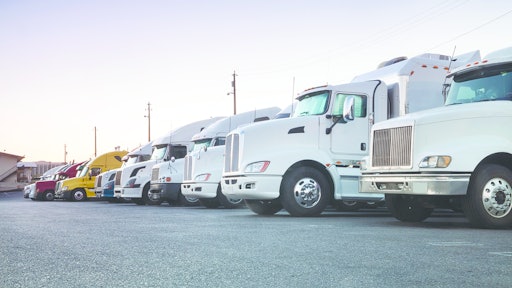 Recent headlines in the transportation trade media report that those trucking fleets which have survived the economic downturn are more efficient than ever and primed for growth. But with an uncertain economy still ahead, the best fleets continue to bore down into every aspect of the fleet management process to make sure their fleets continue to run profitably.
For some, it can be an opportune time to stop and take a fresh look at how fleets are acquired. By comparing the total cost of vehicle ownership with the alternative—full service truck leasing (FSL)—fleet managers can determine which option will deliver the best financial and strategic benefits to their companies.
Every reputable FSL company recognizes that its service may not be suited to every business, so it will walk fleet managers through the process of identifying costs and customer service benchmarks associated with both ownership and leasing. This article will start with strategic reasons why a company chooses ownership.
Strategic reasons to own
• Transportation is a core business function. Businesses that traditionally have chosen to own their fleet might include trucking firms, route delivery companies, or even mass retailers. These businesses consider transportation to be a core function because the trucks and drivers are tasked with fulfilling inventory and supporting their companies' brand appeal through regular contact. The organizations often have the size and scale to handle such a function with the supporting requirements of fleet maintenance, safety, finance and administration.
• Vehicles are highly specialized. These types of vehicles could be dump trucks or construction vehicles. Typically, FSL companies prefer to work with a more standardized spec when ordering trucks in order to maximize their parts inventory, their purchasing, and maintenance shop infrastructure, so leasing vehicles like these may be prohibitive. However, the line that differentiates what is specialized and what is not has changed over the years. For example, it's not uncommon to find refrigerated and flat-bed trucks in a FSL fleet today.
• Vehicle annual mileage is low. While most FSL contracts do not have a set "cap" on the number of miles driven, they often rely upon a minimum mileage usage to generate sufficient variable revenue to cover appropriate preventive maintenance costs. Such examples might be 10,000 mpy on a route delivery van or 40,000 mpy on a day cab tractor. So, vehicles with low mileage and/or low utilization may work better on the balance sheet if they are owned.
Calculating total cost of ownership
The way to calculate financial justification for both owning and leasing commercial vehicles is by carefully studying Total Cost of Ownership (TCO), which comprises several key components:
• Acquisition cost of asset. The financing arrangement/interest costs/costs of capital are the most obvious components of TCO.
• Corporate tax rate. This is the after-tax write-off after calculating depreciation of assets. Specialized components are depreciated differently on some vehicles.For example, refrigerated bodies or heavy duty lift gates may be held on the books for a longer term than the truck cab and chassis.
• Maintenance. This includes both preventive and unscheduled maintenance, as well as roadside repair, throughout the life of the vehicle.
• Warranty coverage and recovery. This has become a key component of TCO and is dependent on the ability of the fleet owner to recapture the available warranty on equipment. It's now an important business function and significantly reduces lifecycle maintenance costs for that asset when it's properly negotiated and administered.
• Resale/remarketing of vehicles. The ability to find a ready market and the best possible prices for used vehicles can have a huge impact on TCO.
• Administrative Costs. Owning a fleet brings with it perhaps a disproportionate amount of administrative costs that include licensing, DOT tracking and compliance, tax reporting and permitting, to name just a few.
Strategic reasons to lease
Full Service Leasing (FSL) is often the best option for companies which view transportation as an enabling business function, rather than a core function. The leasing arrangement allows a company to focus on the core functions of its business rather than focusing its energies on operating what is in effect a trucking company. Many foodservice distributors, as an example, rely upon FSL companies to provide the necessary equipment and service infrastructure to enable them to better serve their customers, which may include restaurant chains, convenience stories, and public institutions. These businesses always demand flawless customer delivery; this is often the discernible differentiation among competitors. A modern, efficient trucking fleet is a key component in making that possible.
• Capitalizing on the latest technology. One reason FSL companies can offer an efficient fleet is because they regularly update the types, ages and specs of the vehicles. Leasing companies try to balance out the vehicle mix so that they have a proportionate number of new and late model used vehicles, which can provide flexibility to a lessee. A customer might want to try out leasing for a short term and in that case, it might make more financial sense to choose a late model used vehicle before committing to a long-term lease arrangement.
Because leasing companies are always balancing their fleet mix, they usually have strong relationships with vehicle and engine manufacturers and therefore, the best access to the newest technologies. Many of these upgraded features are enabling trucks to save fuel and decrease costly downtime, using such technologies as remote diagnostics and telematics. These features enable trucks to "talk" to service managers and diagnose problems before they get worse or before the vehicle enters the shop for repair. Some safety advancements, such as advance collision avoidance systems or anti-rollover brake systems, are often available on leased vehicles, as well.
• Avoiding maintenance headaches. One of the biggest reasons more companies are turning to the FSL option is to avoid the compliance headaches currently associated with CSA (Compliance, Safety, Accountability program). This program requires companies to keep their vehicles in top-notch condition on the road or else face fines and possible sanctions against the company. The recent hours-of-service regulations that went into effect in 2013 also affects vehicle maintenance, as few companies can afford excessive downtime due to the limited number of hours drivers are able to drive each week. In addition, many companies can no longer support the expensive infrastructure necessary for a maintenance shop, including staffing it with technicians, keeping it stocked with needed parts, and staying abreast of the latest technology.
No company in the food supply chain can afford having idle or inoperable vehicles or missed deliveries. A regularly scheduled preventive maintenance program keeps this situation to a minimum. And while trucks are on the road, a FSL arrangement provides breakdown service and roadside repair when necessary to get the wheels rolling as soon as possible.
• Easy access to rental vehicles. FSL companies virtually all maintain a rental fleet of substitute vehicles to fill in for leased vehicles under repair or to supplement its core leased fleet. This is particularly advantageous in the food industry, which typically has variations in demand patterns, with peak seasons occurring several times year. In this scenario, lessees can lease a fleet of vehicles at the minimum, "water-line" level, but still have easy access to rental vehicles, usually available for just a small premium to lease rates.
• Purchasing power of a larger company. Small- to medium-sized fleets typically lack the purchasing leverage of larger fleets when it comes to procuring parts and supplies. FSL companies, on the other hand, often operate as part of a larger organization that leverages the powerful purchasing power created by the combined fleets that make up the network. To the lessee, this means more competitive pricing on parts, all aspects of lifecycle maintenance, warranty recovery, and even fuel, since many leasing companies purchase fuel in high quantities, passing along the savings to their customers.
• Budgeting and financing advantage. Among the top reasons why businesses consider leasing is that it provides an alternative form of financing the equipment they need. With capital being a limited resource, the investment needed for equipment is huge. Those funds often can earn a better return in another investment vehicle vs. spending upwards of $110,000 for a day cab or $115,000 to $130,000 for a sleeper tractor. The leasing entity assumes the market risk of the asset, leaving the lessee off the hook if there are fluctuations affecting the resale value of the equipment as it ages and depreciates.
Rather than apply working capital to the purchase of vehicles, or tie it up in long-term loans that reduce borrowing reserves, a FSL agreement enables customers to put their money to work in programs directly related to the growth and profitability of their core businesses. With a FSL, or a finance lease co-joined with programmed maintenance, the business owner knows exactly what his or her monthly transportation expenses will be, which is a considerable budgeting and bookkeeping advantage. And, complex and constantly changing tax codes can further complicate fleet investment decisions. An FSL firm makes it their business to stay on top of tax changes and understand their impact on vehicle replacement and lease vs. buy decisions.
Budgeting properly for a fleet can encompass any number of considerations that add up to the true cost of ownership. To recap, these considerations can include:
• Fleet logistics
• Financing
• Group purchasing benefits
• Staff management
• Preventive maintenance
• Technician training
• Emergency road service
• Safety programs
• Permitting and licensing
• Vehicle washing
• Substitute vehicles
• Fuel tax issues
As companies within the food supply chain continue to work on tighter margins, it is in the best interest of nearly all to investigate the comparable benefits of leasing vs. owning to see if there are additional ways to add to the bottom line. As new tech devices like smartphones, tablets, GPS systems, and onboard telematics continue to transform the way food is moved from farm to fork, as food storage and transportation conditions are monitored in more sophisticated ways, FSL companies are in the forefront of providing the most technologically advanced vehicles to the food supply chain.