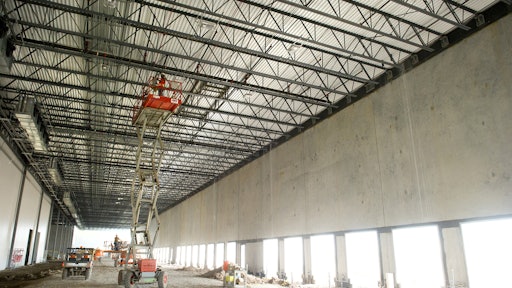 One thing the recession and economic downturn has taught companies throughout the food supply chain, is that every line on the financial balance sheet is open for drastic cuts. From producers to processors, distributors to shippers, cutting costs across the board often means changing the way a company has always done things because the old way is just not financially sustainable anymore.
One of the ways companies are cutting costs is by renovating and spending money on their warehousing facilities, specifically on energy efficient lighting upgrades. For those who have 'flipped the switch,' they're finding energy efficient lighting like LED offers a quicker return on investment than some may think.
It's worth the energy…literally
Lighting needs in some warehouse and cold storage facilities often account for up to 5 percent of a company's total electric consumption or more. With energy rates for electricity jumping as high as 20 percent in some countries over the past few years, and predictions indicating that they are not going to slow down or decline in coming years, companies looking to minimize consumption and costs are turning to new LED lighting options to deliver energy savings.
"The sodium lights in our warehouses were running 24/7 and needed changing every 20,000 hours, which involves considerable costs, inevitable work interruption and the additional problem of dealing with hazardous waste when you dispose of them," said Kevin Greene, Engineering Manager at global logistics provider Kuehne+Nagel. "There were plenty of reasons to look for a more efficient lighting solution."
Like most products, lights, and specifically LED and other energy efficient lighting, have made giant technological gains in the past few years, so often times facility managers aren't even aware of what new products are available to meet their lighting needs.
"Lighting has come so far in the last five years that the more facility managers expect and demand in terms of performance, value and capabilities…the more they will get, and often with a better cost of total ownership," said Allison Parker of Digital Lumens, a leading provider of Intelligent LED systems and software. "It's worth the time and energy, literally and figuratively, for facility managers to do some homework and be a savvy customer."
One thing many in the industry are finding out is that upgrading to advanced Intelligent LED systems is not the scary, expensive proposition it was just a few short years ago. That's not to say that the initial investments in state-of-the-art LED fixtures and systems still doesn't come with a little sticker shock, but when you take a big picture approach and look and the return on investment over the life of the products, as well as other costs saved over that same lifespan, the initial cost of investment is becoming less of an obstacle than it was before.
The rapidly evolving lighting technology can often change the way warehouse managers solve problems too, because instead of incremental improvements one at a time the new intelligent systems solve a wide range of challenges all at once. Offering brighter lights and higher light levels can solve safety and production issues, as well as offer the big bottom line utility savings.
The saving on maintenance costs, especially expensive re-lamping and re-ballasting costs, is also a major reason some facilities are currently making the switch to LED. The LED technology means that facilities will no longer have to halt production, bring in a scissor lift and change bulbs every few months. With some of the newest LED fixtures offering warranties of up to 10 years, now facilities can enjoy many years' worth of reliable light output with virtually zero maintenance.
Often times these cost reductions are dramatic, which also helps to shorten the ROI on even large and complex lighting renovations to as few as two to three years, or less.
LED leading the movement
Since most warehouse environments tend to leave their lights on 24 hours a day, seven days a week, it's not surprising that the industry has been faster to adopt the latest lighting advancements. When energy use is much higher, the range of solutions tend to make a bigger impact. In some instances, simply replacing inefficient lighting and installing lighting controls can offer companies energy savings of more than 90 percent.
While companies like SmartWatt, Digital Lumens, GE Lighting and Dialight offer a range of energy saving solutions for lighting, most of them are seeing the most interest from companies looking to upgrade to advanced Intelligent LED systems.
"While lighting has always been high on the list for companies to perform energy efficient upgrades, LEDs are gaining serious momentum right now because they are now offering far better results than any other alternative," says Digital Lumens' Parker. "For future needs and flexibility, especially in new warehouse construction, builders and facility owners are seeing the value of investing in LED technology to future-proof their energy costs."
The energy savings gained by switching from fluorescent (or older) systems to an LED one are obvious, and huge, which in some cases can save companies over half a million dollars annually. But the lower wattage LED systems also reduce operation and maintenance costs, while producing less pollution and carbon dioxide output to drastically lower a company's carbon footprint. Sometimes the reduction in CO2 alone is worth the equivalent of planting 200 acres of trees or removing over 100 cars off the road.
LED systems are also becoming very popular as replacements in retail freezer display cases as well as cold storage facilities and warehouses because they radiate less heat and use fewer compressor cycles than current and traditional lighting. New LED systems can be dimmed, cycled down or turned on and off in a cold temperature setting and it will not degrade or impact the longevity of the fixture.
This allows warehouses to go "lights out" when space in the warehouse is unoccupied, even in settings where temperatures reach -40 Fahrenheit, something traditional lighting fixtures cannot handle without influencing their lifecycle. In bigger warehouses where some areas of the facility only get 30 percent the amount of traffic as other areas, this benefit alone can offer dramatic savings.
"For as long as I can remember, facility lighting has been one of the cold storage industry's most significant challenges," says John Fershtand, Director of Fleet Operations and Energy at Ben E. Keith Foods, which recently renovated their Houston-area distribution center with a new Digital Lumens LED system. "So the fact that we can now program our lighting to automatically turn on, off or dim depending on what's going on—without shortening the life of the bulb or fixture—that is contrary to everything we've known."
Perhaps the most often overlooked benefit that new LED systems are offering is simply better lighting quality. LED lighting offers even, crisp, clear white light that is noticeably different in cold storage settings where the cold temperatures actually allow LED fixtures to exceed lumen output because of the ambient cold temperatures.
"In some areas the light output is nearly five times of what the typical metal halide or high-pressure fitting can provide," according to Adrian Corthine of Elite Renewables, an authorized distributor of Dialight LED products. "The improvement in on-the-ground lux level is truly impressive."
The light quality is easy to see in non-cold storage facilities, too. Kuehne+Nagel recently upgraded over 20,000 square meters in one of their warehouses using Dialight LED because workers were having trouble reading labels, explained Greene. "Not only does LED remove the maintenance and hazardous disposal problems, but it's also a very workable light and the light clarity experience is brilliant," he said.
Integrated control a key benefit
Beyond the wattage reductions and savings provided by an LED system, one of the other major benefits that is also gaining in popularity is the ability to manage every fixture in the entire building with one warehouse-wide "intelligent" system. These systems are programmed and precise and allow companies to instantly adjust to take advantage of ambient daylight, occupancy-driven lighting and dimming and other programmed settings to further reduce energy consumption.
All-encompassing systems that control the lighting are not new, but again the fact that technology has continued to improve so rapidly over the years means the differences in today's generation of controls compared to ones just a few years old is much better than before. Newer LED systems even offer faster startup times compared to older ones.
"We installed light-saving devices with the sodiums, there was a five to 10 minute lag-time between switching them on or off," noted Kuehne+Nagel's Kevin Greene. "So we weren't realizing any particular benefit, and the switching on and off shortens the life of the lamps. The LEDs come on instantly and have no issues at all with switching."
One only has to look at the developments in California to see that many people believe that integrated control systems are the future, since California's Title 24 is set to require companies that want the benefits of an incentive from their utility companies to help pay for upgrades, must first have integrated control systems in their buildings. The trend of tying incentives to these advanced systems is something Digital Lumens' Allison Parker claims "could spread across North America as other utilities follow their lead."
The results speak for themselves
One common theme among the warehouse managers and companies that have chosen to spend the money and make the upgrade to LED lighting is satisfaction. In situations where a larger company installs LED lighting to just one or a few "test" facilities, the short-term results of the upgrade are so impressive that they typically make the switch company-wide.
"We've been so impressed with the performance and warranty of LEDs that we've begun retrofitting nearly all of our other facilities to improve efficiency, lighting efficacy and safety throughout our operations," said Tim Schofield, Financial Controller at MMD Shipping in the UK. "I don't understand why everyone doesn't go LED. Between the energy and maintenance savings, and the tax incentives, the switch to LED fittings was a no brainer."
Leading LED providers and products
For those looking to upgrade their facilities to an LED product or an LED system, following are some leading companies and products worth noting:
The Digital Lumens Intelligent LED System (intelligent LED fixtures and LightRules software) is now in more than 50 million square feet of industrial space worldwide. The actual fixture output, either 13,000 lumens, 18,000 lumens, or 26,000 lumens, depends on the light-level requirements, ceiling height, facility layout and fixture spacing.
LightRules is being used to manage the system, generate ongoing energy reports, and provide key data for utility measurement and verification. For Digital Lumens customers like Associated Grocers of New England (AGNE), as well as Ben E. Keith, ConAgra, and Mutual Logistics in France, the success these companies in the food supply chain have had with the LED System and LightRules software has been tremendous.
Dialight recently announced its new DuroSite LED High Bay and Low Bay products with a new long life power supply. With efficiencies up to 107 lumens per watt, the new power supply will be available in 17,000-3,800 lumen output fixture versions. This newly integrated solid state power supply is the latest innovation in Dialight's rapid technology development program that has turned out a number of first-to-market technologies, including the first Class I, Div. 2 hazardous location certified high output LED fixture available with a 10-year full performance warranty.
This latest achievement in Dialight's LED power supply development gives customers up to a 7 percent increase in efficiency across the high bay and low bay portfolio, according to Roy Burton, Dialight's Group Chief Executive.
Orion Energy Systems offers a wide array of commercial LED fixtures in their ISON Class of LED products, including a Cold Storage High Bay fixture that offers optimum performance in cooler and freezer applications. With a 150,000+ hour lifespan and 173W high output, Orion's Cold Storage High Bay fixture is providing savings that companies like US Foods can realize on their balance sheet. ?