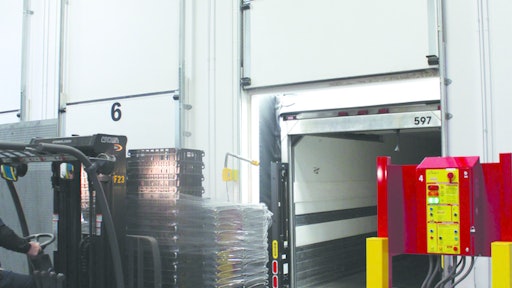 Warehouse work is tough: it's physically demanding, repetitive, rarely performed in a comfortable temperature, and at times dangerous. But, new products and equipment are not only helping lower employee injuries, much of it is very affordable too.
In-N-Out beefs up safety at its DCs
Fast-food chain In-N-Out Burger is well-known for both its freshly made burgers and the way it treats its employees. At their recently opened 20,000 square foot Las Vegas distribution center, In-N-Out invested in VertiCool Dock Doors by TKO, Serco Vertical Storing Dock Levelers, Serco Master Control Panels, APS Resource FT Ultra LED dock lights, Serco dock seals, and Serco Universal Truck-Chock In-Ground Wheel Restraints.
According to the company's supply chain director, Tom Buffum, a lot of planning and analysis went into the selection of dock equipment for the newly constructed facility. The equipment used at In-N-Out's Phoenix facility didn't measure up to the company's standards, and executives were determined to find something better for the latest installation.
The Las Vegas DC has seven loading docks, all of which are in steady use. When trucks pull up to the dock, a Serco Master Control Panel coordinates operation of the loading dock equipment to ensure proper sequence of operation and safe truck access to avoid worker injury and product damage. The Master Control Panel eliminates the extra wiring and potential maintenance problems associated with multiple controllers for each piece of dock equipment.
Meanwhile, the hydraulically operated in-ground restraint automatically chocks the trailer's rear wheels. The Universal Truck-Chock provides continuous restraining force to the chocked wheel, reducing the potential for landing gear collapse, vehicle creep, or vehicle walk. The chock is flush mounted in-ground, which aids with yard and dock area clean-up.
Once the truck is secured, the control system activates a motor drive to open the VertiCool overhead dock doors. "We went with powered doors for safety purposes to keep our team members out of the deployment arc of the vertical leveler," explains Buffum.
The VertiCool Doors incorporate 4" thick closed-cell XEPS foam panels, rated R-23 and are typically used to prevent energy loss on chilled docks. Though the temperature in the In-N-Out loading dock area is basically ambient and mitigated by coolers, for Buffum the VertiCool doors made sense for In-N-Out's application, particularly when you consider the heat of the Las Vegas desert on the other side. VertiCool doors have heavy-duty, full door height polymer thermal-break tracks wrapped with energy reflective foil fabric that prevents heat transmission than can occur with conventional metal tracks.
There's also the issue of blowing sand. "We have dust storms of Biblical proportions," says Buffum, "and enclosure is important." In-N-Out's facility is a food grade warehouse "and we cannot afford being marked down on inspections because of gaps in our doors," he adds.
The VertiCool doors offer In-N-Out two distinct features that provide a doorway seal to pass inspections and help maintain their famous quality. The 48" panel height reduces the number of panel joints by 50 percent compared with 24" panels on conventional doors and has a more effective seal around its full perimeter. The dual compression side seals are mounted to door panels and removed from the impact zone when the door is open, preventing seals from sustaining damage. At the header is a dual overlapping seal and on the floor, dual compression bottom seals.
The addition of Serco Vertical Storing Dock Levelers ensures an added layer of protection against the elements, debris and forklift impacts. Stored upright, the steel platform stands guard in front of the dock door protecting it against accidental forklift impacts. The levelers also protect the facility's certification because they are mounted to the floor and not in a pit.
Finally, it was also important that the facility be properly illuminated. The Las Vegas DC features durable FT Ultra LED dock lights with flexible arms that allow the 15-watt LED lamp to be positioned where needed for proper visibility and loading safety. With its long lasting 50,000-hour bulb, the light meets USDA requirements for food handling facilities.
Keeping workers safe and secure is the number one job of any employer. According to the U.S. Bureau of Labor Statistics, 4,609 fatal work injuries were recorded in the U.S. in 2011, a rate of 3.5 per 100,000 for full-time workers. The number and rate of fatal occupational injuries is led by the transportation and warehousing sector, which accounted for 733 incidents last year.
Getting a Big Bang for Your Safety Buck
Here's a look at some very affordable equipment that goes a long way in boosting worker and warehouse safety:
• Magliner's CoolLift Delivery System combines an easy maneuverability, high capacity hydraulic lift truck with integrated plastic "half" pallets for improved safety and efficiency.
• Rotocaster Wheel designs and manufactures multi-directional wheels that can be used in a number of applications, including hand trucks. The company's Stair Climber hand truck offers 360 degree maneuverability for easy direct lateral and rotational handling ability in tight situations.
• Damotech's Damo Pro helps to prevent and repair damaged rack columns with a quick 45 minute installation. Its front post is comprised of structural steel making it extremely resistant to future incidents. The Damo Pro comes with a lifetime warranty against impact, is designed to fit on any type of racking system and can accommodate multiple levels of beams.
• Crossing Guard creates an attentive environment to help prevent forklift collisions in the warehouse, even if a person is standing still the Crossing Guard will detect that individual. The sensors in Crossing Guard can detect the presence of two motions and create an audible and visual alarm for drivers and pedestrians.
• MacRak's Max Guard is a 3/8" thick steel guard that averts lower frame damage on the rack. It is available in a V-nose shape and a round nose shape. The "MAX" column protector is the perfect solution to stopping lower frame damage caused by outriggers on straddle lift trucks.
• Lift 'n Buddy is a two-wheeled lifting device capable of automatic lifting and lowering. This helps decrease worker injuries caused by repetitive bending and lifting while increasing workflow efficiency.