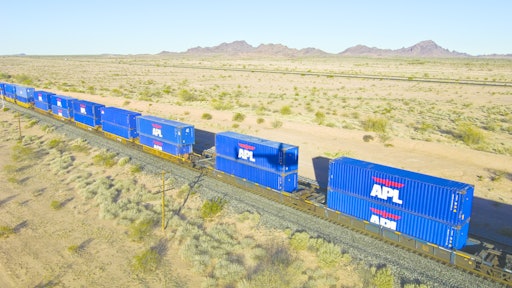 The rail sector in the U.S. has continued to enjoy a well-deserved and prolonged period of expansion in recent years, thanks to strategic investments and refocusing on customer service that has garnered attention from intermodal shippers as well as those in a range of sectors and commodities, including time- and temperature-sensitive food and beverage companies.
Admittedly, difficulties in the trucking sector, namely driver shortages and rising fuel costs, have played to U.S. rail carriers' advantage. But, even if conditions were to change, it's likely that the market share and customer base that railroads have developed in recent years are here to stay. In fact, the real question is: what future opportunities are railroads creating for themselves?
Building on a solid foundation
There have been many significant projects undertaken by North American Class I railroads in recent years, from double-stacking routes to terminal modernizations to new equipment purchases and more, all designed to build a solid foundation for supporting shippers' demands for dependable, time-sensitive, cost effective, and competitive shipping.
Companies like Schneider National are quick to praise the development. "The CSX National Gateway in Northwest Ohio, for example, has created more origin/destination combinations for us," notes Steve Van Kirk, senior vice president, intermodal commercial management for Schneider National. The facility, which became operational in early 2011, "was absolutely critical for Schneider Intermodal in terms of opening up new opportunities," he says.
In June, Schneider National announced that it had reached an agreement with CSX Transportation to broaden its services in Northwestern Ohio. The agreement expands Schneider's intermodal service to now include two rail ramps in the region: Marion and North Baltimore. Overall, the agreement expands Schneider Intermodal's service to the Northeast, Southeast, and Pacific Northwest. In addition, improved transits will enhance service capability throughout the U.S. and Mexico while enabling more multimodal options for shippers.
"Our service options enhancement in Ohio follows our brand promise to offer 'truck-like' service by creating more creative solutions to move freight," Van Kirk stated at the time.
Indeed, CSX is also touting the benefits of its National Gateway. In July, Clarence Gooden, the company's chief commercial officer, stated during an earnings teleconference that: "Looking forward, strategic investments, such as the National Gateway initiative and our Northwest Ohio Terminal, position CSX to compete for an estimated 9 million truckload opportunity. These are loads with a length of haul exceeding 550 miles that originate or terminate in our service territory. Our state-of-the-art terminal in Northwest Ohio increases capacity, expands our service offering by enabling connections between new and existing markets, and improves transit times."
He added, "For example, the container transit times in the West Coast via Chicago to the New York market has improved by over a day. We expect healthy growth to continue long term as new terminals such as Louisville and capacity expansions, including Columbus, Charlotte, and Cincinnati, drive further highway-to-rail conversions."
In the meantime, it's not just opportunities in the U.S. that Schneider has its eyes on, there's plenty of promise north and south of the border, too.
Van Kirk says that Schneider remains bullish on business in Mexico and Canada. "Schneider started its cross-border business with Mexico 20 years ago. Initially, a lot of it was over-the-road. We ran trains down to Laredo, Texas then ran over-the-road into Mexico. But, what we're doing now is a pure intermodal offering, and we're really excited about it," he says.
The current service uses Kansas City Southern Railway for non-stop, borderless service from the U.S. and Canada into bonded rail terminals in Monterrey, San Luis Potosi, and Mexico City.
"It's very reliable," says Van Kirk. "You get across the border without any difficulties," compared to what can typically happen during a ground crossing in Laredo. "There's also a high level of security and we don't have a lot of tampering or break-ins with the containers. You have a shorter dray in Mexico, which means you also have less risk."
The cross-border trade lanes are also very imbalanced, with more northbound Mexico-U.S. freight than southbound, for instance, which further enhances the opportunities for intermodal, notes Van Kirk.
Even still, Van Kirk realizes that intermodal remains a tough sell for some companies. "There are some mature intermodal shippers who have been able to convert a lot of their freight from truckload to intermodal," he says. However, not everyone is on board. Van Kirk tells of one recent example where the customer presented a memo from 1978, which instructed staff to avoid intermodal shipping, and the customer was still complying with those instructions.
The typical objections Van Kirk encounters are related to inventory carrying costs and transit times. But, now that rail service has improved dramatically, those arguments are hard to sustain, he contends.
"When it comes to transit times, we're within one day of a similar truckload move. And, with the current interest rates, the inventory carrying costs are actually minimal, so that objection, too, if you work through the numbers, can be eliminated rather easily."
Concerns over damaged freight can also be addressed, says Van Kirk. "Schneider has load engineers that meet with new accounts to show them how to load freight to avoid damage and shifting en route. So, if companies are willing to listen, they'll end up with very few damage issues."
Although some shippers clearly aren't ready to make a wholesale leap to intermodal today, Van Kirk expects that fuel prices will continue to rise over the coming years, which will eventually become the tipping point.
"If you really analyze the history of fuel prices, recalling where they were 5 or 10 years ago, it's not hard to imagine that 5 or 10 years from now that diesel prices are going to be a lot higher. Furthermore, from a driver availability standpoint, I think the same argument holds true. It's likely that driver shortages are not only going to continue, but get worse over time," says Van Kirk.
At the end of the day, there are two compelling reasons that continue to drive shippers to intermodal, says Van Kirk, "having reliable access to capacity, and a desire to control costs."
Converting truck to rail
The overarching desire to convert more truck freight to rail is shared by others in the transportation and logistics industry, including APL Logistics' Dave Howland, vice president, global land transport services.
He believes the effort should include going after secondary markets. And, while rail carriers operating in the eastern U.S. have done a pretty good job thus far, the western U.S. represents a virtually untapped market, says Howland.
"For example, when you look at the golden triangle in Texas—Dallas, Houston, and San Antonio—while that may seem like a short-haul market, it's a huge overnight truck market and not one rail carrier effectively serves it. The Union Pacific serves San Antonio from the west, both UP and BNSF serve Dallas and Houston from the west and Chicago, but there are no intermediate services between these cities or between these cities and places like Kansas City or Denver. The only place you can go is California or Chicago."
Fortunately, the conversation concerning secondary markets has started to materialize, reports Howland. "They are beginning to realize that it's not just about Los Angeles to Dallas and it's not just about the metropolitan markets they serve today. It's the secondary markets—Oklahoma City, Minneapolis-St. Paul, and even between Northern and Southern California."
According to Howland, western rail carriers estimate that between $9 billion and $11 billion in market share is available to them, "if they can come up with some new mousetraps."
As to when the conversation will result in concrete plans, Howland expects that starting next year "we'll definitely start seeing some real steps in this direction."
Investments in new equipment and technology are also helping railroads compete against the trucking sector.
"We're seeing a lot of new technologies on the rail side," says Howland, "especially with the locomotive fleet. They're much more fuel efficient and there's a lot more computerization available to operate the locomotives; they're also more powerful. On the terminal side, there's a movement from diesel-powered equipment to electric-powered cranes and equipment. They are more efficient and they operate at a lower cost. Of course, they also emit fewer emissions, which is very important in key markets like California."
According to Howland, manufacturers are also building better chassis, which not only last longer, but are heavier, too. "For a while, the industry was building chassis that would last 10 years; now they're building them to last for 15 years," he says. "That's a significant value for the owner, because you get much more life out of the equipment for a couple thousand dollars more investment."
There is a downside to the better built—and heavier—chassis, however. "You've now added a lot of the weight to the unit, and that tends to limit the commodities you can transport when it comes to the road portion," says Howland. "If you think about it, a customer has to take one full pallet of freight off the container to ship it intermodally, and a lot of customers don't want to do that. That's one of the biggest challenges for intermodal shipments: the highway weight differential."
To their credit, railroads have done a better job at designing different services and different trains for 40-foot international equipment and 53-foot domestic equipment; running dedicated double-stack trains to accommodate each, continues Howland.
"That may not sound like much, but every time you put a 40-foot container in a 53-foot car, you've just wasted 13 feet of train space," he says. "Compound that loss over the length of a 7,000-foot train and it begins to add up."
Despite the commendable progress on the part of railroads to better compete against the trucking sector it's not exactly a slam-dunk when it comes to head-to-head competition, Howland cautions.
"The trucking industry is moving towards more regional trucking and relay operations, and if they figure this out to a greater degree, then they could definitely win back more market share from the railroads," he says. Moreover, if the truck driver profession becomes more attractive to young people with incentives such as better training and pay, it could open up the field to more drivers, says Howland. "Add to that the technology that's being developed for natural gas, which is much cheaper than diesel fuel, and now you really have a new and much more competitive game."
Turning the discussion back to rail opportunities, just like Schneider National's Van Kirk, Howland also sees plenty of potential south of the border.
"In the past 18 to 24 months, we've seen a huge expansion in the services between the U.S. and Mexico. The Kansas City Southern Railway has really invested in that market with new main line construction, siding extensions, and five brand-new intermodal terminals," he says, compared to the limited Chicago-to-Mexico and Los Angeles-to-Mexico services that existed just three years ago.
Opportunities in food and beverage
Evidence of the railroads' ability to attract what would otherwise be truckload shipments is strong in the food and beverage sector.
California is home to a mass of food and beverage producers, including dairies and fruit and vegetable growers in the San Joaquin Valley along with world famous wineries to the north.
RailAmerica, a leading short line and regional carrier operating in 28 states and three Canadian provinces, has been steadily racking up food and beverage shippers in its portfolio and it's showing no signs of slowing down. (In late July, Genesee & Wyoming announced plans to acquire RailAmerica for $1.4 billion).
Bob Jones, vice president, West, at RailAmerica, is quick to mention a number of success stories, starting with its Napa wine business, which launched in 2002. A turning point came early on when Biagi Bros., a California-based transportation and logistics company specializing in wine shipments, turned to RailAmerica to help move wine from Napa down to Stockton, California during the busy 2003 holiday season.
"We spotted them three times a day, loading 9 to 12 cars every day for about a 7-day period. We helped them avoid having to truck the wine, and most importantly, demonstrated our reliability," says Jones. Since then, Biagi Bros. has grown from a 3-door warehouse to a 20-door warehouse and RailAmerica has grown along with them. RailAmerica now sends about 5,000 carloads a year of finished bottled wine to distributors all over the U.S.
Jones believes that volume can double, though, to 10,000 cars annually. "There are three other companies that have wine warehouses and there's no reason we couldn't turn that into more business for us."
For Biagi Bros., RailAmerica transports the wine from Napa to Fairfield, California, where it's then interchanged with Union Pacific. UP takes it to Roseville, California where it's transferred to their Express Lane service heading eastbound.
Union Pacific's Express Lane service was "designed in 2000 by Union Pacific and CSX Transportation to expedite the shipment of perishable goods from California and the Pacific Northwest to the East Coast," according to the company's Web site. "Express Lane on-time delivery averages more than 96 percent from shipper to receiver. Union Pacific has dedicated the largest refrigerated rail car fleet in the industry to this program. The fleet totals 4,925 cars, consisting of 1,493 cars 64 feet in length and 3,432 cars 50 feet in length. In addition to the initial investment in the equipment, $18 million has been invested since 2008 for California CARB Emissions Compliance."
The wine shipments move in insulated railcars, explains Jones. "Wine is stacked on a regular railcar pallet, shrink-wrapped, and placed in the railcars. The cars have large air-filled bladders that are positioned inside the railcars to pack the wine tightly, which prevents damage."
RailAmerica also moves beer for Anheuser-Busch, the largest brewing company in the U.S., which operates a 700,000 square-foot facility in Fairfield, California that serves customers in the Pacific Northwest. The beer is transported every night from Fairfield to Roseville, where it's turned over to the Union Pacific for transport to Portland.
"We have bottles, cans, kegs, all of their products from Bud to Michelob, which are moved on 10 to 20 cars each night to Portland," says Jones.
Leprino Foods, one of the largest cheese producers in the world, especially for pizzas, also uses RailAmerica to transport its refrigerated and frozen cheese from the West Coast to destinations throughout the U.S.
Meanwhile, "The other big story is the tomato products that we handle out of the San Joaquin Valley," says Jones. "We get some out of the Tracy, California area and some out of Northern California. Most of it is bulk and shipped in large bins to places like Ohio, a lot goes to Campbell's Soup in Paris, Texas, and to companies like Hunt's, Contadina, and Heinz, where it's processed into tomato paste, ketchup, salsa, and other products. It all originates from the California Northern and San Joaquin Valley Railroad. We'll have days where between the two railroads we'll have 60 carloads of tomato product going east."
Bakersfield, California-headquartered Bolthouse Farms is another significant food shipper for RailAmerica.
"They're the largest carrot producer in the world; they grow carrots year-round," says Jones. Not only does RailAmerica handle carrots, but Bolthouse Farms' juices too, both of which are distributed throughout the U.S. (In July, Campbell's Soup announced plans to pay $1.55 billion for Bolthouse Farms).
Refrigerated cars are used to transport the products, which are then interchanged with BNSF in Fresno, California for transportation eastbound on that railroad's express service.
"This is extremely time-sensitive cargo. We've got a 90-minute window to connect with BNSF in Fresno and we do it consistently," emphasizes Jones. "We are in direct competition with trucks for this business," he adds, "and yet we've been able to grow this business every year since we started with Bolthouse Farms. Sometimes, they require an extra train on the weekend and we accommodate them; we'll build that extra train."
While most think it's the rail industry's service improvements in recent years that have been responsible for turning heads, Jones, a long-time rail veteran, says that service has always been good—it's just taken some time for everyone else to notice.
"Business is growing because rail service, in general, has always been good. We treat the wine, beer, cheese, tomato, and carrot business like it's gold. We feel like we do something exceptional to get this type of business away from the trucks. Working with the Union Pacific and making those seamless hand-offs every single night and being on their Express Lane train—I don't think business gets any better than that."