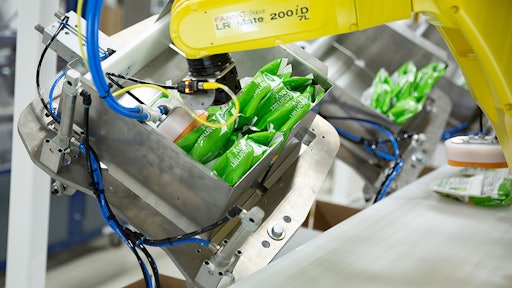 Quest Industrial
Robotics are fast becoming the norm in packaging applications, and no one knows more about robotic integration than Quest Industrial.
Quest is an award-winning, FANUC Authorized system integrator and certified vision specialist, and its systems are capable of direct food contact with U.S. Department of Agriculture compliant and washdown designs. The diverse knowledge base of Quest engineers and programmers encompasses the entire manufacturing process, allowing them to solve virtually any customer application with the appropriate level of robotic automation.
Quest Quik Pick Robotic Case Packer
Two of the demonstrations center on the Quest Quik Pick, a high-speed robotic case packer that's quick, accurate and compact. A main differentiating point with the Quik Pick is its speed and flexibility. With the QPick custom case packing software, the Quik Pick can be configured to pick up as many as 1,000 pieces per minute.
The Quik Pick works extremely well with flexible film packaging, thanks to its vision system and optional 3D scanning that quickly detects the pouches' topography to identify the proper point for picking. While the ideal application is flexible film packaging, the Quik Pick performs well with just about any packaging type that comes from a vertical form fill seal or horizontal flow wrapper machine.
Quest Boxed-Bot Robotic Palletizing
Another demonstration stars the Quest Boxed-Box space-saving robotic palletizer. Featuring a small footprint starting at just 8'x10', the Boxed-Bot allows an operator to design and produce exact pallet patterns quickly and easily from bags to boxes and other product types. Creating patterns is accomplished though the QBox custom pallet building HMI-based software, the most technologically-intuitive operator interface available on the market. The ability to build your own patterns saves time and money by eliminating the need to have a service programmer onsite to perform the task.
The Boxed-Bot features a Fanuc robot that provides higher stack patterns, which better maximize tractor-trailer loading for more efficient shipping.
Quik Fill QF 100 Robotic Primary Packaging
For packaging produce, the Quest Quik Fill QF 100 Series robotic primary packaging are a family of solutions designed to automate the filling of single and multi-compartment trays, bowls and clam shell containers. Borrowing on its vision-guidance expertise, Quest uses a combination of 2D/3D vision, specialty scales, and food-safe robotics to tailor an automated solution to each application