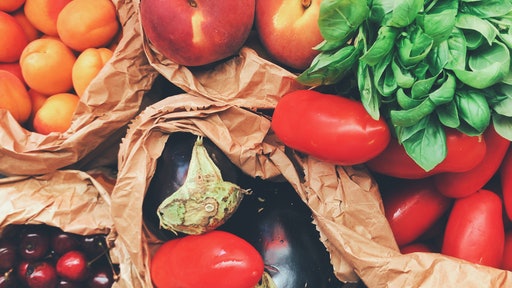 Pexels
The food and beverage manufacturing industry has seen its share of challenges and changes, some of which have altered critical aspects of the business. From disruptions rooted in consumer behavior changes to sustainability requirements to full traceability of products to global health pandemics, one thing is for sure, it has not been business as usual. The industry is at a crossroads, or at least an important juncture that will determine the future of how commercial food production will occur. The recent global pandemic has changed consumer buying habits not only in regard to the type of products they purchase but also in how they are purchased. Internet food and beverage buying are at an all-time high. The dramatic shift away from shelf-stable foods has slowed. Consumers are turning back to the center store, but they're looking for new products. Demand for frozen and fresh foods is still on the rise, but food preservation is an issue as the market unpredictability has increased and supply chains have become strapped.
Manufacturers need to be creative in dealing with the more complex supply chain required to acquire ingredients and food products that will eventually be converted into finished food items. They will need to be just as creative to manage a growing value chain that includes new ways that consumers can purchase products. Innovation and a new way of sourcing products can help alleviate some of the strains on the supply chain and manufacturing operations that are needed to deliver the right product to the right place at the right time.
The market today has a great number of complexities, and one of the most prevalent issues facing the food industry today is transportation. With all the disruptions and delays impacting the food and beverage supply chain globally, the availability of transportation for all levels of inventory is critical. The demand for trucks and other shipping methods has outgrown the physical number of available vehicles, vessels and people to operate them. This transportation shortage has caused major delays up and down the supply chain, impacting all inventory levels—from ingredients and materials through the work in process to the finished goods. There are simply more products that need to go to more places. Additionally, there are now more shipments of smaller quantities due to the expanded value chain and the increases in the online purchasing of food, beverage and consumer products. Manufacturers need to figure out how to manage this issue without completely destroying customer service levels and wiping out profits.
There could be a remedy or at least a way to minimize these issues while taking advantage of a basic human trait. Humans by nature are very territorial. This is true from a country or provincial perspective, and it's true globally. It happens everywhere, all the time. So why not in the food and beverage industry? The food and beverage industry can use local food products and ingredients to their advantage and minimize supply chain issues, improve operations, grow profits and market share. Here's how.
Use locally farmed products
There are several ways that food manufacturers can use locally grown food products. Obviously, one issue that comes to mind is that many food products are only grown in large amounts in certain climates or specific geographical areas. That could limit the possibilities. However, many crops are grown in smaller quantities in many regions to supply local markets. Manufacturers can team up with local farms to provide products regionally and the manufacturers can produce the products where they are grown. The supply chain cost reduction is substantial because products are being produced near the farms where they are grown. In addition, transportation costs and times will be reduced and shelf-life integrity can be better maintained.
Produce locally through contract manufacturing
Using locally grown products is a great idea, but what if the food manufacturers do not have a manufacturing facility nearby? The costs of building and maintaining a manufacturing facility are enormous and the benefits received from producing might not justify the capital outlay. There could be a simple solution to this issue: contract manufacturing or co-packing as it is frequently called in the industry. Rather than spending millions building a manufacturing facility, a local co-packer can be signed to produce the finished products from the locally grown supplies. The overall mission is accomplished. You get the cost savings of acquiring locally sourced products thus minimizing transportation costs and related shelf life spoilage. You gain the marketing power of advertising your product as "locally produced" with the added benefit of it also being locally sourced. In addition, you get significant cost savings by not owning and operating the actual manufacturing facility yourself. On top of it all, you can distribute your product faster and reduce the lead time for delivering the product from field to fork.
Sustainability and social responsibility
Food manufacturers are in businesses to make money. However, all businesses are part of a bigger community and as part of that community, they have a responsibility to respect and protect the environment and the community on the whole in addition to reaching their financial goals. Many consumers feel that by supporting local businesses, manufacturers and farms, they are helping the sustainability of their community. Some of the benefits of buying local products from a local or sustainability standpoint include:
● Fresher and/or healthier products
● Supports local businesses and farms and strengthens the community
● Creates regional jobs
● Increases the tax base to potentially lower individual taxes
● Safer for the consumer due to fewer touchpoints and contamination risks
● Improves overall food safety
● Better for the environment due to reduced transportation costs and distances
Food and beverage manufacturers need to be rapid, agile and effective
The trend of "buying local" looks to be more than a fad. This concept and source of food products are here to stay. And, as we've seen, it can be smart business. Shrinking the area of the value chain and shortening the supply chain by sourcing and manufacturing locally reduces product risk, improves profitability and delivers products on time. As this concept continues to develop and grow, manufacturers need processes and systems to be agile and flexible to adjust to the direction of the market. Recent disruptions have made it very clear that drastic change is here to stay and the companies that will succeed will be those who have the processes and systems in place to alter their direction to match the market.