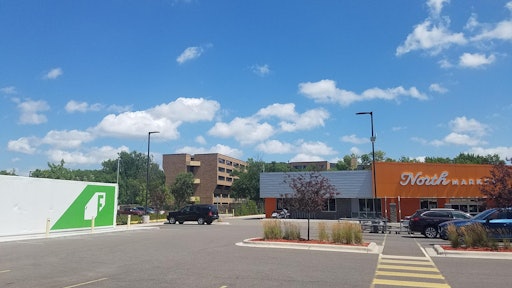 North Market
North Market has installed an on-site hydroponic vertical container farm from Freight Farms.
Built in an upcycled shipping container and controlled by a data-driven IoT platform called farmhand, the 320-square-foot farm is located in the retailer's parking lot.
Regardless of the season, it will provide the market's community with fresh produce (all pesticide- and herbicide-free) year-round. Growing at commercial volume, the farm uses less than 5 gallons of water a day.
North Market will start by harvesting 11 crops, including three varieties of mini compact romaine lettuces, green oakleaf, basil, Thai basil, rosemary, thyme, lemon balm, sage, and mint.
Some of the added benefits of the on-site vertical farm include:
Elimination of food miles. The crops only travel steps from the parking lot to the store.
Consistent reliability. Store can produce its own line of crops for shoppers, with year-round consistency regardless of the weather or changing climate conditions in Minneapolis.
Quality and freshness. By being grown hyper-locally (in this case, right on-site), produce stays fresh for far longer, reducing food waste for both the store and consumers.
Cost reduction. In removing distribution costs from the equation, Pillsbury United Communities (PUC) is able to pass savings on to the consumer.
Traceability and safety. The farm's integrated IoT platform, farmhand, enables complete traceability of crops from seed to harvest
North Market also sells produce from the PUC's other soil-based farms in the city. To get those crops to the store, bicycle couriers pick up freshly harvested food from PUC's Southside gardens and deliver them to North Market to be sold. Completing the cycle, they also pick up surplus food and bring it back to the Southside to be distributed in community delivery meal programs. Remaining food is composted back at the Southside gardens.
Companies in this article