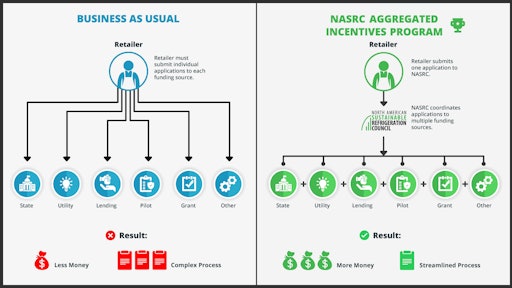 North American Sustainable Refrigeration Council
The North American Sustainable Refrigeration Council (NASRC) has announced plans to launch an Aggregated Incentives Program (AIP) designed to accelerate funding for natural refrigerant technologies. The program will provide a platform to coordinate various sources of funding and streamline the incentive application process for retailers. AIP will be piloted in California, with a goal to expand the program nationally in the future.
NASRC plans to align the AIP with the launch of the California Air Resources Board (CARB) F-gas Reduction Incentive Program (FRIP).
"Few retailers have the bandwidth to think about scoping new projects with everything going on right now," says Danielle Wright, executive director of NASRC. "But, we want them to know we are preparing for the future and will ensure that the program provides retailers with as much support as possible when the timing is right."
"High upfront cost is the primary hurdle preventing the adoption of low-GWP technologies," says Wright. "Funding support to offset upfront costs is key to bridging the gap and stimulating the economies of scale necessary to bring costs down."
The AIP will reduce initial costs by pulling together various sources of funding for projects that incorporate ultra-low-GWP technologies, which CARB defines as less than 10 GWP. Both new construction and existing facilities will be eligible. Funds will be awarded based on reduction in direct greenhouse gas emissions from the refrigerant and other benefits, such as energy efficiency or water savings. Retailers and their partners can submit a single application to NASRC, who will then coordinate funding eligibility across multiple funding partners.
"Our goal is to maximize funding per project while simplifying the experience for the retailer," says Wright. "We also expect the pilot to generate a tremendous amount of data that will benefit the industry."
Another goal of the pilot is to increase the number of funders and the amount of funding allocated to support low-GWP technology installations.
"The best way to ensure continued and expanded state funding is to demonstrate demand," says Wright. "We are encouraging retailers and their partners to submit applications not only for projects planned in the next year, but for the next 5-10 years."