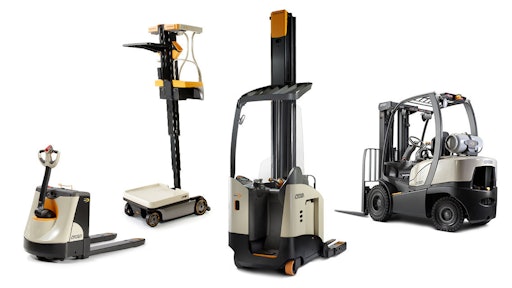 Crown Equipment Corporation, one of the world's largest material handling companies, added another gold-level Encouraging Environmental Excellence (E3) Award from the Ohio Environmental Protection Agency (EPA) to its growing list of sustainability achievements. Ohio EPA Director Craig W. Butler made the announcement at the agency's first sustainability conference held on Tuesday, Oct. 3, in Columbus, Ohio.
The Ohio EPA E3 program acknowledges Ohio businesses for environmentally beneficial activities, and the gold-level award recognizes organizations that exceed regulatory obligations and commit to long-term strategies to reduce waste, lower emissions and improve environmental performance. Crown's latest E3 award recognizes employees at its Minster manufacturing plant for their effort and commitment to develop and achieve sustainability objectives that helped to reduce the facility's environmental impact.
"Crown continues to take a leadership role in manufacturing efficiency and environmental stewardship. By upgrading lights and sensors, and being zero-waste for several years, the Crown Minster facility sets a great example for others in Ohio industry to follow," said Butler.
This marks the third time Crown has earned E3 program gold-level recognition for the company's sustainability efforts within its manufacturing and assembly plants. In 2014, Crown's New Knoxville plant became the first facility in Ohio to earn the gold-level award. The following year, the company's electronics assembly plant in New Bremen secured the same honor.
"One of the big reasons for Crown's continued sustainability successes is the motivation and commitment of our employees to keep sustainability top of mind in everything we do," says Jim Dicke III, president, Crown Equipment. "Through our vertically integrated approach to sustainability, Crown works hand-in-hand with employees at every level to channel their creativity, energy and passion toward achieving our strategic sustainability goals."
In 2015, the Minster location became the fifth Crown facility to achieve zero landfill status and the third to earn ISO 14001 certification. Others include manufacturing facilities in New Knoxville and New Bremen (ISO 14001 and zero landfill status), as well as Crown Lift Trucks sales and service locations in Dayton and Lexington, Kentucky (zero landfill status).
Companies in this article