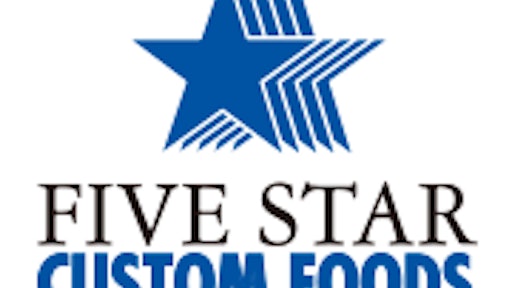 Cargill has signed an agreement to acquire Fort Worth, Texas-based Five Star Custom Foods, Ltd., a business specializing in cooked protein products and custom prepared soups and sauces for the foodservice and food processing sectors. The acquisition includes both of the Five Star Custom Foods facilities in Fort Worth and Nashville, Tenn. Adding Five Star Custom Foods to the Cargill family will enhance the company's existing cooked protein capabilities, optimize supply chain efficiencies and provide innovation opportunities. Terms of the agreement were not disclosed and the transaction will be subject to customary regulatory review, with approval and finalization of the purchase expected this summer.
"We're thrilled with the opportunity to add Five Star Custom Foods to the Cargill family because it has a record of proven success producing high-quality, value-added, customized products that delight its customers," said Brian Sikes, corporate vice president of Cargill's protein businesses headquartered in Wichita, Kan. "We are acquiring an excellent company with talented people who do an outstanding job delivering a five-star experience to their customers, helping them to succeed and grow.  
"Adding Five Star Custom Foods to Cargill's protein business will provide us with new capabilities we currently do not have, while allowing us to be more nimble in our ability to meet the ever-changing needs of our customers and consumers in today's fast-paced marketplace," explained Sikes. "We will also learn from the proven success of the Five Star Custom Foods team, which will allow us to enhance our own portfolio as we continue to grow our protein business." 
"Cargill is a company with a rich history and reputation for producing exceptional products," stated Jeff Bledsoe, president and founding partner of Five Star Custom Foods. "Together, we share a commitment for taking care of employees and nurturing customer relationships. As we look toward the future, we are excited by Cargill's commitment to excellence and long-term profitable growth. We truly believe this to be a 'winning' scenario for everyone involved." 
"We take great pride in our ability to deliver high-quality, safe and nutritious food to people around the world," stated John Keating, president of Wichita-based Cargill Meats Solutions Corporation. "These two locations in Fort Worth and Nashville fit well with Cargill's existing U.S. geographic footprint, and we look forward to sharing our vision and passion for protein with the Five Star Custom Foods team."  
Five Star Custom Foods was established in 1999 and employs 385 people. This is the second Fort Worth operation Cargill has purchased in the past four years. In 2012, Cargill purchased a beef grind facility in the area. More recently, Cargill announced its acquisition of a ground beef processing plant in Columbia, S.C. Its protein portfolio includes beef, value-added protein, turkey, cooked meats and food distribution businesses, and serves customers around the world. 
Lazard Middle Market served as financial advisor to Five Star Custom Foods on the transaction.