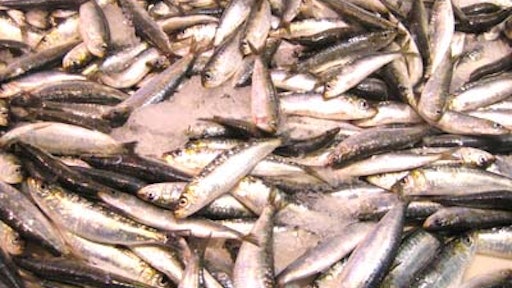 Fisheries managers on the U.S. West Coast will likely shut down sardine fishing this year as numbers decline, echoing a previous collapse that decimated a thriving industry and increasing worries that other species might be withheld from the commercial market, according to USA Today.
Fishermen are resigned to not being able to get sardines, but they hope the Pacific Fishery Management Council will not be so concerned that it sets the level for incidental catch of sardines at zero, shutting down other fisheries, such as mackerel, anchovies and market squid, which often swim with sardines.
Sardines were a thriving fishery on the West Coast from World War I through World War II, and the cannery-lined waterfront in Monterey, California, became the backdrop for John Steinbeck's 1945 novel, "Cannery Row." The fishery industry crashed in the 1940s, and riding the book's popularity, Cannery Row became a tourist destination, with restaurants and hotels replacing the canneries.
The industry revived in the 1990s, when fisheries developed further north along Oregon and Washington waters. Today, about 100 boats have permits to fish for sardines on the West Coast, about half the number during the heyday. Much of the catch, landed from Mexico to British Columbia, is exported to Asia and Europe, where some is canned, and the rest goes for bait. West Coast landings have risen from a value of $1.4 million in 1991 to a peak of $21 million in 2012, but are again declining.
To read more, click HERE.