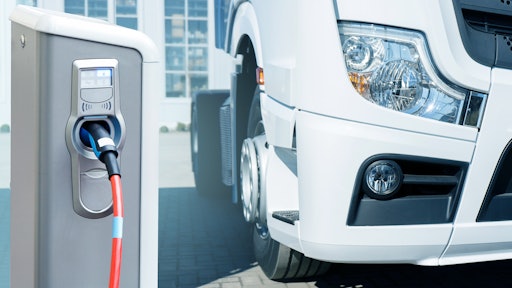 scharfsinn86 AdobeStock_420080513
Public policy and funding have shifted to build the zero-emission vehicles (ZEV) market and sunset diesel engine development on an accelerated timeframe, according to a new report from Gladstein, Neandross & Associates (GNA).
In fact, ZEVs will be the "law of the land" in states representing approximately half of the U.S. economy.
"The past year has brought a historic amount of investment from the federal government, as well as from private industry," says Erik Neandross, CEO of GNA. "Across clean fuel types, we're seeing accelerating momentum and an increasing commitment to low carbon fuels and zero emission commercial vehicles."
From GlobeNewswire:
• The federal government and California have adopted rules requiring an 80% reduction in NOx emissions from diesel engines, adding tens of thousands of dollars to the cost of new diesel engines and likely requiring additional ongoing maintenance
• More than $32 billion per year, on average, in public incentive funding for clean vehicles and infrastructure will be available for the next 4-5 years
• A total of 13 states and the District of Columbia have passed or are considering some form of California's ZEV sales mandate on manufacturers and these same states are expected to consider California's ZEV purchase mandate on fleets that passed last week.
• U.S. renewable diesel production doubled from 2021-2022 to 800 million gallons and renewable natural gas replaced nearly all fossil natural gas in California transportation for the second year in a row. • In 2022, CNG averaged $2.73 per diesel gallon-equivalent, and propane averaged $2.10 per gasoline-gallon equivalent compared to an average of $5.78 per gallon and $4.79 per gallon for diesel and gasoline, respectively.
• Orders for medium- and heavy-duty battery-electric vehicles surged 640% with nearly 30,000 medium-duty orders and 2,400 heavy-duty battery-electric school bus orders in 2022.
• At least half of fleets across 11 different fleet types, including logistics, cargo and delivery fleets, have operated a medium- or heavy-duty battery-electric vehicle in the annual survey and 92% of those fleets plan to grow their use.
• Supply chain disruptions have raised the price of medium- and heavy-duty battery-electric vehicles and delays for electrical service have caused multi-year delays for some deployments.
• The public hydrogen station network grew 12% and the first plans to build station networks outside of California were announced for the central, mid-Atlantic and southwestern U.S.