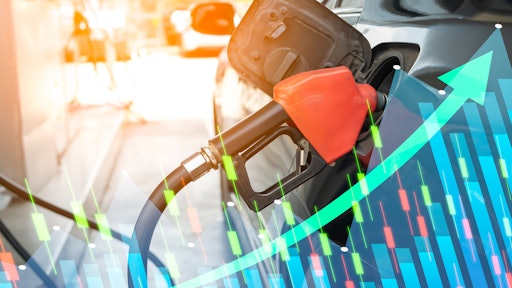 Yingyaipumi/stock.adobe.com
In the wake of the pandemic, restaurant owners and retailers have had to hurdle one crisis after another – supply chain disruption, labor shortages and inflation, to name just a few. For most, balancing consumers' growing expectations for instant gratification with economically sustainable logistics has been a major challenge.
The recent surge in gas prices has led to yet another detour for restaurants and delivery services as inflation and geopolitics have caused these prices to skyrocket. Many small business owners say that gas price spikes have had a "very significant" negative impact to their business recovery.
Although gas prices are now beginning to stabilize, their volatility serves as a harsh reminder that the economic burdens of rapid delivery are a challenge for both consumers and businesses.
But it doesn't have to be this way.
Gas pains
Delivery drivers are usually not compensated for the gas they use and are, as such, directly susceptible to the whims of oscillating gas prices – something that hourly salaries and tips usually don't offset. Some drivers report they are considering replacing their gas-run cars with hybrid or electric models or even plan to spend additional hours on the road just to turn a profit.
That's why several delivery services began charging customers extra surcharges between 35-55 cents to help drivers cover the higher cost of gas – a policy that was extended indefinitely. It's a considerate move, but one that has prompted some customers to rethink their spending habits, calling the long-term sustainability of on-demand delivery into question.
Case in point: as gas prices peaked, many consumers began choosing to eat at home rather than ordering in or dining out, taking their business away from delivery services and restaurants at a time when 83% of restaurant owners were still trying to recover financially from the pandemic.
These days, a hit to restaurants often cascades to the delivery industry. Drivers cannot keep up with this challenging economic reality, with many wondering whether the work is financially viable in the long-term.
A cost-cutting approach
Most app-based delivery services rely on manual deliveries, which is at the mercy of traffic flow, available couriers, and of course, the cost of gas, among other things.
But delivery services don't have to be so vulnerable to market swings and shouldn't be a financial burden on retailers. Rather, they should serve as a tool for growth, modernization and financial restoration. To guarantee this, restaurants need to start integrating scalable, cost-effective, and sustainable delivery systems into their existing frameworks.
Autonomous airborne drone delivery checks all these boxes.
Restaurants that incorporate end-to-end drone delivery into their logistics can fulfill orders while an automated service handles the rest, slashing the typical cost of delivery by as much as 40%. Because a single drone operator can monitor multiple delivery orders at once, businesses can satisfy customers' demand for instant gratification while paying less for transportation costs. What's best, perhaps, is that such deliveries are fully electric, meaning they are far less susceptible to the ebbs and flows of gas prices due to inflation, global politics, etc.
Drone delivery isn't merely a dream for the future, it's a reality. Leading drone companies are actively working with regulatory bodies such as the FAA to move the needle and make these services the rule, not the exception.
Regulators, retailers and consumers have seen the impact drone delivery can have at scale, proving itself to be an efficient, viable option – it is only a matter of time before anyone can order a pie in the sky.
Order up-wards!
The extreme swings in gas prices are leaving consumers and restaurants alike seeking more sustainable ways to get their food piping hot from their favorite restaurants without sacrificing convenience or paying higher prices.
Autonomous delivery methods sidestep traditional hurdles, offering lower costs, speed and flexibility without further congesting already gridlocked roads – a relatively frictionless solution that can provide the relief the restaurant and delivery industries have been waiting for.