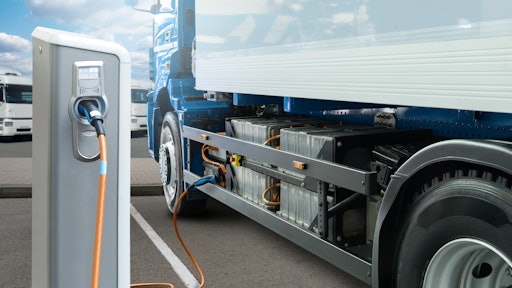 scharfsinn86 AdobeStock_460441554
Today's consumers are increasingly weighing not only how goods impact them but also how those goods impact the world around them. Not surprisingly, consumer preferences within the food and beverage (F&B) industry are no different.
Across the globe, shoppers are increasingly aware of a product's indirect cost to the environment and health, and – as one of the world's largest polluters – the F&B industry is embracing sustainability practices to decrease the industry's carbon footprint, in many cases by transitioning their fleets from diesel to electric.
Where we are today: Diesel's impact on public health
Global F&B production accounts for roughly 34% of global greenhouse gas emissions (GHG), and according to FAO, the F&B supply chain is on track to become the industry's largest polluter. Oxfam found that, in fact, the emissions of 10 of the largest F&B fleets equaled the total emissions of all Scandinavian countries combined.
In addition to the long-term environmental impact that F&B emissions have on the planet, pollution from the industry also has an immediate impact on public health. Roughly 10% of vehicles classify as heavy-duty (i.e. tractor-trailers, delivery vans and heavy-duty trucks), but these same vehicles contribute 45% of all nitrogen oxides (NOx) and 57% of all fine particulates, also known as PM 2.5. Both NOx and PM 2.5 emissions have been linked to chronic illnesses, including asthma, heart disease, lung cancer and strokes, and F&B fleet drivers and the majority of Americans who live along transport routes inhale these emissions daily.
Switching from a diesel to an electric vehicle (EV) could not just improve lives but also save them. The American Lung Association estimates that 66,800 lives could be saved by 2050 if corporate fleets switched from diesel to zero-emission. Diesel vehicles are not only polluting the air in communities along transport routes; they're also polluting those same communities with sound. Chronic noise pollution has recently been tied to hypertension, stroke and heart attack.
Customers demand change
It's clear that diesel transport vehicles are quite literally poisoning the air, the drivers and the communities they service. Consumers are taking note of the F&B industry's negative impacts and demanding changes. Last year, industry executives reported that customer preference was their top motivator for increasing their company's sustainability practices. The industry is in obvious need of a sustainability solution, but what can be done?
One of the fastest and most impactful solutions: Decarbonizing fleets
Decarbonizing industry fleets is a critical step that the F&B industry can take to improve both its environmental and public health impact. And, the transition from diesel to electric is not only good for public and planetary health, but is also quickly becoming the most cost-efficient option.
Over the next few years, it's estimated that the total cost of an e-truck fleet will be similar to, or even better than, its traditional internal combustion engine counterpart. From a total cost of ownership (TCO) basis, light commercial electric vehicles are already at cost parity compared to their diesel alternatives, and McKinsey expects medium-duty vehicles will be at full cost parity to diesel alternatives by 2025. As for heavy-duty vehicles, RMI found that in a full TCO analysis, all classes of electric fleets proved an overall total cost advantage and even marked cost savings as increasing throughout the lifetime of the vehicle. Additionally, due to the price stability of electricity compared to the volatility of oil, diesel and gas, EVs maintain a lower operational cost for all transport classes.
Planning today for a healthier future
However, while F&B corporates may understand the benefits of decarbonizing their supply chains, they may not know where to start. It's true that from ideation to implementation, the road to electrifying a fleet can be daunting, long and complex. Fleet managers must understand that vehicle cost is not the only financial consideration in the transition process; charging infrastructure can add significant upfront costs while selecting inefficient electric rate tariffs can contribute to increased operational costs.
Additional upfront costs can fluctuate based on preferred choices in technology, fleet maintenance, and infrastructure. Strategic financial planning is one of many transition components that companies will need to undertake to electrify their fleets. Those leading the transition must also think through procuring vehicles, sourcing the right technologies, working with utilities and stakeholders, and training their workforce (to name a few.)
Aside from direct benefits like TCO, the indirect and societal benefits of decarbonized fleets are significant. Companies that electrify their fleet will successfully reduce their emissions, improve the health and wellness of their drivers and positively impact the communities they serve. Corporates within the industry that decarbonize their fleets will be leaders in helping turn the industry from being planet-negative to planet-positive.