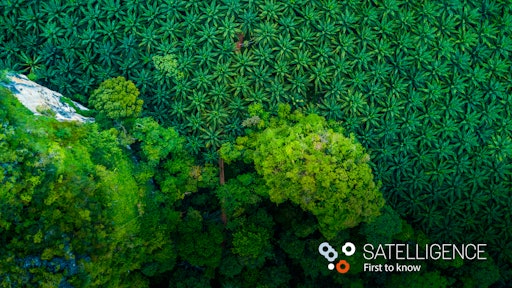 Satelligence
program to enable more clients to improve their mitigation of environmental and social risk in agricultural commodity production. Satelligence leverages insights based on satellite and supply chain asset data, machine learning and human intelligence.
Satelligence offers more accurate, granular visibility over their supply chains to identify those environmental risks and opportunities and take meaningful action. Its tech monitors land cover changes like deforestation and fire impact using satellite imagery and artificial intelligence, analyzed within the context of the most complete and up to date supply chain asset information. This includes millions of farms and plantation concessions, mills and silos, ownership, group structure and supplier linkages.
Rapid warnings and science-based information, delivered via web app, data feeds or custom reports, identify risky suppliers while reducing the need for ground checks, leading to better engagement and responsible sourcing strategies, contracts and investments.
"4impact's team brings outstanding expertise and guidance on solutions for the financial sector to our business", said Niels Wielaard, founder and CEO of Satelligence. "We achieved very strong growth to date based on market demand. Building on our strong partnerships, we aim to service new commodities and markets and cover more risks beyond deforestation and vegetation fires, enabling clients to be first to know and first to act on risk and performance issues. We look forward to working with 4impact to achieve our mission of helping to make sustainable agriculture mainstream." 
Ali Najafbagy, 4impact Managing Partner: "We are incredibly impressed with the team's deep domain expertise, which they have translated into an easy to use software solution that fits the global corporates' transparency needs. Restoring biodiversity is key to the Earth's stability and providing stakeholders with the relevant data to act is critical to achieving success."