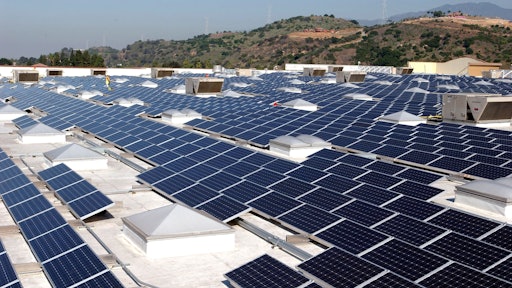 In the food and beverage industry, where the average profit margin is estimated at just 5.2 percent, every dollar counts. Here, the old saying 'a penny saved is a penny earned' rings true because a warehouse or distribution center that operates inefficiently can eat up profits in short order.
Consider that according to the U.S. Energy Information Administration (EIA), U.S. warehouses spend an average of $0.70 per square foot on energy, with half of that amount spent on natural gas and the other half on electricity. In some locations, the EIA estimates that energy costs are more than 10 percent of a warehouse's total revenue; a fact that's unacceptable in a for-profit business.
Fortunately, there are ways for warehouses and DCs operators to get a handle on energy costs. Low-hanging fruits that can provide quick returns include better seals around loading dock doors; regular maintenance of heating, ventilation, cooling and refrigeration systems; and delamping light fixtures. But there are many other options that can help reduce energy consumption in massive food and beverage warehousing facilities.
The reason for reigning in energy costs is simple; Patrick Smith, vice president, IGS Solar states, "Energy costs tend to be volatile, making it difficult to budget for this expense. When you consider that energy costs often comprise up to 15 percent of a warehouse/DC's total operating budget, finding ways to contain this expenditure can be very valuable."
And, tackling energy expenses is often the first step toward getting a company's sustainability ball rolling.
"Energy saving is a gateway into developing a more comprehensive sustainability program," says Craig Riley, practice leader of corporate advisory and sustainability services for AECOM, a global engineering, design, construction, and technical services firm that specializes in green building, sustainable infrastructure and sustainability management services. "Energy efficiency is a win-win-win situation. You implement an efficiency program, you save energy, you save money, you reduce your carbon footprint and you have a legitimate component to your sustainability program."
If this is a new area, Riley recommends beginning with an energy audit and assessing everything in the facility that consumes energy. "This will give a sense of the type and scale of opportunities that exist for energy efficiency gains," he says. "They can then come up with conservation measures and sustainability initiatives and look at ways to fund initiatives, monitor and then track their results." The latter is important in communicating the success, helping drive further investment and interest in energy efficiency and sustainability overall.
Energy Efficient Lighting
As a global third-party logistics provider with offices in 310 cities and 43 countries, Yusen Logistics' energy expenses pack a big price tag. However, the 3PL has lowered its energy costs by taking environmental stewardship very seriously. To that end, it has obtained ISO 14001 certification for its warehouses and offices. The company also operates a large-scale power generator, with 500kW output in New Jersey, and uses the electricity it generates in the warehouse plus sells excess wattage to local power companies. More recently, Yusen Logistics began introducing LED lighting in its warehouses.
Its most recent lighting retrofit occurred at its Carson, California, campus where the company replaced 966 outdated fixtures with energy-efficient LED lights at the 486,000-square-foot facility. This retrofit is expected to reduce energy use by 1 million kilowatt hours (kWh) per year. The company expects to see a 60 percent savings in total annual lighting costs and a 65 percent decrease in power consumption as a result of the retrofit.
The lighting upgrade is expected to "eliminate 309 tons of carbon dioxide each year, which is the equivalent of removing 3,488 cars from the road," says Ryan Entis, operations support analyst of Contract Logistics for Yusen.
There was a time when lighting was considered an area where costs were difficult to control but advances in technology have put an end to those days. Lansdale Warehouse Co. Inc., a logistics and warehouse provider in Lansdale, Pennsylvania, estimates the average cost to light a warehouse is $1 per square foot per year. However, installing energy efficient LED lights, like Yusen did, can cut consumption by 50 to 90 percent.
In addition, zone lighting also can slash energy costs. It is now possible to automate lighting so that the lights turn on automatically when there is activity in specific areas/zones and turn off when there is not.
"My experience with our energy management teams has been that lighting projects usually offer the quickest returns," says Riley. He explains that mechanical systems - installing HVAC systems, cooling towers, and other mechanical projects – tend to cost more than lighting upgrades (unless they are more limited replacements). Therefore, these efficiency projects tend to have longer paybacks; however, the total cost savings can be greater.
Let the Sunshine In
The rooftop of the SunFed warehouse in Rio Rico shimmers in a sea of blue as large solar arrays collect the sun's rays and convert them into energy to power lights and fans inside the building itself. The company's $1.6 million investment in solar has more than paid off; it has reduced SunFed's reliance on electricity from power companies and has lowered its energy bills and its emissions.
"It's time for [food and beverage companies] to view their roof as an asset," says Steve Ashkin, CEO of Sustainability Dashboard Tools LLC, which is a firm providing tools to help companies become more sustainable. He highlights how a 38,000-square-foot warehouse in Singapore invested in an elaborate solar panel installation that took more than 14 weeks to complete. The $200,000 system, which is expected to pay for itself within six years, converts sunlight into alternating current electricity to help power the facility's operations.
"This is really a great time to go solar," adds Smith of IGS Solar. "Outside of the economic benefits, having a solar energy system installed at your facility positions your business as a renewable energy leader. Employees and corporate partners increasingly want to work with companies that have a robust sustainability program and results to support it. What better way to demonstrate your commitment than with a roof full of solar panels?"
The first step toward solar is having a discussion with an experienced solar provider who can assess a company's facilities and determine if the investment in solar makes sense. "While most [warehouses/DCs] have sufficient power usage and square footage to qualify for solar, we also need to consider any property limitations and economic benefits that a solar project will drive. Economic factors can include state incentives, power rates, geographic locations, and weather conditions; while property considerations can include snow loading, structural integrity, and roof age, and/or land availability," says Smith.
If solar is not an option, Ashkin says the roof should be properly insulated and white because "white absorbs less sun and reflects heat."
Likewise, let the sun shine in, advises Ashkin, who states adding skylights allows the warehouse to take full advantage of daylighting, and reduces the need for electric lighting.
Trash is Another Warehouse's Treasure
Every year 40 percent of the world's food supply ends up in the trash but one supermarket chain, Stop & Shop, it taking one man's trash and turning it into its own electrical treasure at the company's green distribution warehouse in Freetown, Massachusetts.
The company has installed anaerobic digesters that take in food waste organics from all of its stores, combine the waste with water, and turn the mixture into a slurry that is fed at a steady rate into the core of a waste-to-energy plant. The byproduct of this process is methane, which is used to power a generator that produces approximately 1 megawatt of power, enough to power 40 percent of the power needs for the 1 million square-foot green distribution center.
"As a responsible retailer, one of our top priorities is reducing our environmental footprint, specifically through the conversion of food that would otherwise go into a landfill," says Mark McGowan, president of the Stop & Shop New England Division. "As part of doing business, our stores generate inedible food that cannot be donated. This inedible food will now be sent to our Green Energy Facility where it will be converted into clean energy and used as a power source for our distribution facility."