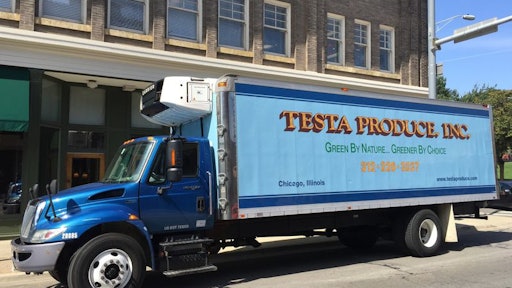 U.S. Gain
As prioritization of environmental sustainability intensifies across the globe, more and more companies are turning to transportation for emission reductions. A shift to alternative fuel within insourced or outsourced fleet can provide environmental benefits needed to maintain your company's sustainability plan.
Make sustainability the differentiator
The number of organizations reporting sustainability progress is rapidly increasing. In 2018 alone, 86% of S&P 500 Index companies published sustainability or corporate social responsibility reports. Couple this statistic with the more than 60% of consumers that expect businesses to care about improving air quality, according to Nielsen, and suddenly sustainability becomes a strategic business initiative.
But, how does this impact your logistics? For the third consecutive year, transportation is the highest emitter of greenhouse gases and subsequently unhealthy air quality for more than four in 10 Americans, according to the American Lung Association. Your fleet can positively impact this statistic, through use of alternative fuel.
For example, use your fleet or outsourced logistics to strengthen your company's environmental performance and quality of life for communities that need it most. Utilizing solutions that positively impact issues your customers care about will ultimately strengthen brand image and customer loyalty. And, as transportation continues to be a target for emission reductions, alternative fuel will become the competitive differentiator.
No need to break the bank
It's hard to dispute the environmental benefits of alternative fuel, but consider the economic benefits. Governments across the nation have deployed a variety of strategies to lessen pollution from transportation and improve air quality for the communities they represent. For your fleet, this translates to economic incentives for adoption of alternative fuel.
Consider renewable natural gas, a drop-in alternative fuel for natural gas vehicles. Renewable natural gas, according to the government, is classified as a renewable fuel solution that generates financial credits under the Renewable Fuel Standard (RFS), California's Low Carbon Fuel Standard (LCFS) and Oregon's Clean Fuels Program (CFP). Your fleet can obtain extremely low fuel pricing thanks to government programs like these.
Additionally, companies using alternative fuels such as renewable natural gas can avoid tax penalties placed on high-carbon fuels like diesel and qualify for a per-gallon tax credit. Grant funding is another option for those considering new vehicle purchases or fueling infrastructure builds. Many states offer grant funding programs to minimize investment in alternative fuel assets to ease adoption. Be sure to work with an alternative fuel provider to understand current and upcoming grant programs you may be eligible for.
Although the initial alternative fuel vehicle investment may come at a premium to traditional diesel, economic benefits listed above could reduce overall spend, making alternative fuel more competitive than you realize.
Your future with alternative fuel
Many alternative fuels exist with proven success across varied market applications. And, more fuels are coming, which begs the question, which alternative fuel is right for you?
Currently, the ideal alternative fuel solution for heavy-duty transportation is that of renewable natural gas. Leading trucking fleets are using natural gas today–and winning.
From an environmental perspective, renewable natural gas features the lowest lifecycle emissions, improving air quality where the fuel is produced and used. Further, vehicle technology is available, recently upgraded with proven performance. Fueling infrastructure is widely established and accessible. And, renewable natural gas is at the center of environmental credits, especially for fleets with operations in California and Oregon. Renewable natural gas will provide the environmental savings needed to achieve a sustainable footprint.
As emerging fuels like hydrogen and electric continue down their development paths, they too will likely factor into the future fuel strategy. Hydrogen presents range and performances appreciated in long-haul applications, whereas battery electric technologies tend to fit better within regional hauls. As these emerging technologies get closer to commercialization over the next 3-5 years, it's important to evaluate how they fit within your operations.
Going back to the initial evaluation of which fuel is right for you. The answer is–potentially all of them. Each alternative fuel has its own set of benefits and corresponding considerations. As you seek to determine an alternative fuel strategy, give thought to the following—load characteristics to determine vehicle weight limitations, route profile (length, geographies traveled), vehicle operation time, maintenance needs, lease vs. buy options and fueling locations. These factors will help determine the most effective fuel strategy. You might also engage a polyfuel provider to help with this process.
Next steps
Bottom line–alternative fuel is an excellent strategy to improve transportation-related environmental position and economic performance. Existing alternative fuel choices come with an array of benefits and fleet success stories. And, emerging solutions will further strengthen the alternative fuel story.
Your future of fuel can be the change needed for a cleaner, healthier tomorrow.