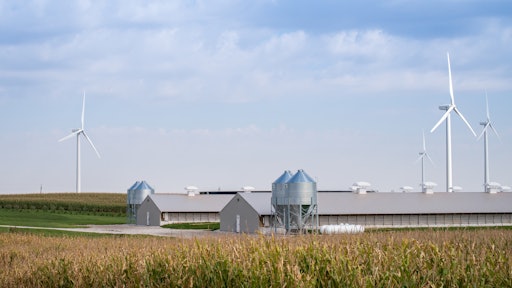 Smithfield
Three years ago, Smithfield Foods, a $15 billion global food company and the world's largest pork processor and hog producer, announced it would reduce its greenhouse gas (GHG) emissions throughout its entire supply chain by 25% by 2025. The company worked with the Environmental Defense Fund to set its goal that, once achieved, will reduce emissions by more than 4 million metric tons, the equivalent of removing 900,000 cars from the road.
Recently, Food Logistics checked in with Stewart Leeth, vice president of regulatory affairs and chief sustainability officer at Smithfield Foods, to learn more about the initiative, including opportunities the program is generating…
FL: What prompted the company to undertake this initiative?
Leeth: Smithfield Foods believes that sustainably sourced food is a right, not a privilege. To feed a growing world population that is expected to reach 10 billion by 2050 in a sustainable way, it takes bold leadership, aggressive goal setting and innovative action plans. With approximately 9% of greenhouse gas (GHG) emissions in the U.S. attributed to agriculture, we saw the opportunity to take a leading, proactive role in sustainability efforts throughout our supply chain, which balances the global demand for protein with environmental concerns.
First, to understand our own carbon impact, we partnered with the University of Minnesota's NorthStar Initiative for Sustainable Enterprise (NorthStar), which provided the data and tools needed to trace our supply chain from farm to facility to fork. This partnership enabled us to set a baseline and begin taking steps toward reducing GHG emissions across our entire supply chain.
FL: Why did Smithfield Foods choose to partner with EDF?
Leeth: For more than five years, Environmental Defense Fund (EDF) and Smithfield Foods have collaborated to address pressing environmental issues. Solving environmental problems is difficult work, but together we're making meaningful change through a focus on our organizations' shared goals to reduce GHG emissions.
We first collaborated with EDF in 2013 to reduce fertilizer loss on the vast network of farms from which Smithfield purchases corn used for animal feed. Working with EDF, we set a goal to engage 75% of the acres from which we directly source grain to reduce fertilizer loss and build soils. This effort helped corn growers adopt new tools and practices to more efficiently utilize fertilizer in their fields. It also helped our business by strengthening relationships with farmers in our communities and increasing local grain supplies. In 2018, we achieved this goal by working with grain farmers to adopt more sustainable practices on over half-a-million acres.
The success of this work set the stage for EDF and Smithfield to partner in the development of a groundbreaking goal to cut GHG emissions. With EDF's help, Smithfield became the first major animal protein company to set a goal to reduce absolute GHG emissions 25% from our complete operations and supply chain by 2025.
In addition, one of the ways we will meet that goal is through manure-to-energy projects, which will utilize innovative technologies to create renewable natural gas for consumers throughout the country, while generating a new source of income for farmers.
FL: What are some of the opportunities the initiative is helping advance?
Leeth: As we've worked to achieve our GHG reduction goal, Smithfield has encountered several unexpected opportunities and challenges related to our efforts to transform hog manure into renewable energy. We've spent years researching renewable energy projects, and not every attempt has been successful. However, in pursuing these initiatives, we realized the opportunity to create value not only for our business, but also for our contract farmers—family farmers who raise a portion of our hogs. Producing renewable natural gas (RNG) has created an additional revenue stream for Smithfield and these family farmers, which helps to diversify their incomes.
Additionally, through our "manure-to-energy" initiatives we have formed new, unexpected partnerships that are helping fuel the scalability of these projects. For example, our efforts led us to partner with Roeslein Alternative Energy in a joint venture called Monarch Bioenergy, and with Dominion Energy in a joint venture called Align Renewable Natural Gas (RNG). Through these joint ventures, we are transforming manure into energy in several states across the country to heat homes, power businesses and fuel vehicles.
In October, Smithfield and Dominion Energy announced the companies are doubling their investment in the Align RNG joint venture to $500 million, further extending the largest RNG partnership in the U.S.
FL: What role does transportation and logistics play in the initiative?
Leeth: At Smithfield, we are always looking for ways to make the path from farm to fork as close as possible, and our logistics optimization initiatives are essential components to achieving this goal. These initiatives include consolidating our network of DCs to four strategic locations in Maryland, North Carolina, Kansas and Indiana, as well as leveraging technology to optimize transportation routes to be more efficient. We are also shipping product direct to customers from our processing facilities, and increasing the use of lighter weight trucks, among other projects.