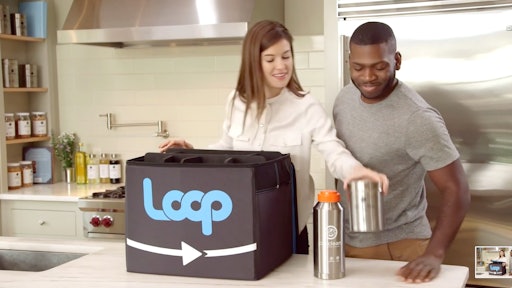 Loop
The definition of "sustainable" carries heightened significance today as forests get deforested, soils get depleted, fresh water supplies diminish and climate change adversely impacts the food supply chain. 
Nearly 20 years ago, the U.K. Sustainable Development Commission listed several goals for sustainable food supply chains. They included:
 Produce safe, healthy products in response to market demands and ensure that all consumers have access to nutritious food and to accurate information about food products.
Support the viability and diversity of rural and urban economies and communities.
Enable viable livelihoods to be made from sustainable land management, both through the market and through payments for public benefits.
Respect and operate within the biological limits of natural resources (especially soil, water and biodiversity).
Achieve consistently high standards of environmental performance by reducing energy consumption, minimizing resource inputs and using renewable energy wherever possible.
Ensure a safe and hygienic working environment and high social welfare and training for all employees involved in the food chain.
Achieve consistently high standards of animal health and welfare.
Sustain the resource available for growing food and supplying other public benefits over time, except where alternative land uses are essential to meet other needs of society.
Of course, that was then; and now is now.
What's happening with food supply chain sustainability in 2019 and what sustainability trends are gaining traction?
Market Pressures and Climate  Change Realities 
It's a combination of new market pressures and harsh climate change realities.
"At this point, no one, especially companies and their global supply chains, is immune to the effects and devastation of climate change," said Jenny Ahlen, director, supply chain, EDF+Business. "Severe storms, flooding and wildfires all threaten to disrupt companies' operations and growth. The latest science from the Intergovernmental Panel on Climate Change (IPCC), shows that companies need to focus on resilience, or risk significant financial losses. Not to mention, numerous studies prove that customers, investors and employees care about how companies act on environmental sustainability."
In the food and beverage industry, this translates into environmental responsibility initiatives, and into responses to an increasingly environment-conscious consumer market.
"Consumer demands for sustainable, universally responsible foods and drinks are coming from a rapidly growing millennial market segment," said Kevin Warner, manager, sustainable agriculture at SCS Global Services, which certifies and develops standards for environmental, sustainability, food safety and quality performance claims.
Warner says millennials want food and drinks they can trust. To meet these consumer requirements, larger food and beverage companies are focusing on removing food supply chain risks by improving supply chain visibility and transparency, and identifying and mitigating environmental impacts.
"There is also an awareness in companies that a single smartphone 10-second video produced by a private citizen can destroy your corporate image when the word gets out," said Wanter. "With today's social media, many large food and beverage companies concede that it is cheaper to do the 'right thing' in the first place."
Sustainability Trends That are Taking Shape
Given the situation, what major sustainability trends are taking shape in food supply chains now?
Circularity is one emerging trend. It defines a process where food and beverage products and by-product waste have never-ending life cycles, because they are continuously recycled into new materials that consumers use in an effort to reduce or eliminate waste altogether.
"Circularity has finally hit the mainstream," said Ahlen. "Companies are starting to test ways for designing and manufacturing products and materials that have continuous life cycles. Accenture reported that the circular economy holds $4.5 trillion in business opportunity, so companies are looking at how to tap into it. Loop is an example of this, as it's a pilot system to test reusable packaging for everyday items and certain food and beverage products."
Loop's mission is to provide a "circular shopping platform that transforms the packaging of your everyday essentials from single-use disposable to durable, feature-packed designs." The process is intended to reduce or eliminate adverse environmental impact.
Warner also sees a more holistic approach to sustainability that is now being addressed by companies as a whole—and not just by their marketing departments and their messaging.
"Throughout their operations, companies are beginning to implement metrics and use data for operational sustainability," said Warner. "They aren't just trying to implement new technologies 'in search of a problem.' Rather, the goal is to marshal the data that they have under management into meaningful measures of key business indicators that can provide tangible improvements from sustainability efforts in their operations."
There is evidence that this transformation is occurring in the food and beverage industry.
In a 2018 survey, Ceres, a non-profit organization focused on sustainability, examined how more than 600 of the largest publicly traded U.S. companies were responding to environmental risks, human rights abuses and other threats falling under the umbrella of sustainability. It found that 90 percent of the food and beverage companies in its analysis held senior-level executives accountable for sustainability performance, whereas the average for all industry sectors was 65 percent. Forty-three percent of food and beverage companies also linked executive compensation to sustainability performance metrics, compared with just 8 percent of all companies.
Challenges in the Nascent Sustainability Field 
Nevertheless, there are still challenges.
"Often just getting started is the challenge for companies," said Ahlen. "We recommend thinking about the 'low-hanging fruit'—sustainability projects in your company that will show easy wins in packaging, waste or energy operations. This can help whet the appetite internally for future projects with the highest impact, which for food and agriculture companies, is usually in their supply chains. However, while they work the easier tasks, companies shouldn't wait to start mapping out and understanding their impact."
This advice is straightforward and makes sense—but there are still complicating factors that companies must consider.
"One of these factors is that sustainability is still a nascent field, so for some food and beverage companies, the cost of doing sustainability initiatives can be an issue," said Warner. "Sustainability is also not highly regulated at this point, which makes it voluntary. At the same time, the same consumers who are pressing for more environmentally sustainable foods and who believe that farmers should have a decent life, expect to buy bananas at 18 cents."
Warner says that every industry sector has its "good and bad" sustainability players, and cites the craft brewing industry as one food and beverage segment that is doing exceptionally well in sustainability.
"Craft breweries have pushed the sustainability envelope and have made sustainability part of their brand promise," he said. "This has also pushed larger brewers into the sustainability movement because the consumer expectations for sustainability are high."
Ahlen added, "One area we're seeing significant interest in, both from media and companies, is on curbing deforestation from soy, cattle and agriculture in Brazil. An initiative we're involved with there, called Produce, Conserve and Include (PCI) is working in what's called a 'jurisdictional approach' that involves local governments, communities and producers to avoid six gigatons of GHGs (greenhouse gas emissions) by 2030 in Mato Grosso, Brazil. Recently, PCI launched a new tool called the PCI Pitchbook that gives companies a menu of 11 local projects they can engage in with activities such as financial contributions, technical support or sourcing commitments.
"We're also seeing animal agriculture companies such as Smithfield Foods and Tyson Foods step up. Smithfield is the world's largest hog producer and has put sustainability at the heart of their business. In 2013, the company committed to work with grain farmers in its supply chain to adopt farming practices that would optimize fertilizer and build soil health on 75 percent of the area from which Smithfield directly sources grain—about 450,000 acres. To figure out how to reach this goal, EDF partnered with Smithfield. Smithfield announced earlier this year that it exceeded that goal, improving practices on 560,000 acres in 2018."
Sustainability Best Practices 
For companies wishing to improve sustainability in their food and beverage supply chains, what three or four best practices are recommended?
"Understand your supply chain impacts; set a public goal; create incentives for employees, suppliers and customers to engage on sustainability; and report progress publically," said Ahlen. "EDF recently launched the Supply Chain Solutions Center that can help professionals at any part of this journey. We like to call it the 'Spotify for supply chains' because it connects companies with resources such as templates for writing a sustainability plan and measuring progress. We have a step-by-step guide for companies just getting started on sustainable agriculture."
In addition, "Take a systems-based approach," said Warner. "Assess the income generating and cost reducing parts of your organization where sustainability efforts can have the most impact. This should not be limited to marketing, and the results of your efforts should be tangible and measurable. Also, respond to the consumer trends that are endorsing sustainability. Organic foods and beverages are thriving in consumer markets. This has prompted large food and beverage companies such as Walmart to transform their brands. Today, Walmart is one of the leading sellers of organics.
Finally, avoid the practice of "greenwashing" where a company tries to "spin" a story that it is embracing sustainability but really isn't.
"Being a sustainability company is going mainstream, and sustainability just makes sense for food and beverage companies," said Warner. "It's not enough to just 'talk the talk.' Consumers want sustainable products and they are concerned about climate change. For food and beverage companies, this means creating tiny pockets of internal innovation for sustainability within their operations and 'walking the talk.'"
"All companies can be an environmental leader by committing to ambitious corporate sustainability, collaborating for scale, advocating for smart environmental policy and accelerating environmental innovation," added Ahlen. "Companies shouldn't wait to get started with sustainability because customers, investors and employees all care deeply about this. For example, a Nielsen study found that while overall coffee sales growth fell 1 percent between March 2017 and March 2018, coffee products with environmental and fair trade claims experienced double-digit dollar sales growth for the same period. These claims included recyclable packaging, less plastic waste, ethical sourcing and eco-friendly labeling."