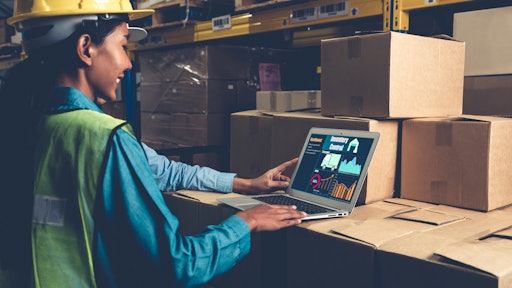 Blue Planet Studio/stock.adobe.com
Warehouse management systems (WMS) and transportation management systems (TMS) are fixtures in supply chain technology, starting decades ago. The legacy technologies are how warehouses and transportation companies control their operations in an all-encompassing software.
But in today's extremely different retail landscape than years past, where e-commerce is king and demand for shipping times is remarkably tight, newer evolutions of WMS and TMS are needed. Real-time monitoring is now an essential part of the process. This is a very fast evolution that is much different compared to the warehousing industry of yesteryear.
Today's systems are —­ and need to be —much more adaptable to fit a company's operations as personalization in technology becomes a trend in both consumer day to day lives and business strategies. A system tailored to an operation's specific needs is more likely to be more efficient.
"E-commerce growth and supply chain disruptions over the past couple of years have heightened the need to manage warehousing and transportation in as close to real-time as possible," says Lucas Buchholz, senior director of enterprise strategy at Transportation Insight and Nolan Transportation Group. "Today's cloud-based technology solutions have given rise to WMS and TMS that can be easily and quickly adapted to fit shippers' requirements. Plus, the costs of these systems are more affordable to smaller shippers than in years past. Legacy technologies are adapting as well by offering similar solutions.
Additionally, employees today are much more capable with technology, which makes outdated legacy systems even more of hinderance. Those with older WMS and TMS that lack modern functionality may find themselves struggling. But most warehouse operations now look to automation and technological advancement, as digitization and process automation are the highest supply chain priority for 84% of all businesses, according to a report from Supply Chain Benchmarking.
As these systems become more modern, with greater capabilities, their physical footprints are lighter as technology of today gets smaller and smaller. The price of these systems continues to decrease as well, making it more accessible for smaller businesses and also allow for multichannel support now that e-commerce spans all sectors.
"Retail and wholesale operators are typically buying supply chain technology solutions that satisfy a multi-channel environment," according to Rik Schrader, SVP of sales and alliances, Americas for Körber. "Since many manufacturers are buying warehouse management systems (WMS) in a second or third generation mode, selection and installation of these systems require meticulous attention to detail. Many tech stacks are still managing their solution portfolio in a static mode when the reality of today's market calls for a fast-paced experience. The supply chain portfolio needs to address the evolving needs of the customer, including the need to drive a low cost of ownership with key value points built along the way."
As for the technology itself, artificial intelligence (AI) and numerous forms of automation are integrated into WMS and TMS for both prediction and analysis functions. These systems can now predict possible outcomes based on past trends and current data, while also analyzing current data to create a clear picture of current operations in real time.
"One of the big trends in WMS and TMS is the use of artificial intelligence (AI). AI powered solutions provide a higher degree in predicting outcomes such as fulfillment and delivery times," says Buchholz. "Statistical analysis also benefits from AI technology such as forecasting the amount of inventory needed, what warehouse to place inventory in, appointment setting, and also labor planning. For TMS, evaluating carriers, rate management and performance down to the zip code are among the benefits.
One vital component of a modern WMS or TMS is the ability to integrate with other technology throughout the entire supply chain, to better serve customers and the industry. This ties into the concept of personalization, as every operation is different, has different needs and uses different platforms. Cloud capability is also extremely important, keeping the physical footprint light as well as providing convenient access from anywhere, giving access to total data and creating a streamlined view of that data.
"In today's world, the best-in-class providers are making available Cloud-based solutions that can drive a low cost of ownership and provide a level of governance and efficiency for the business operator to change as needed," says Schrader. "Operators today are more educated and mature than ever before and need tools that drive relevance in today's ever-changing environment rather than relying on concepts that are 10-plus years old."
Because employees today are so well versed in technology in their personal lives as well as professional, WMS and TMS makers now leverage new hardware that is user friendly, optimizes operations and drives safety. These systems today are often equipped with modern handheld devices, voice activation, Google glasses capabilities and more.
For those looking to implement new WMS and TMS, it is important to keep a few things in mind. For one, ease of use is vital as numerous employees throughout the hierarchy must be able to use these systems. While most technology is modeled after common platforms, some technology might be cumbersome to use and not fit well into an organization. It's imperative to explore the user experience before introducing it into operations to ensure it is the right technology platform for that particular business.
Additionally, some platforms see frequent updates, which can be beneficial but also can cause problems. Warehouses and transportation companies should get a clear understanding of how many updates, large or small, the platform is likely to see and what the costs associated with that are. Often an update could be a much bigger project than expected. It is important for these companies to create a clear budget and expectations.