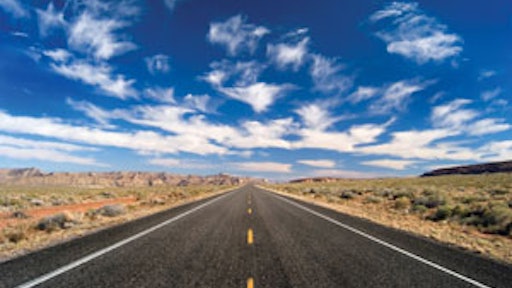 Interest in on-demand transportation management systems (TMS) continues to grow, as do deployments of the Web-based systems. The benefits over traditional TMS solutions include rapid deployment, lower upfront costs, quick time to value and supply-chain network connectivity.
As companies search for solutions that increase efficiencies in the face of higher operational expenses-such as surging fuel prices-on-demand, or software as a service (SaaS), TMS appears to be meeting great expectations.
Essentially, the on-demand TMS model allows companies to access TMS functionality via the Internet. The system resides at a vendor's location and generally consists of single-instance, multi-tenant software; it is a shared solution allowing multiple companies to access the same application. Firewalls protect the respective databases of each company within the network.
Vendors report little change management is necessary once a solution is deployed. Savings in overall transportation spend can range from five percent to 20 percent, depending on the efficiency of transportation management before an on-demand system is deployed. Higher savings are common for companies manually managing transportation activities before deployment.
Instead of paying a big licensing or purchase fee, companies pay a rental fee for SaaS or on-demand TMS, says Steve Banker, director of supply chain management for ARC Advisory Group in Dedham, MA. Generally, companies can choose from the single-instance, multi-tenant software placed on a vendor-controlled server or they can have the vendor software reside on their own server, behind the company's firewall.
Analysts report that companies with a transportation spend of under $100 million are well suited for on-demand TMS, which can deliver a higher ROI than traditional, on-site and in-house solutions.
"Oftentimes logistics is at the bottom of the priority list when it comes to capital investments," notes Adrian Gonzalez, director, Logistics Executive Council at ARC Advisory Group. "So even though the cost of traditional TMS installations has decreased over the years, on-demand TMS is much easier for logistics executives to get approved because the purchase is an operating expense, rather than a capital investment as a traditional TMS would be."
Companies are discovering a more significant and longer-term value proposition with this model because of the logistics network that is created, connecting customers with multiple shippers, carriers, trucking companies, 3PLs and suppliers, adds Gonzalez.
Companies can exchange information with all their trading partners via one connection. "In the past, a manufacturer might have been working with 100 carriers, 100 suppliers and 100 customers and it would have had to connect one-on-one with each of those parties, making 300-plus separate connections," explains Gonzalez.
Matthew Menner, senior vice president of sales and alliances for Frisco, TX-based Transplace Inc., says a good portion of the decision to deploy on-demand relies on the comfort level of a company's IT department. "It's also a matter of economics and considering a shipper's volume, what the economics look like in terms of an on-demand solution versus a traditional solution on their hardware and how they will treat the associated expenses."
Although on-demand TMS is growing faster than traditional and licensed TMS, this doesn't mean the in-house licensed products are going the way of the dinosaur, notes Patrick Connaughton, senior analyst, supply chain, at Cambridge, MA-based Forrester Research Inc.
"One shortcoming of the SaaS hosted solution is evident when it comes to global, multi-modal optimization. They just can't compete with the licensed installed products," says Connaughton. "This is why there will always be a place for licensed solutions for optimizing millions of shipments across multiple modes and across multiple geographies."
Connaughton notes a recent Forrester report naming nine top vendors of TMS. Seven offer licensed products, while the remaining two-LeanLogistics and Sterling Commerce-offer on-demand TMS services. The report, The Forrester Wave: Transportation Management Solutions, written by Connaughton, notes the vendors "share common characteristics in areas like carrier management, visibility and transportation procurement. However, there are significant differences among the solutions-most notably in product architecture, implementation services, fleet management, international capabilities and business intelligence."
The Forrester report included these two on-demand or SaaS vendors in its evaluation because some clients Forrester interviewed were looking for an alternative to licensed TMS that would allow them to move from paper-based systems.
"They wanted a TMS but were gun-shy because of the high-profile expensive projects that have gotten derailed for one reason or another with the licensed products," explains Connaughton. "So these solutions offer a great incremental step for them. They don't have to spend a lot on upfront licensing fees and then millions of dollars on implementation, only to wait a few years before they can really get going with the system."
Hidden Value Proposition
Although the two main attractions remain quick deployment and upfront lower costs, once customers are up and running they begin to recognize other areas generating value because of the power of the network, adds ARC's Gonzalez. "Certainly the analyst community has been writing about the potential of what I call the hidden value of on demand."
That hidden value is the information-rich environments in which these systems operate. Accessibility to the right data not only enhances your ability to be more efficient, but it also means you can monitor the efficiencies of your supply chain partners through benchmarking. For instance, the real story-the hidden story-in the March 2008 CHEP acquisition of LeanLogistics is the extraordinary value created in combining the respective networks of each company's data and information, notes Gonzalez.
The data collected within the network of the origins and destinations of thousands of shipments every day delivers network visibility resulting in network efficiencies. For example, say LeanLogistics has two clients, one with a shipment going from Boston to Chicago. The other client has a shipment going from Chicago to Boston. Neither of these companies talks with the other because they are competitors. From the standpoint of LeanLogistics, who sits in the middle and sees everyone's data, it makes network sense to use the same trucking company for both moves so the trucking company does not have an empty backhaul.
"It's this kind of situation that can be created from a network level because a provider like LeanLogistics sits in the middle and sees what is happening across thousands of shippers and thousands of moves every day," explains Gonzalez, adding that LeanLogistics manages upwards of $4 billion of freight annually across its shipper network.
"If each of these companies had relied on their respective TMS programs, there would be no network visibility overall. The combined information creates a more efficient and collaborative business process, in effect supercharging the amount of information available," he says. "This opens the door to resolve some issues that have been long-standing problems in the transportation industry such as how to eliminate empty backhauls and improve asset utilization."
The two shippers are sharing an asset at a lower cost than they would have to pay if each were to send out its own truck.
Here are examples of services vendors are offering their customers.
LeanLogistics: Reducing Empty Miles
LeanLogistics oversees about 20 million shipments flowing through its system annually. It knows where the freight is moving, at what price it is moving, if it is moving on time, which carriers are serving which lanes and when freight is moving according to plan, says Pete Stiles, vice president of marketing and strategy for the Holland, MI-based company with about 20,000 users. "It's fundamentally priced on a per-shipment model, with discounts for volume. We can offer fixed pricing for companies with fixed volumes."
Stiles notes that for years the key issue in transportation has been talk around technology-enabled reduction of empty miles. But nobody has been able to pull this off primarily because there hasn't been a large enough base of information on existing movements, he explains.
"Realistically, you can't construct a continuous move from a plan and expect it to be actualized. What you can do, however, is look at where there are repetitive volumes of movement in the network and hook them together when there is a large enough volume to justify what is in essence dedicated carriage. It's not a continuous movement, but you can use dedicated carriage to lower the cost for all the shippers while lowering the cost for the carriers," says Stiles.
"In this way, you are effectively taking empty miles out of the system. This is good news for everyone because when you are considering how to reduce costs for everyone in the face of out-of-control fuel increases, you can do this using excellent data, which increases your efficiencies."
Stiles claims some customers netted as much as 19 percent in savings off their annual freight bill, even before the CHEP acquisition. "At that time, we had about 5 million shipments a year going through our system. With CHEP we have a much larger base of information to work from and the larger the base, the better the information."
This rich information means benchmarking delivers decreases in freight simply by examining an individual network against the holistic network and taking out cost where anomalies exist. Visibility is now holistic and not limited to that of an individual company. Stiles says the CHEP partnership will allow LeanLogistics to expand its existing product base around benchmarking capabilities, providing quality information to shippers so they can evaluate their own networks.
The company is considering allowing carriers to apply to the network. Stiles admits the company has not conceived the how of this yet, since that is still in development. "But the 'what' of this is a marketing information tool for carriers. They might want to know how to solicit volumes in certain lanes and how to participate with certain shippers when they issue a procurement. They are also looking for ways to bid for dedicated round-trip movements when they become available."
So these carrier services will allow carriers to view the network to see where their route patterns overlap and where freight is available-and which shippers they can service at favorable rates.
HighJump: Planning And Optimization
The 3M acquisition of Pinnacle Distribution Concepts Inc. in 2006 will merge Pinnacle's synergies with those of HighJump, says Bill Johns, director of transportation solutions sales for Eden Prairie, MN-based HighJump. "Pinnacle was a strategic target because of its existing customer base and because its transportation logic is a market differentiator because it is designed by industry professionals. Additionally, their on-demand solution had best-of-breed functionality in a hosted environment."
HighJump touts the business logic driving its solution. "All the algorithms of our transportation optimizer have been built into our product (and not by third parties), including our industry expertise," says Johns, noting some TMS solutions are being developed by engineers and mathematicians who have no background in transportation. "Customers like our planning and optimization logic in our algorithms because it is intuitive to a transportation planner."
The solution also includes freight bill management and auditing functionality, saving companies money and effort by not having to outsource to a third party.
Enterprise integration varies according to customers' operations. Johns says the solution can easily integrate into an ERP application or into a WMS, or a hybrid of both. "Every company has a different way of handling internal operations. Our solution doesn't require a company's IT department to be involved at all, except at the very beginning."
Understanding a customer's unique requirements is necessary to set parameters and to establish data points, known as business rules, for the algorithms driving an on-demand TMS. For example, a customer might want to deliver only on three particular days of the week during certain time windows and using certain carriers. "These data points become part of the algorithm," explains Johns.
"Companies using our TMS solution have four snapshots in load planning," Johns says. First, they can let the TMS program develop the transportation plan, using all the business rules and logic of a particular company.
Or, second, a company can activate what Johns refers to as "tribal knowledge" that is based on the transportation planner's intimate understanding of the unique preferences of a shipper's customer. "We can help a customer make those little corrections for their customer so they can release a plan that includes these preferences right into the warehouse," Johns says.
Third, the warehouse makes any necessary adjustments to the transportation plan prior to shipping. The original parameters used to design the system's algorithms help identify anomalies-whether the TMS plan or the planner's plan is put into action. For instance, if a carrier's charges are outside a certain percentage, the system will issue an alert.
"Lastly, our system can assess these plans to see how orders were shipped from the warehouse and how customers were billed by the carrier," explains Johns. "This gives companies a tremendous amount of data they can use for rating carriers and helping negotiate carrier contracts. It also gives you justifiable cost metrics throughout your organization."
Transplace: Establishing Operational Economies
Menner at Transplace talks about the "meat and potatoes" of on-demand TMS this way: "The primary value proposition for investing in one of these systems includes moding up and establishing the operational economies that the TMS will work from day in and day out."
The first step of moding up includes using the most cost-effective and service appropriate mode of transportation. The second step is to define expected demand for transportation service by mode on an annual basis. "We help companies define those requirements so they can secure rates and capacity commitments from the appropriate carriers," explains Menner. "Those rates then become the everyday operational economies upon which the TMS works."
The TMS acts as a control device that ensures companies are trending to realize these operational economies, continues Menner. "It's all about making sure you are using the right carrier on the right lane at the right frequency in order to achieve your expected savings target from this sourcing event."
The third benefit is a bit more challenging to define, admits Menner. "This is the journey we are all still on, which is a wired network providing visibility from end to end from the moment a supplier places a purchase order-whether one time or one that spans multiple periods-all the way through the time the product is delivered at the consignee's dock."
So network-wide visibility is the significant focus for the industry, as vendors aim to achieve seamless integration to increase the quality of the data transacted between supply chain parties, Menner says.
"We are all striving to provide the relevant information in order to manage our customers' expectations. For example, we help them to maintain control and do something like modify their production scheduling because the shipment of raw materials they need is delayed in transit from one of their suppliers."
Probably the greatest selling feature on-demand TMS can offer, says Menner, is the "viral or network aspect of these solutions, as opposed to traditional, behind-the-firewall executable code loaded on a server that operates within a company's intranet or Ethernet environment. The application is so pervasive because all anyone needs in an on-demand universe is a standard desktop Web-based browser and a connection to the Internet."
As for specific functional enhancements, Menner notes Transplace introduces new software on a regular monthly basis. "Because we are exclusively an on-demand solutions provider, it is a lifestyle for us. Some traditional software developers usually talk in terms of one or two releases of significance over the course of a year. We, like other on-demand providers, are exceptionally nimble to our customers' ever-changing requirements. We have the ability to model those requirements, prototype the code, reduce that to production code, fully test that code and then promote it to production within a very accelerated time frame."
Some of these relevant customer requirements could be as small as capturing additional data elements that would be displayed through a screen from the interface from an ERP system-such as a sub-purchase order number coming across in a new field.
"The possibilities run the gamut of relatively minor elements to very significant," says Menner. "So these individual requirements have an impact across our entire customer base in terms of scale of modification or the impact of the promote, as we refer to it."
Next Generation: SaaS With An Option To Buy
Next Generation Logistics Inc. offers distinctive value to the on-demand TMS model, notes John Riske, vice president of business development for the Inverness, IL-based company.
"Our FreightMaster TMS can be deployed in one of two ways: as a server-based model on-site and/or through accessing the system via the Web." Rick Isaacson, CIO, adds that the company's offering is akin to SaaS with an option to buy.
If a company's infrastructure is not able to handle a full-blown traditional TMS, it can begin with the SaaS model to make sure it's a good fit and that the ROI is there. "Then if they choose, they can pay a flat purchase fee to bring it in-house to rid themselves of the monthly fees," Isaacson says. He adds the solution works well for pilot projects or for companies on fast-growth paths. "But at some point you might outgrow the SaaS pricing model, which could potentially diminish your ROI."
Several distinctions exist between Next Generation's product and others on the market. First, it is not a multi-tenancy model. When other vendors upgrade their software, everyone in the network does, continues Isaacson. "This means if there is a change in functionality, you are limited in your option not to adopt that functionality. These changes could impact your business processes."
Riske says that when Next Generation issues a new release, companies have the option of implementing right away or later on. "This is a huge differentiation because IT departments are loaded with work and they don't want to be told what to do and when to do it. We can work within our customers' change management structure versus getting them to change right away."
Another distinction in Next Generation's on-demand model, continues Isaacson, is that companies are not tied to the vendor carrier base-or a generic carrier base. "Our system uses the negotiated rates a company arranged with its carriers, opposed to a common database of carriers and rates."
Riske adds that other vendors in the marketplace market the carrier community as an advantage. "I can understand that to a certain extent-but at times when capacity is low, sharing your carrier base might not be a good strategy. So other models are sharing their rates, their capacity and their carrier base. This means I am opening up the possibility of reducing my accessibility to equipment, preferred quality and to preferred-rate vendors." He adds that the company can offer customers the service of conducting a freight bid package, should customers want to expand their carrier base.
Going lean and mitigating risk often run counter to each other, notes Isaacson. "We aim for how lean we can go while mitigating risks like carrier quality, quality control and diminished capacity within our customers' supply chains." He adds that deployment of either solution takes between 30 days and 45 days.
Sterling Commerce: Value On The Fulfillment Side
About six years ago, Columbus, OH-based Sterling Commerce looked beyond the integration space to find additional value on the fulfillment side of customers' supply chains, explains Richard Douglass, global industry executive for manufacturing and logistics. "That is when we made a number of acquisitions, culminating with the Nistevo acquisition in 2006."
These acquisitions enhance the Sterling Commerce Selling & Fulfillment Suite so it can deliver "the perfect order," notes Douglass. "Although planning continues to be an issue, companies also want to see how they can improve on the execution side, where a lot of problems arise and where they are incurring a lot of cost, particularly on the transportation and logistics side."
Customers instantly connect to Sterling Commerce's network of 8,500 carriers, says Douglass. "We see the continuing need for additional on-demand solutions, especially as global supply chains cross multiple enterprises. Even internally, they cross multiple systems and it's difficult for companies to get a complete picture of what's going on with orders, shipments, and inventory. So our Supply Chain Visibility On Demand provides that end-to-end process visibility. We have fully integrated this with our TMS on-demand offering."
Real Time Freight: Hybrid, Closed-Loop Solution
Real Time Freight Services offers a "hybrid" system, says Jim Vrtis, CEO of the Chicago-based company. "We are a crossover of transportation managements systems, load-matching systems, load board technologies and supply chain management solutions. We connect direct shippers with over 12,000 carriers in our Web 2.0 network that offers both communities the benefits of centralized and closed-loop communication of freight transportation information."
Vrtis adds that while the Real Time Freight system is not a traditional TMS, it is designed to integrate with a company's existing software and extends beyond other similar solutions to enable better decision-making within the freight transportation function.
"As a portal community, it is important to us to improve the communication between shippers and carriers. We eliminate the information silos and provide our customers with a closed-loop cooperative network. Capturing all information in a centralized Web-based system allows companies to share their information across their business in real time."
The system includes many features of a traditional TMS. Vrtis reports that one customer was close to choosing a TMS when it discovered and ultimately chose Real Time Freight. "It met their transportation management requirements at significantly lower costs and at a reduced change management effort."
Supercharging Supply Chain Activities
Vendors report their customers desire the rich data on-demand TMS solutions deliver for business reporting. Johns at HighJump notes that when a client wants to develop a new report, the client itself can do this or HighJump can.
"If it makes sense, we can leverage that new knowledge to our whole user base, as long as it's not intellectual property and as long as we have the permission from our client to use that leverage for the user base. In such a case, this is like having a users group, or a benchmarking group, so as new knowledge is developed, we can offer these improvements to our entire base."
Gonzalez at ARC Advisory Group notes that an emerging trend in the industry is evident in vendor partnerships like LeanLogistics and CHEP and others, even though this means vendors are "walking a tightrope" but moving in this direction nonetheless.
"A lot of software companies are treading slowly in thinking about what kinds of services they might want to offer because they don't want to be in conflict with logistics services providers or with some of their consulting services partners. But, at the same time, they recognize that this is the direction in which customers want them to head and they also recognize this is where future growth and profitability is for them."
On-demand TMS, although still an emerging area, eyes global expansion and adoption. "This is something the CHEP acquisition will give LeanLogistics, in the ability to expand globally," says Forrester's Connaughton.
"These solutions have done a great job meeting the requirements of many companies; but these solutions are just limited to locations predominately in North America," Connaughton adds. "There is a huge opportunity for this industry to grow globally; companies want to integrate with their global trade compliance solution because of the big buzz around total landed costs, which are being used as a measurement to understand supply chain efficiency."
Over the next five years these solutions will be re-architected to handle global applications that will support multiple languages and currencies, continues Connaughton. Companies will then have the advantage in their on-demand TMS solutions of having one instance across countries, eliminating the need for separate or siloed installations.
Vendors in this space are attempting to differentiate themselves from others. For example, Sterling Commerce is taking a different approach to a vendor like LeanLogistics, notes Connaughton. "LeanLogistics' customers view them as much as a service company as a software company and they look to Lean for their expertise for the ability to put into their hands the actual optimization, or some of the day-to-day management of their transportation.
"Lean has the network they can leverage and they bring their professional services and expertise to the table. But Sterling is looking not necessarily to differentiate themselves with services, but to integrate their TMS as part of their larger suite of offerings, saving customers money on integration."
Change is ahead for HighJump as well. 3M has announced that it has entered into an agreement to sell HighJump to Battery Ventures, a technology venture capital private equity firm based in St. Paul, MN. The transaction will result in a stand-alone company focused on providing supply chain solutions to a global customer base.
"3M's track and trace business is refining its approach to providing comprehensive track and trace solutions for high-value assets and people that deliver customer value through asset utilization, safety and security," says Lemual Amen, vice president and general manager, 3M Track and Trace Solutions division. "Therefore, we believe HighJump will have more opportunity to maximize its potential with Battery Ventures." Terms of the transaction, which is expected to be closed in the second quarter, were not disclosed.
So what will push forward these on-demand TMS initiatives? Connaughton believes the answer hinges on how well traditional TMS vendors are able to convert their SaaS offerings to products companies can use. "These vendors are looking at this as an area of opportunity and they are simplifying their applications and making them more modular so they can roll them out in this environment. Once these vendors get it right, it will change the dynamics of the industry for the positive."
CASE IN POINT: PINNACLE FOODS GROUP
Reducing Costs, Gaining Visibility
Pinnacle Foods Group in Mountain Lakes, NJ, wanted first and foremost control and visibility, says Gregg Bostick, vice president of transportation. The company-a $1.5 billion manufacturer and distributor of familiar grocery brands-reduced its annual outbound freight bill 19 percent and its delivered cost per case by 17 percent through 2005 to 2007 using LeanLogistic's On-Demand TMS product, deployed about two years ago.
Further savings include five percent from procurement; four percent from standardizing accessorials; and another three percent from proper routings, plant-direct shipping and carrier lane assignments.
Pinnacle wanted to centralize command and control over its logistics activities and costs. This was especially critical because of its acquisition growth, which meant it was handling several different processing centers.
"We wanted that control and visibility from the time an order arrived in our system until the time we tendered it out to a carrier and then to the time our customer or warehouse received the order," says Bostick. The company handles 70,000 shipments annually on the managed freight side of its business-and another 25,000 shipments on customer pickup.
In addition to having the ability to execute its orders, Pinnacle Foods also required data visibility. "We wanted to know at all times what were our ongoing lane costs and our accessorial costs," explains Bostick. "We also wanted to have the fuel surcharge calculated automatically so we didn't have to bother with that every week. Now, our system updates to the DOE report every Monday at 4 p.m. Having all this data allows us to build nice metrics and KPIs so we get to see trending information in our transportation component."
This kind of information is powerful for keeping the pipeline fluid. For example, if there are bottlenecks anywhere along the supply chain-like delays at DCs or at customers' locations-Pinnacle can deal with those problems immediately. "The data allow us to see what the problems are, as opposed to guessing what they are. We have that information as close to real time as possible-as opposed to getting reports a month or so later," says Bostick.
In addition to visibility throughout the supply chain on the operational side, Pinnacle also has visibility on the financial side of its business operations. "We can see the invoicing piece and the accounting piece, for example. And we see all of this data daily, which allows us to pull metrics based on customer or by lane. When we have promotions, we can manage and track these activities more efficiently."
Furthermore, the available metrics are a valuable benchmarking tool. For example, the company is currently in the midst of a national freight bid. "We can now include in our bid things like weighted averages on lane rates, accessorial rates and fuel rates," Bostick says.
Knowing last year's rate helps them know whether to accept a particular rate from a carrier. Bostick adds the company was able to do this on 1,000 lanes so far. "We found further savings using the benchmarking data because we were able to procure much better freight rates from a variety of carriers."
The TMS is integrated with Pinnacle's order management system and its finance system. Once orders are entered into the order management system, the TMS tenders out the loads. Carriers' responses route to the order management system and the TMS is updated with appointments and the respective carrier name. On the financial side of things, once a carrier closes out a load, that activity initiates the accounts payable cycle and the carrier is paid through the finance system.
The TMS solution costs a flat fee every month. Hundreds of people can access the system, whether it's once a day or once a month. Bostick notes the company is continually looking for additional opportunities to reap savings in its inbound operations. A case in point is the company's current project, dubbed "the nuts and berries loads."
"We are looking at bringing in walnuts and blueberries for our brownies and muffins," explains Bostick. "In just these two lanes, representing about 55 loads' worth, about $120,000 in spend, we already found $40,000 in savings. We have about $50 million worth of inbound activity, so there are huge savings potentials there, in addition to what we have already achieved." -A.T.
CASE IN POINT: ROCK-TENN CO.
Saving Millions In Transportation Costs
Rock-Tenn Co. is a leading manufacturer of packaging products, bleached and 100-percent recycled paperboard and merchandising displays. The company operates 92 facilities in 26 states, Canada, Mexico, Chile and Argentina.
When it came time for the company to choose an on-demand TMS, Ben Cubitt, vice president of supply chain for the Norcross, GA-based company, says it was a choice from among three options: a bundled ERP system, a Tier 1 traditional TMS or an on-demand TMS. It decided to deploy the Transplace solution and went live in July 2007.
Cubitt was looking for the all the benefits cited by vendors and users alike including functionality, lower upfront cost, fast implementation and quick time to value. "Since we have grown through acquisition, we operate different systems and platforms. We found that on-demand TMS is especially well suited for this. Also, our IT groups were very comfortable with the solution."
Particularly attractive to Cubitt are the carrier connectivity and information visibility. "It was very important to us to be able to connect with carriers-even those who don't have a full EDI connection. They can still fully access the Transplace system and provide us updates via the carrier websphere and we can go all the way to full EDI connections with those folks. That quick connectivity with our carriers was critical to us. It allows us to begin transacting electronically, getting tender track-and-trace reporting within a quick and efficient time frame."
Currently, about half the company's sites are connected and the company plans to roll out the solution in every division and every site over the next year. Currently, Rock-Tenn uses the TMS for outbound TL and LTL shipments from its paper mills to either their own converting plants or to other converting plants. "We are a large supplier to food companies like DelMonte, Nestles and P&G. Half the boxes in your kitchen pantry are made by us," notes Cubitt.
Transportation savings on its $200 million transportation spend were a big factor in the company's final choice. "There were two reasons for choosing Transplace," explains Cubitt. First the company wanted to achieve new savings they were unable to achieve without TMS-such as carrier optimization and mode optimization. The second reason was to protect savings they had already achieved. "I think that, over time, it would have been very difficult to maintain savings without TMS."
One area of savings Cubitt anticipated was in network synergies and optimization.
"We are really starting to see this and this is where Transplace and people in the load control center are seeing efficiencies. That is when a carrier has a load from a paper mill into our folding carton plant and they can prepare an outbound load. This means we achieve increases in our savings, increases in our partnerships with our carriers and all this while reducing deadhead miles, which leads to sustainable environmental savings."
Customer service has also increased, with improvements in on-time pickups and deliveries. "It also helps us monitor the status of an order, so if an order is delayed, we know that in advance. Now that carriers know all of this is being tracked and reported, it helped us weed out low-performing carriers. Overall, our carriers are performing at a higher level."
The ability to expedite hot loads is another value-add to customer service. "If a customer gives us a hot load, or changes an order, it could be a problem. Say it's a Friday afternoon before month's end and there is just no capacity. Or say we can't find a truck to handle the hot load. Well, Transplace can find it for us because they see all the moves and they can see when there is a truck coming from one of our mills that we can link up with to serve the hot load. We might not have been able to do that without our TMS."
On the customer pickup side of the operation, Rock-Tenn can find capacity from its core carriers should a customer not be able to find capacity to pick up a load. Cubitt notes Transplace's Freight Allocation Module is ideal for handling hot loads or new lanes. The module sends out an alert to the carriers in the core program.
"So instead of having to call several carriers, that alert goes out to about 100 carriers at once. That mass tender can quickly identify who has trucks where and when you need them, which is a tremendous time-saver and cost-saver."
Cubitt reports quick carrier adoption of on-demand TMS over traditional TMS. "The collaborative aspect of on-demand TMS will be the next big frontier. We are taking empty miles out of our network now. The next question is how do we collaborate with our customers; TMS really gives us the ability to start looking at collaboration so we can have our customer base and our supplier base play in this world." -A.T.