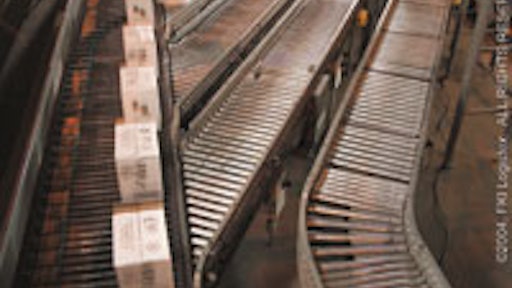 Central Pet, a national pet food distributor, was ready to automate its manual warehouse operations. With pet food and supply sales soaring, the company decided to meet its logistical challenges by installing an automated picking solution.
"What we had been using was inefficient, pretty much pushing a cart down an aisle--no scanners, no pick-to-light, no pick-to-voice," says Jeff May, operations manager for Central Pet, which is a business unit of Walnut Creek, CA-based Central Garden and Pet Co.
Central Pet turned to TriFactor LLC, a materials handling systems integrator based in Jacksonville, FL, to develop an interface between the conveyor control system and Central Pet's WCS (warehouse control system) to get them to "talk" to one another.
Jerry Lovell, TriFactor's senior electrical project engineer, worked with the information technology department at Central Pet to make the modifications necessary to get the information in and out of the system.
"There was no conveyor system in place at Central Pet--they were picking with order sheets and pallets, taking the order by hand and bringing it all the way up to shipping," says Lovell. "We created a new system that allowed them be more efficient and more organized. It was a big change for Central Pet. The system allowed them to cut the amount of time people had to work."
Functionality Overlap
Introducing a WCS with a WMS (warehouse management system) often results in an overlap of functionality between systems. Where multiple software products make up the overall solution, there is usually some duplication of functionality between systems. This is inevitable as software vendors add more capabilities and extend the scope of their products.
For example, an ERP, WMS and WCS may all have an inventory control module. The basic functions of product movements are addressed in all three systems. But each system is focused on its own specific requirements. An ERP system uses inventory control for order promising, material and production planning and inventory valuation.
A WMS may select which warehouse is best suited to fulfill the order based on inventory availability and shipping location.
"The WCS is more focused on the activities within the warehouse relating to order fulfillment and shipping. Determining the best place to perform each distinct level of activity will avoid any conflict," says Jerry List, vice president of QC Software Inc., a warehouse controls provider in Cincinnati. "However, there are still areas of functional overlap. Each must be considered carefully for optimum system performance."
"The challenge at Central Pet was not symptomatic of other projects we have worked on because most already have a conveyor system in place," says Lovell. "We chose QC Software's WCS for Central Pet-- knew their WCS capabilities and how their software worked. It's very platform-independent, works well with different types of systems and is very cost efficient. TriFactor has used it for six or seven previous clients and I was confidant bringing them onboard for this project."
Immediate Benefits
While warehouse control systems are not for every distribution model, QC Software's List acknowledges that when it is the right technology application there are numerous immediate benefits, including:
Flexibility in equipment purchase decisions: The ability to tie together equipment from multiple suppliers allows firms like Central Pet to purchase the best equipment for the facility instead of choosing all the equipment from a single supplier.
Real-time operation: Because the WCS interacts with the MHE controllers in real-time, it instantly reacts to status information from the material handling equipment, making adjustments to maintain an efficient product flow.
System redundancy: In many cases, the WMS/ERP system is not physically located at the warehouse. This is particularly true when there are multiple warehouses in different geographical locations. In the event of communication problems, the warehouse stops working. Since the WCS is always located at the warehouse, it can maintain warehouse operations in the event that the connection between the warehouse and the corporate WMS/ERP system goes down.
Eliminates islands of automation: The WCS provides the middleware to connect a firm's WMS/ERP to the material handling equipment via a single interface. This provides a single point of monitoring and control for the entire warehouse, eliminating islands of automation.
Dynamic pick allocation: Traditionally, the WMS allocates the pick location hours before the actual pick happens and therefore it cannot react to problems on the floor. If the WCS selects the pick location, it can a make a "last minute" determination based on the current activity and operational status. If a pick zone is full or unavailable due to equipment failure, the WCS can select another location. This dynamic pick allocation helps balance the load on the system and increases productivity.
Cartonization: By analyzing the make-up of each order, the WCS selects the smallest possible size container, reducing shipping and dunnage costs. Cartonization also helps eliminate overweight boxes that can cause problems on the conveyor system.
Quality control: Customers are highly frustrated when they open the long-awaited package and find the wrong product was shipped. Distributors incur the additional cost of the return, as well as (and more importantly) the wrath of the customer. A WCS can help eliminate this problem in some industries by providing real-time order verification ensuring that the carton contents are correct for that order using an in-line scale. The WCS knows the expected weight of each order based on the items picked. Boxes outside of a user-defined tolerance can be diverted for manual quality control inspection.
Reduce theft and fraud: The WCS can help manage not only the product in the warehouse to reduce theft, but also help uncover and eliminate fraud. One company discovered that 80 percent of complaints for missing items were coming from a small number of their sales agents. Suspecting fraud, the company routed the suspected agents' orders for 100 percent quality control inspection, eliminating the problem.
Tracking: The real-time aspect of the WCS provides order status so that a company like Central Pet can track a product anytime, anywhere in the system.
Shipping: With a WCS, companies can dynamically change the ship method at the time of shipping, ensuring the most cost-effective method is used. Perhaps an order originally scheduled for a small parcel carrier actually weighs less than a pound, allowing it to be shipped parcel post.
If an important customer needs their package sooner, customer service can upgrade the service level while the order is in the process of fulfillment. The WCS prevents double shipment of orders, verifies that the package is sent to correct address, and eliminates common shipping errors, such as trying to ship a package to a P.O. Box via UPS.
System diagnostics and problem resolution: The WCS can consolidate operational statistics and diagnostics across the entire warehouse and provide improved visibility of equipment status and order tracking. These diagnostic capabilities help to identify the root cause of problems, such as incorrect carton routing or excessive recirculation. By identifying inefficiencies in the warehouse system, the WCS helps increase productivity and throughput.
Gaining Competitive Advantages
Central Pet's May translates the benefit of the new WCS in real bottom-line metrics quantifying that "it helped us to reduce 35 pullers in supply to 10 pullers in supply. But the biggest advantage was in the area of increased productivity, going from 25 to 30 lines per hour up to 100 or more lines per hour.
"Workers who had been working 14 to 15 hour days are now doing four 10-hour shifts," says May.
Central Pet's internal mechanism for continuous process improvement, while less formal than a Six Sigma methodology or an official Lean initiative, actually drives the pursuit of competitive advantages within the branches of the company.
"We have six branches and we rate each other. It's a continuous project that can have you up to number-one on one day and down to number six on another. Our WCS has helped us keep a competitive edge, even when up against our other branches," says May.
Cutler is president and CEO of Fort Lauderdale, FL-based TR Cutler Inc. He is the founder of the Manufacturing Media Consortium and can be reached at trcutler@trcutlerinc.com.