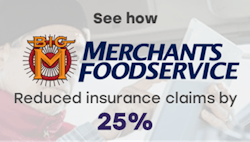 *This content brought to you in partnership with Omnitracs*
Merchants Foodservice faces some of the toughest challenges throughout the day – every day, including safety performance, cost containment, driver retention and visibility among others.
Merchants turned to Omnitracs One to meet its challenges and its customers' needs. By utilizing Omnitracs' video-based safety, compliance, dispatching and routing solutions, their business has: 
Reduced speeding by 75%
Improved fuel efficiency by 14%
Reduced insurance claims by 25%
Learn more about this case study by completing the form below.
*This content brought to you in partnership with Omnitracs*