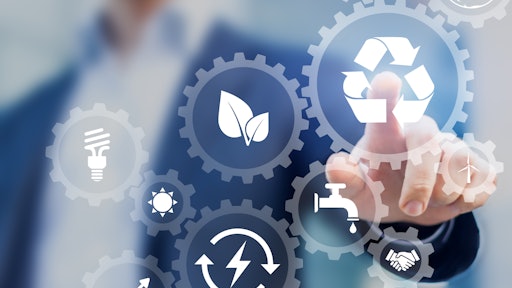 Getty Images
Redwood Logistics launched Redwood Hyperion, a sustainability tool that provides shippers with freight emissions visibility.
"As investors and looming legislation continue to push Scope 3 emissions reporting and consumers demand more sustainable solutions, now is the time for retailers, food and beverage providers, manufacturers and more to take action on carbon emissions tracking," says Mike Reed, chief product officer, Redwood. "Redwood Hyperion is a flexible resource for all shippers, no matter their size, location or where they are on their sustainability journey. Whether customers are just starting to explore what it takes to meet evolving supply chain sustainability requirements, or are looking to fortify current operations, Hyperion's ability to connect with existing systems while adding new carbon emissions insights not only helps to meet these mandates, but also strengthens ESG positioning across customers and trading partners."
From Redwood Logistics:
Redwood Hyperion supports carbon-neutral initiatives by automating detailed load-by-load emissions calculations, facilitating carbon credit purchases toward verified projects and providing shareable progress reporting.
The tool includes a comprehensive suite of carbon tracking and data features through RedwoodConnect, Redwood's proprietary iPaaS platform that facilitates the integration of digital and physical supply chains.
Redwood Hyperion also provides access to a verified carbon credit marketplace, directly from its partnership with Cloverly. The shared marketplace offers a deep portfolio of verified offsetting options from nature-based credits to advanced carbon removals. All credits are certified and tracked by reputable third-party registries such as the Gold Standard, Verified Carbon Standard and American

Carbon

Registry.
"With decades of experience handling logistics data, we know there are many challenges you can face, from accessing data stored in multiple silos and normalization of data at scale, to the handling of bad data on the fly. Hyperion powered by RedwoodConnect makes it simple for our customers to integrate, validate and cleanse the right data to adapt to real-world scenarios and ultimately provide the freight emissions visibility you can trust throughout your supply chain," adds Reed.