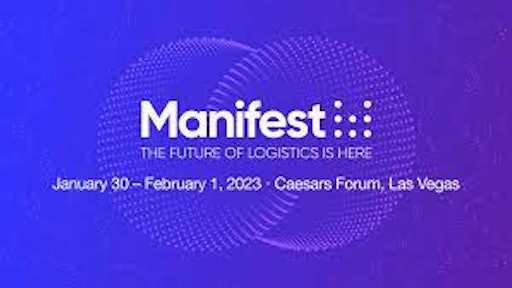 Manifest
Supply chain disruptions, current events, enterprise-wide solutions and supply chain pain points remain the main focus of thought leadership in Manifest 2023.
Scheduled to take place Jan. 31-Feb. 2, this show will accentuate the partnerships and futuristic technologies transforming supply chains and logistics operations globally.
"Each year, more and more packages are shipped across the globe and every manufacturer and shipper of products must continue to up their game to stay competitive. In 2020, there were 131 billion parcels shipped globally, and that number is expected to sky-rocket to 262 billion by 2026. If the industry is to keep up with this increase in volume, they need to find more efficient, sustainable and scalable ways to operate," according to Manifest insiders.
From PRWeb:
The opening day program consists of three half-day tracks consisting of intelligent infrastructure, maritime and ports and sustainability.
The main agenda features 100-plus sessions covering critical themes such as automation and robotics, visibility and digitization, autonomous and electric, supply chain resiliency, partnerships and investing, returns, machine learning and artificial intelligence, shipping and last mile, drones, cybersecurity, global and cross border and safety and regulations.

Manifest

will also attract more than 500 cutting-edge start-ups, 40 of whom will give presentations on the Innovation Stage inside the Exhibit Hall.