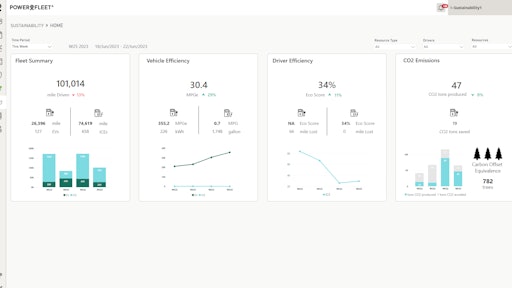 Powerfleet
Powerfleet, Inc. debuted a SaaS-based Sustainability Data-Powered Application designed to minimize carbon footprint and material waste, enhance maintenance and fuel efficiency, help comply with government mandates and reduce overall operational costs while accelerating revenue growth for customers.
"Climate change, political initiatives to reduce carbon emissions, and heightening public concerns and social demand for green practices have made sustainable technology a top motivator for decision-makers across the board," says Steve Towe, CEO at Powerfleet. "We recognize the responsibility we have as trusted advisors to provide green technologies that not only benefit the fleet itself but that touch and help unify a business's entire operation and ESG strategy."
From Powerfleet:
The solution is powered by data science and insights from

Powerfleet's

Unity platform, which works with any IoT/telematics device, vehicle, or business system, and provides parameters beyond those from OEMs. This creates a truly open ecosystem that can tie fleet operations into any business process and its proprietary or third-party systems for ESG goals and reporting.

The dashboard features executive-level insights and real-time monitoring and alerts for fleet managers, along with a mobile app for drivers.

Other insights include CO2 emissions, vehicle efficiency, eco scoring, budgeting and planning and EV conversion.
"Powerfleet offers an expanded look into vehicle and driver behaviors critical to ESG initiatives," says Jim Zeitunian, Powerfleet's CTO. "The correlations and impact of a range of factors from a business's fleet with its bottom line is pivotal. This exemplifies our dedication to driving innovation aligned with the challenges and opportunities of our customers. We call it 'People-Powered IoT' – technology that can save lives, time, and money - designed specifically for the needs of our customers and their stakeholders across the globe."