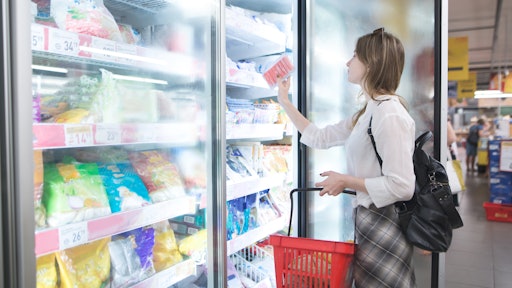 bodnarphoto - stock.adobe.com
Today's food manufacturers face growing labor costs, shipping delays and rising prices of raw materials. These results of surging inflation worldwide have led many suppliers and manufacturers to pass off the burden to retailers, who in turn have passed on a portion of those growing price tags to their consumers – the price of meat, seafood, produce, cereal and other kitchen staples shot up 9% in 2021.
Retailers need a middle ground that protects their bottom lines without burdening their shoppers with skyrocketing prices. Technology could be the answer.
Solutions such as intelligent data collection, money saving apps and waste reduction tools can help give retailers the information needed to offer promotions and discounts on popular items while letting shoppers compare prices and save money throughout the grocery purchasing process.
Intelligent data collection
Numerous grocery retailers have already started to systematically adopt advanced analytics to great effect. The margins for grocery retail typically range between 1-2%, and grocers know that data analytics can be the secret to maximizing these profits.
For example, some retailers are investing in a new class of smart cameras that help observe and assess customer movement throughout a store. These insights allow retailers to design sustainable sales systems with robust applications for multiple types of scenarios – a holiday season rush, winter vs. summer shopping, etc. These versatile cameras can be re-equipped with various video analytics applications to fit a business' most pressing needs at any time.
Data collection technology lets grocers understand what's happening on the floor and helps them identify (and, ultimately, predict) changes in shopper preferences and behavior. Armed with these insights, grocery retailers can optimize inventory, proactively address potential supply shortages and avoid excess orders. This is especially important when dealing with perishable goods, as every year 1.3 billion tons of food is wasted globally. Grocery stores can effectively reduce this number by monitoring inventory levels and reducing overstock.
Because such data has the power to determine how frequently a customer buys a particular product and at what point in their customer journey, it can also be used effectively for personalized customer loyalty programs – i.e., offering returning customers a discount for their recurring items at exactly the time they might want to buy it again.
The more data retailers can analyze, the better they will be able to optimize their marketing budgets and offer more effective targeted promotions. Everyone wins.
Waste reduction technology
Globally, about one-third of all food is wasted – a staggering rate with a $1 trillion price tag that burdens both retailers (who see thinner margins and potential losses on every item they can't sell) and consumers (who lose money on what they don't eat).
To mitigate wastefulness, retailers can utilize integrated apps and other digital marketing channels to offer customers products that would otherwise be trashed at discounted rate. Customers can save money on perfectly good food while retailers recoup at least some of their money on inventory, instead of scrapping their whole stock.
Meal planning apps can also help consumers more accurately get the type and amount of food they'll need, eliminating spending on unnecessary products. Retailers themselves can even host digital platforms for such meal planning tech, offering recipes based around deals, seasonal bulk products and more.
Savvy shopping has never been easier
Money saving technologies like the ones outlined above are user-friendly and ready for widespread adoption. Grocery retailers that embrace these tools will drive savings for customers looking to shop on a budget, and in turn, enjoy the fruits of customer loyalty and increased revenue.