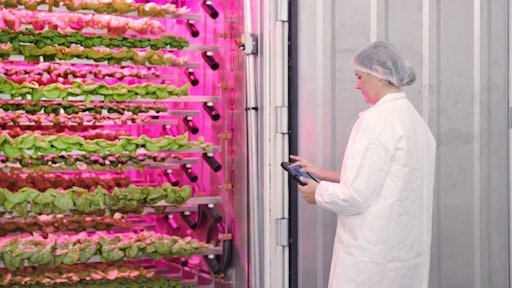 CubicFarm
CubicFarm Systems Corp. announced the strategic investment of Ospraie Ag Science as the Company executes its vision of providing technology to feed a changing world.
CubicFarms is a leading platform provider of automated controlled-environment growing systems that produce commercial-scale quantities of fresh produce and nutritious livestock feed. The systems work continuously all year, providing consistent and predictable produce and feed without the typical investment in labor, land, water and fertilizer. Its reduced growing footprint allows growers to set up a CubicFarms system in and around large population centers, and supply their local markets while shortening distribution chains and the amount of time that food spends in transit. In addition to providing localized production, CubicFarms systems have been shown to be far more efficient than traditional farming methods, which enhances growers' profitability.
"Over the past month, we've seen a sharp increase in inquiries from interested parties worldwide for our technology, to enhance food production and improve food security and self-sufficiency. The Covid-19 pandemic exposed fragility in supply chains, such as labor shortages, disruptions in the packing and transportation sectors, and increasing uncertainty in the domestic and international markets. CubicFarms' automated growing systems have emerged as a key solution to overcoming these challenges by allowing growers to localize food production and provide their markets with fresh produce and nutritious livestock feed reliably and consistently," says CubicFarms CEO Dave Dinesen.
"Two months ago, we announced our largest system sale of 100 fresh produce machines, and our ever increasing sales pipeline underscores the demand for our technology."
Private placement with strategic investor Ospraie Ag Science
The non-brokered private placement with Ospraie Ag Science ("Ospraie") involves the issuance of 21,739,130 common shares of CubicFarms at a price of C$0.23 per share for gross proceeds of up to C$5.0 million (the "Offering"). Without giving effect to the issuance of common shares, if any, pursuant to the exercise of pre-emptive rights held by another strategic investor of the Company, Ospraie will hold an 18.7% interest in the Company upon completion of the Offering.
"We are thrilled to welcome Ospraie as a strategic partner as CubicFarms embarks on its exciting next chapter. The investment by Ospraie, one of the top technology investors in the agricultural space, is a testament to the CubicFarms vision, team and technology," said Jeff Booth, CubicFarms Chairman.
"Ospraie's deep industry and commercial expertise, in addition to its extensive network, are expected to add significant value to CubicFarms and unlock new potential synergies with other companies in the Ospraie portfolio," Mr. Booth added.
Dwight Anderson, Chief Investment Officer at Ospraie Ag Science, commented, "CubicFarms' fresh produce systems are on the leading edge of commercial-scale controlled-environment-agriculture technology and we are excited to support Dave and the entire CubicFarms team as they continue to execute their vision of providing innovative solutions for both the food and feed markets.
"The agricultural value chain is rapidly evolving and technology infrastructure to overcome the pains of traditional farming is sorely needed. CubicFarms is one part of the multivariable solution required to address this need for safe, reliable, environmentally-friendly and affordable food. We look forward to working with the Company and its existing partners to realize CubicFarms' tremendous potential."
The net proceeds from the Offering are expected to be used for research and development to expand machine capabilities and crop varieties, and working capital.
The Offering is scheduled to close on or about May 15, 2020 and is subject to certain conditions, including, but not limited to, the execution of definitive documentation and receipt of all necessary approvals, including the approval of the TSX Venture Exchange. All securities issued pursuant to the Offering will be subject to a hold period under applicable securities laws, which will expire four months plus one day from the closing date of the Offering.