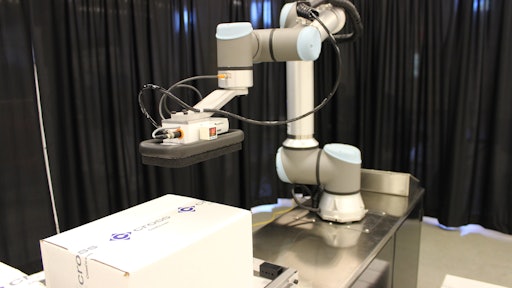 Universal Robotics
Universal Robots will showcase its collaborative robot arms in new applications, giving attendees hands-on experience with the next generation of automation solutions for the supply chain industry.
Quick deployment kit helps sort out the supply chain
The UR booth will be the first public display of the Quick Deployment Kit (QDK), a collaborative, accurate, and scalable solution for parcel induction, case packing, and goods-to-person tasks developed by MDCI Automation, a Universal Robots Certified Systems Integrator in partnership with Plus One Robotics.
Utilizing a powerful vision engine powered by PlusOne's PickOne Software and Universal Robots' UR10e cobot arm, the QDK identifies the pick points for items in a pick zone and sends the points to the UR cobot that picks and places each item onto a place zone/conveyor. The QDK can keep up with fast-moving conveyor speed and is able to "learn" to pick targets via human assistance through a remote alerting technology. "Universal Robots' collaborative robot platform delivers proven hardware, ease of programming, and a large ecosystem of UR+ partners providing industry-leading products that are tested and approved to work with UR cobots," says Kurt Scheffler, VP of Engineering at MDCI Automation. The company integrated a UR+ certified gripper from Soft Robotics and cell equipment from UR+ partner Vention in the QDK.
Cross Palletron – palletizing on the move
UR's MODEX booth is also the launch pad for Cross Company's new Cross Palletron, a solution that utilizes the UR10e cobot to create a fully collaborative and mobile palletizer and de-palletizer. Cross' easy-to-use-software eliminates the need for complex robotic programming and makes redeploying the palletizer for a different production line or package size much quicker.
"We are excited to bring this solution to market as we hear from many of our customers that keeping these mundane tasks staffed is an ongoing challenge," says Lynn Crump, President of the Cross Company Automation Group. "In fact, our customers have reported to us that this system has an ROI of less than two years for single shift operations and even sooner for those with multiple shifts."
The Cross Palletron aims to keep workers from doing repetitive bending and lifting tasks that can lead to workplace injuries. Staff can then be allocated to higher-value decision-based work that is less mundane and can't be easily automated.
RightPick2 – record-setting picking platform
RightHand Robotics' UR-powered solution took the MODEX 2018 show by storm as RickPick set a world record of piece-picks delivered at a tradeshow, successfully picking and placing 131,072 items over the course of the three-day show. This year brings RightHand Robotics' new RightPick2 platform featuring an intelligent gripper, a vision system, control software and a UR5e cobot handling the "3Rs"; the widest Range of products at high Rate and Reliability.
"With e-Series cobots from Universal Robots we're able to provide customers with the predictability they need to fulfill orders quickly and accurately," says Vince Martinelli, Head of Product and Marketing at RightHand Robotics. "Universal's cobots are easy to work with and so is the team at UR. They've been a reliable and responsive supplier and partner to us at RightHand, giving us the confidence to incorporate their advanced technology into our platform."