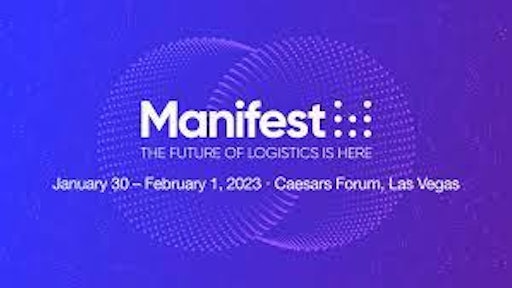 Manifest Vegas announced its sponsor lineup for the 2023 show, scheduled to take place Jan. 31-Feb. 2, 2023, with DHL Supply Chain as the leading sponsor.
From PR Newswire:
The sponsor list includes players spanning across the global logistics and end- to-end supply chain ecosystem, including 6 River Systems, ADDVERB TECHNOLOGIES, AEye, ALVYS, AxleHire, Blue Yonder, Caja Robotics, E2open, Emerge, Exotec, GEODIS, Locus Robotics, OneRail, Point Pickup Technologies, Scandit, SEKO Logistics, Shipium, Tive, URB-E, Vizion API and Wise Systems.

Manifest

isn't a traditional tradeshow. The private interactive networking app enables seamless connections and schedule 1:1 meetings at the Meeting Lounge courtesy of Emerge.
The exhibition hall will showcase next-gen technologies such as electric and autonomous trucks, automation technologies, drones and robots.
Attendees can also grab some lunch and relax at the

GEODIS

Puppy Lounge.
CLICK HERE to receive a $200 discount.