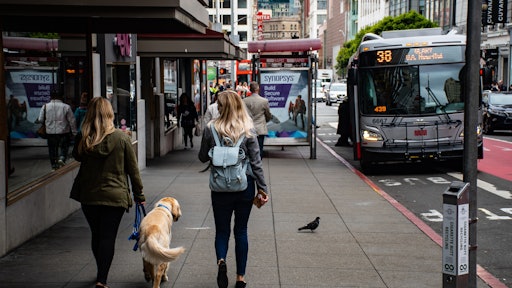 Photo by Brett Sayles from Pexels
Postmates is expected to receive the first permit for sidewalk robotics operations in San Francisco.
The permits are active for 180 days and authorize the testing of up to three autonomous delivery devices, according to the San Francisco Public Works. A permit has yet to be issued to Postmates, however.
According to Tech Crunch, Postmates has worked with San Francisco supervisor Norman Yee and labor advocacy groups to develop a framework for sidewalk robotics. With the permit expected to be issued soon, it allows the city to be among the first to allow companies to test autonomous delivery robots under a new pilot program.
The company's semi-autonomous sidewalk robot, Serve, premiered late last year and uses cameras and lidar to navigate sidewalks. The bot can carry 50 pounds for up to 25 miles after one charge. Once tested, a human pilot monitoring the fleets and each Serve has a "help" button, touchscreen and video chat display for customers to use if necessary.
A number of changes have reportedly been made to Serve in the recent months. New lidar tech that is smaller, more lightweight and durable has been added. Meanwhile, the Serve team has also developed a new scripting language for animating Serve's "eyes," Tech Crunch reports.