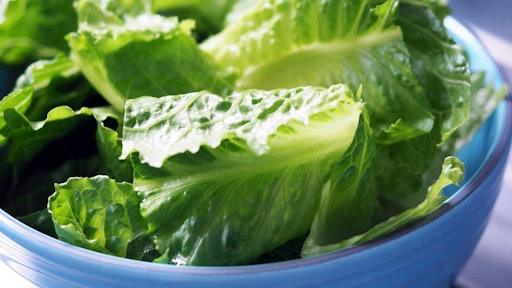 Food safety has crept into the public eye this year as recalls dominated headlines. E. coli contaminated lettuce sickened over 200 people and killing five this spring, and Salmonella was found in a variety of consumer favorite snacks ranging from swiss rolls to eggs.
To combat foodborne illnesses, Walmart and Sam's Club sent a letter to suppliers of fresh, leafy greens asking them trace their products all the way back to the farm using blockchain technology on Monday. Suppliers are expected to have all these systems in place by this time next year.
The change means that all information gathered by suppliers will be open and accessible through blockchain technology, offering real-time, end-to-end traceability from farm to table.
It is crucial for the food industry to act quickly on food safety issues like the E. coli contaminated lettuce in Yuma, Arizona. However, the source of the contamination took so long to find because safety officials were using a traditional paper-based method, slowing down the process. If blockchain technology was used, the source could've been found in a matter of seconds rather than days or weeks.
Walmart has been working with IBM on a blockchain solution to speed up identifying, researching and reacting to food safety situations.
The accuracy and trust that is provided by blockchain is crucial to public health and the livelihoods of consumers. The ledger gives food safety teams and customers the ability to react quickly.
The Centers for Disease Control believes that utilizing blockchain technology will help make more effective recalls.
"Enhanced ability to trace a contaminated food back to its source will help government agencies and companies to identify the source of a foodborne disease outbreak, coordinate more effective recalls of foods thought to be contaminated, and learn where past problems began. We think these steps will strengthen future prevention efforts and better protect the public's health from the threat of foodborne illness," Robert Tauxe, MD, director of CDC's division of foodborne, waterborne and environmental diseases says.
Walmart's new requirement is about making food safer throughout the supply chain.
"Customers trust us to help them put quality food on their tables for themselves and their families," says Charles Redfield, executive vice president of food for Walmart U.S. "We have to go further than offering great food and an everyday low price. Our customers need to know they can trust us to help ensure that food is safe. These new requirements will help us do just that."