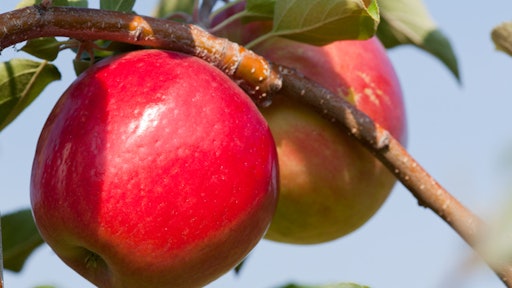 Citizens of Minnesota will be the first to taste a new apple developed by the apple breeding team at the University of Minnesota (UMN).
First Kiss apples will be ready to harvest in mid-to-late August, at least four weeks sooner than the popular Honeycrisp.
The apple has roots back to the 1990s when the apple was first set out to be bred. The taste and texture is supposed to be similar to the honeycrisp apple. UMN breeders endured rigorous trials of several different types of apples before First Kiss emerged as a winner.
"With First Kiss, we got the best of both worlds," explains David Bedford, a research scientist in the UMN's Department of Horticultural Science, part of the College of Food, Agriculture and Natural Resource Sciences. "Its crisp texture and spritely flavor make it an excellent choice for fresh eating and its early harvest date means Minnesota apple lovers can enjoy their favorite Minnesota grown fruit sooner than ever."
The apple will be available this fall in limited supply. UMN expects the fruit will increase in the next few years as the trees mature.