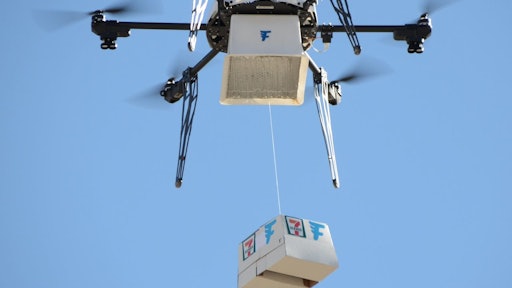 7-Eleven has partnered with a tech startup called Flirtey, delivering the first order made by drones to a customer's home in Reno, Nevada, according to Blasting News, an online social journalism website.
Through the use of precision GPS, the items delivered included: Slurpee drinks, donuts, coffee, candy, and a sandwich. The Flirtey drone successfully lowered each food package into the family's backyard within a few minutes of the delivery. Already delivering food items through services such as those offered by Postmates and Tapingo, 7-Eleven has stated that it intends to widely launch a delivery service powered by drones sometime in the future.
The 7-Eleven drone delivery clearly preempts statements Amazon had stated in the past, when it intended to be the first to offer delivery services through drones.
7-Eleven's intended launch of drone delivery services is complicated by regulatory issues that first need resolving. The U.S. Federal Aviation Administration (FAA) first approved the delivery order. In order to complete the delivery, it was necessary to resolve logistic issues through risk analysis in order to guarantee residential safety which was accomplished through Flirtey's collaboration with NIAS, the Nevada Institute of Autonomous Systems. The goal of the 7-Eleven delivery was to advance research for future successful autonomous drone deliveries.
To read more, click here.
Editor's Insight: Technological change is coming faster than many people realize. Drones have exhibited at material handling trade shows for the last few years, but not many expected to see one deliver food to a U.S. consumer so soon, given the uncertain state of drone regulations in the U.S.
Nor did many people expect 7-Eleven to be the first company to make such a delivery.
Flirtey, the drone manufacturer, noted in its blog that the choice of water, food and a first aid kit illustrates the company's vision to reinvent the delivery process for humanitarian, online retail and food delivery industries.
Food Logistics reported last month that Wal-Mart is testing drones inside its distribution and fulfillment centers, believing the technology could be rolled out in six to nine months as a way to check inventory more efficiently to keep up with customer demands.
For an overview of how new technology is changing food logistics, check out the July Food Logistics. 7-25-16 By Elliot Maras