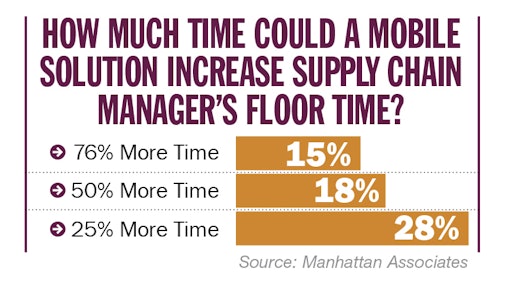 Food and beverage businesses are now using smartphones, tablets and PCs to manage their operations, according to an article in the recent issue of Food Logistics. The tools give both managers and employees real-time feedback and direction. They work on a range of operating systems and they can improve performance in nearly every type of work environment.
While these mobile networks are largely in their infancy, the food and beverage (f&b) supply chain is finding they facilitate many important functions. Growers, processors, wholesalers, distributors, retailers, carriers and 3PLs are all finding mobile management makes them more productive.
Smartphones and tablets are already enabling many tasks, including acting as remote controls, displaying and analyzing information, and interfacing to networks to monitor activities.
"Mobile apps are really starting to become the desired input for data," says Joe Scioscia, vice president of sales at VAI, the Ronkonkoma, N.Y-based ERP software provider. "They're very application focused. Mobile apps are very singular-focused and user friendly."
As people of all ages become used to mobile apps, the Internet cloud enhances their versatility.
Cloud-based systems allow companies to access data quickly and easily compared to on-site, browser-based software.
To read the full article, click: http://www.foodlogistics.com/article/12078885/mobile-apps-evolve-empowering-managers-and-employees-in-the-food-supply-chain.