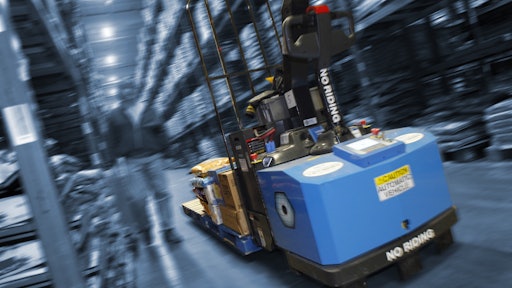 The automated guided vehicle market is expected to grow at a rapid pace in most of the regions of the world, due to growing automation investments across all major industries, according to  a report from ReportsnReports.com titled: "Automated Guided Vehicle Market by Type (Unit Load Carrier, Tow Vehicle, Pallet Truck, Assembly Line Vehicle), Industry Vertical (Automotive, & Others), Application (Transportation, Distribution, & Others), & Geography - Global Forecast to 2020."
The growing industrial pressure to produce more, in less time is creating awareness about the benefits of using AGVs for material handling and is a major factor driving the market growth. Furthermore, associated benefits of automated guided vehicles such as productivity, work place safety, elimination of was taxes, and visualization of material flow have encouraged investment sin automating the material handling process, thereby boosting the control automated guided vehicle market.
An increase in resource consumption is creating the need to focus on improving operational efficiency across all industries. This report on automated guided vehicle market reviews the latest market trends to project future growth prospects. An in-depth analysis on a geographic basis provides strategic business intelligence for investments in the automated guided vehicle market.
The study reveals profitable investment strategies for AGV manufacturers, electrical and electronics companies, business executives, product marketing managers, new business investors, and many more in preferred locations.
In addition to the above, the automated guided vehicle market has been segmented based on type, industry vertical, application, and geography. The automated guided vehicle market segmented on the basis of industry vertical has been categorized into automotive, manufacturing, food and beverage, aerospace, healthcare, logistics, retail, and others. It has been segmented based on application into transportation, distribution, storage, assembly, packaging, and others.
Each automated guided vehicle type, industry vertical, and application has been analyzed both in terms of qualitative and quantitative aspect, and includes a detailed analysis of all sub-segments. The competitive landscape section of the report primarily focuses on key industry players in the automated guided vehicle market, their latest developments, and respective market share ranking. Furthermore, the report entails emerging market trends, advancements in the technological space, market demand within the segments, key growth areas, automated guided vehicle market size, region-wise demand factors, and key competitors' analysis.
Companies profiled in this automated guided vehicle market research include Bastian Solutions LLC, Daifuku Co. Ltd., Dematic Gmbh & Co. KG, Egemin Automation Inc., EK Automation, Hyster-Yale Materials Handling Inc., JBT Corporation, Seegrid Corporation, Swisslog Holding AG and Toyota Industrial Equipment.
The report is now available at: http://www.reportsnreports.com/reports/294106-market-research-report-on-global-and-chinese-automated-guided-vehicle-agv-industry-2009-2019.html