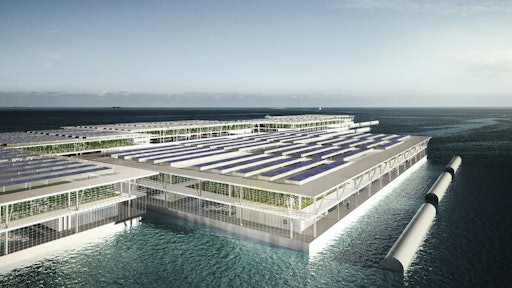 Barcelona-based company, Forward Thinking Architecture, has developed a commercially viable automated offshore floating farm system (or SFF) which could ease many of the world's food security related problems while increasing food production everywhere in proximity to a coastline, according to greenprophet.com.
Each SFF is a largely automated, multilevel floating food factory built using innovative, yet mature and well-tested materials, technologies, and systems already in use around the globe. The SFF can support both green farming (hydroponics) and sustainable fisheries (aquaculture).
The tri-level modules float on pontoons and boasts a total area of 209.610 square meters that include growing areas, offices, circulation and support space. Level 0 contains offshore aquaculture fish farms, external perimeter wave barriers and protection, water access points, storage, slaughterhouse, desalination plant and a packaging facility.
To read more, click HERE.