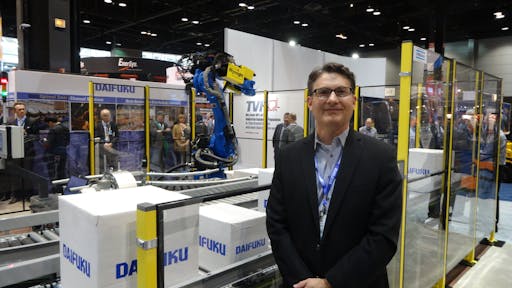 The excitement was electric on the second day at the ProMat show in Chicago's McCormick Place South as attendees found themselves deluged with innovative material handling offerings. The attendance was estimated above 35,000 as material handling users had a chance to see new robotics, software, telemetry and other solutions for managing the supply chain. Several of the floor show seminars had to turn away attendees due to the outstanding turnout. The ProMat show is sponsored by the Material Handling Institute (MHI).
Jim Hobbins, an account representative at Arbon Equipment Corp., based in Green Bay, Wis., which sells dock and door safety systems, said he came to see innovative door handling technology and wasn't disappointed by the trade show.
And while his attention focused on dock and door systems, Hobbins could not help but note a drone on display at one of the booths which made him realize how rapidly supply chain tools are changing. He said the exhibitor showing the drone specializes in warehouse management systems for yard management. The drone was presented as a tool that keeps track of trailers and trucks in the yard. "It sounds like they are using the drone in certain situations," he said. "The information it can provide can be very useful." He said the drone was being used to oversee field operations.
Jody Addicott, a design engineer for Lift Technologies Inc. in Westminster, S.C., came to see vertical mast innovations for lift trucks. He saw plenty of lift trucks on the show floor, but he couldn't help note the robotics on display at the FANUC Robots America Corp. booth. He said the robotic handling system allowed for a small, light-weight product to be moved quickly. He thinks robotics will be replacing workers in distribution warehouses faster than many people think.
Exhibitors commented that the traffic has been strong for the first two days of the show, especially the second day. Most are optimistic that the remaining two days will be strong as well. Many feel that the recovering economy has encouraged supply chain decision makers to invest in technology.
"It is very exciting to see all of the latest systems and automation at ProMat," said Jim Barnes, president and CEO of enVista, a supply chain consulting and IT services firm. Barnes gave presentations on warehouse management systems versus warehouse control systems and on inventory flow.
enVista released the latest version of its proprietary software, Model DCTM. enVista facility design engineers use this material flow analysis tool to analyze a client's distribution center and define opportunities for improvement within the facility.
Infor, a cloud service provider, announced its supply chain execution in the cloud. This solution combines warehouse management, labor management, 3PL billing and transportation execution in a single, unified solution. The solution is designed to help users optimize inventory, warehouse space and labor in the warehouse while streamlining the supply chain business processes.
Daufuki North America demonstrated Wynright's robotic de-palletizer, which uses 3D vision-sensing technology to de-palletize mixed cases from a Jervis B. Webb SmartCart automatic guided cart. The SmartCart uses magnetic tape guidance to travel to Wynright's  new energy-efficient Green Line conveyor for reloading.
ORBIS Corp., an international manufacturer of sustainable reusable packaging and an expert in reusable packaging for retail distribution applications, has introduced an all-plastic pallet designed to optimize the supply chain of small footprint retailers by eliminating product touches during the order replenishment process, from distribution center (DC) to store to floor.
With the 42 by 30 small-format HP pallet, full case and split-cases can be sorted and loaded at the DC. The pallet is then delivered to the store and used as a replenishment vehicle at the point of sale. Once pallets arrive at the retailer, they can be moved directly to the floor, reducing labor costs and maximizing storage space. With limited floor space and narrow doors, small-format retailers are seeking more efficient product deliveries. Its 30-inch width allows for easy access through narrow doorways and tight store aisles. Its contoured corners won't damage product and the solid body construction accommodates a variety of load sizes and weights.
Companies in this article