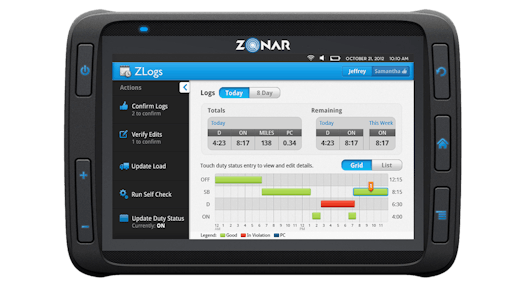 Knight Transportation Inc. has chosen the next-generation Android-based Zonar 2020 Mobile Tablet as the new telematics platform for its fleet.
"Applications that come with the Zonar 2020 Mobile Tablet will modernize our operations," said David Jackson, chief executive officer of Knight Transportation. "Knight Transportation chose the 2020 because it offers our drivers cutting-edge next-generation technology. Plus, with Zonar's open platform we have the ability to customize and deploy new applications to further enhance our operations."
Following a rigorous year-long testing process, Knight Transportation chose the 2020 Mobile Tablet to replace its existing telematics equipment, Jackson said.
"We set a high expectation for performance and long-term functionality," Jackson said. "We wanted a flexible and portable system that could help our drivers stay in touch, be more productive and operate safer trucks. We also wanted a system that could grow with our needs, advance as technology develops, and be affordable for out bottom line."
"The Zonar EVIR not only provides complete and legible reports, but also it automates the vehicle inspection process," Jackson said.
Zonar's EVIR, the only verified visual inspection system available on the market, simplifies the pre- and post-trip vehicle inspection process by making it easier for drivers to fill out their reports.
"We're thrilled Knight Transportation has chosen Zonar as its new telematics platform," said Brett Brinton, president and chief executive officer of Zonar. "With 2020 Mobile Tablet, Knight drivers can submit more accurate logs and stay in touch with company dispatchers more easily, providing the company and shippers greater visibility. Drivers can quickly determine which roads they can drive on. That can significantly reduce the chance of making a wrong turn. And they can submit timely and legible vehicle inspection reports identifying maintenance issues that Knight's maintenance shops can address, getting Knight's equipment back up and running more quickly."