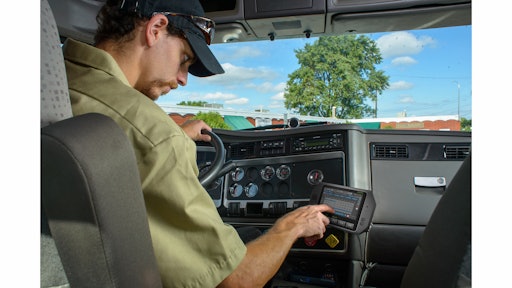 If the Department of Transportation's Hours of Service (HOS) mandate that took effect this year wasn't enough of a hassle for vehicle fleet managers, they soon face another mandate, the Electronic Logging Device (ELD) rule that ensures commercial vehicles are complying with the HOS rules. The ELD mandate, scheduled to take effect in late 2016, is designed to ensure drivers are not working over a maximum number of hours. (See sidebar on page XX.)
To help fleets comply with ELD, HOS and other regulations, telematic solution providers have introduced a variety of vehicle management solutions. As the systems evolve, fleet managers and drivers alike find that many of the solutions improve record keeping, location finding, vehicle maintenance, safe practices, route planning, temperature monitoring and other aspects of the job.
A telematic device installed in a vehicle connects to the engine control module. The device collects data and sends it via modem to a server that organizes it into reports. The device can also send the data wirelessly to a mobile computer in the cab and/or to an office. The computer(s) receiving the data can use it for any number of functions, including driver compliance, engine diagnostics, driver coaching, video cameras, temperature sensors or RFID readers.
Some drivers have found telematics-based solutions afford them more drive time since they can track their hours of service faster and more accurately. In addition, an electronic log that a driver can access with the push of a button helps them comply more easily with roadside inspections. Tracking HOS with an onboard computer can also help drivers avoid financial penalties under the Compliance, Safety Accountability (CSA) rules.
Fleet managers have found systems designed to improve safe driving practices can lower insurance premiums, which helps the company's finances and therefore supports job security.
Telematic solutions evolve
Fleet managers are finding telematics- based solutions bundle more functions. Integrated solutions allow a fleet manager to monitor more functions – such as vehicle's diagnostic activity, temperature, fuel usage and location tracking – without having to access as many different Internet portals.
Fleet management solutions are also allowing shippers to access functions that meet their specific needs, which can vary significantly.
Valley Proteins, which operates 450 vehicles and provides disposal services to supermarkets poultry processing facilities and restaurants on the East Coast, chose a hosted fleet management platform called Powervue from Cadec Gobal. Valley Proteins needed a fleet management solution that could be configured to its specific needs, so drivers would be presented with a workflow tailored to each type of pickup or delivery, says Paul Battista, project manager.
Picking up used restaurant cooking oils for recycling, for instance, requires collecting different data than does delivering other types of products. The system the company previously used could only prompt drivers with a loop of the same questions for every route dispatched, forcing drivers to navigate through unnecessary questions at each pickup and delivery.
The previous system also relayed data 20 to 30 minutes after the onboard computer sent it, which made it difficult for the company to accommodate last-minute pickup requests from customers.
"We're now able to plan and optimize routes based on orders from our planning system, and have those routes be displayed as maps with turn-by-turn directions to the driver," Battista says. "PowerVue then tracks the driver's progress, sending back real-time data including planned-versus-actual results for all pickup and delivery activities."
The solution is also helping Valley Proteins measure both driver and fleet behavior, such as idling and sudden decelerations, to improve safety and save fuel through its performance management scorecards. The company is planning to implement a DVIR solution, which enables drivers to complete paperless inspection reports that are compliant with FMCSA regulations; and a speed tracker which provides speed-by-road segment data to track driver behavior against established speed limits.
Technology improves reliability
Shippers that have deployed some of the newer telematics solutions are not only reaping the benefits described above. Those that don't manage inbound freight or outsource some of their deliveries are learning the telematics solutions have enhanced the reliability of their carriers. If a carrier provides real time vehicle data to a customer, the customer can know if a shipment is on schedule. The shipper, for his part, can provide the same service to his own customer.
"When you get a call from a shipper, they need to know if the truck you have is available and if the driver has hours available. Historically it was hard to know," says Rick Ochsendorf, senior vice president of operations at PeopleNet, a provider of fleet mobility technology. Now it is possible to know if the truck is available, if the driver has available hours, and if the distance he has to drive will not exceed his available hours, he says. "Geofencing and routing tools let you know if the driver is within a reasonable distance of where he or she must go," Oschendorf says. "You have less guessing. Shippers and receivers don't like guessing."
"If you have 500 trucks and you can eliminate five of those situations a day at over $500 per day per truck, that adds up very quickly," he notes.
Family Tree Produce, a produce and dairy distributor operating 33 trailers based in Anaheim, Calif., recently deployed a telematics solution to improve its vehicle location and vehicle activity monitoring. Bill Grigsby, IT manager, says the Geotab subscription-based solution costs less than the GPS system the company was previously using and includes more features. The Geotab solution provides data to the Greenmile cloud-based route management system to automatically update information regarding estimated arrival and departure times at customer locations for web-accessible track-and-trace capability.
The Geotab solution also eliminated the need for a separate temperature monitoring system, Grigsby says, since the onboard computer tracks the temperature sensor readings. "This encompasses everything all in one," he says. He likes using a hosted system. "We didn't have to house the software here," he says. "They (Geotab) handle all the maintenance and the updates."
The activity tracking was helpful to Family Tree Produce when a driver had an accident and had to file a police report. The system has also qualified the company for a vehicle insurance discount.
Geotab's solution has four key pillars: 1) productivity tracking – vehicle tracking, temperature monitoring, tire pressure, etc. 2) fleet optimization – fuel consumption, route optimization, diagnostic data, etc. 3) safety – speed, seatbelt use, braking, in-vehicle coaching, accident notifications, and 4) regulatory compliance – HOS, DVIR, IFTA (international fuel tax agreement), etc.
Maria Sotra, Geotab's director of marketing and communication, says the system is designed to be flexible since customer needs vary. Fleet managers can customize reports, dashboards and exceptions depending on the fleet's individual needs in the MyGeotab interface. "What makes the system most powerful and exciting is the ability for customers and partners to leverage our APIs and software development kit to bring in third party applications into the MyGeotab interface or to integrate their vehicle data to other applications within their back end," she says.
Solutions improve vehicle and route visibility
GreenMile's cloud-based transportation suite allows users to monitor fleet performance against their planned routes, providing real-time feedback on what's happening in the field and automatically passing this updated information back into their route planning software to create better routes going forward, says Jeff Lear, vice president of sales. "With the click of a button they can compare a vehicle's progress against the route plan, providing visibility into the delivery day and allowing the distributor to easily answer the 'where's my delivery' question from customers."
The GreenMile Live solution functions as the "command center" of the system, providing insight into what's happening with routes, drivers, customers, and orders. With multiple map views including Google satellite and Google street view, fleet managers can quickly identify the planned route, customer locations, and status of their vehicles. They can drill down into any number of dashboards and reports to get key performance indicators on their mobile assets and transportation goals. Additionally, the distributor can choose to provide their end customer with access to the real-time delivery information through the GreenMile Delivery app, available on any Android or iOS device, Lear says.
Telematic solution providers are offering more fleet and driver management options that include both hardware and software.
Telogis offers a single-platform, scalable, web-based solution which it refers to as "vehicle as a hub." The onboard device interfaces with other wi-fi readers such as RFID readers, onboard cameras, temperature sensors, driver safety alerts and other functions. "That's where it's going," observes Kelly Frey, vice president of product marketing.
Shamrock Foods, a Denver, Colo.-based foodservice distributor with a 500-truck fleet, recently selected XRS mobile fleet optimization and its mobile application programming interface to improve customer service, comply with FMCSA regulations and the upcoming ELD mandate. Shamrock chose XRS for its ability to build driver workflows in a standard environment. Shamrock will use handhelds that run the XRS application for compliance and truck performance data, in conjunction with proof of delivery applications from Systems Application Engineering, Inc. (SAE). The driver has one application for both tasks. The company chose this option over fixed modem, single-purpose hardware.
Improve maintenance and inspections
The Zonar solution allows a fleet's maintenance department to enhance service scheduling and repairs with real-time vehicle data, notes Andrew Johnson, vice president of marketing. The remote diagnostic data indicates if a fault code has been tripped, providing maintenance with information to prioritize and schedule repairs, also preventing accidents or break downs. The onboard computer tracks diagnostic engine data, fuel consumption and GPS coordinates and the customer subscribes to hosted, web-based software.
In addition to remote diagnostics, Zonar offers an electronic vehicle inspection reporting system using RFID tags in conjunction with a handheld device. The driver uses the device to scan RFID tags that are placed on different inspection areas of the vehicle. The RFID tag contains information about each inspection zone and the driver selects conditions from pull-down lists on the handheld device that are then sent to the fleet management software.
"You can ensure that all your vehicles are properly inspected," Johnson says. "The process helps ensure inspection compliance while maximizing uptime for all the vehicles."
The RFID tags are custom configured to meet the inspection needs of a variety of vehicle, load and equipment types.
Truck manufacturers including Freightliner and Western Star are installing the Zonar system on their new models to help improve their service and help customers easily take advantage of telematics, Johnson says.
Improve temperature monitoring
The sanitary transport section of the Food Safety and Modernization Act will make temperature monitoring more important in perishable food transport, predicts Tim Shessarre, president of Cooling Concepts LLC. This is why the trailer leasing company has embraced a telematics solution from International Telematics (IT). "You have to have a trail of data from step one all the way through the process of delivery," Shassarre says.
Shessarre doesn't know how the sanitary transport rules will be enforced. He says the state of Indiana is already enforcing it.
The IT solution's real-time information improves food safety by ensuring that refrigerated products are delivered on time and within temperature tolerances, Shessarre says. The system also provides detailed driver behavior reporting and alerts that can be used to train and incentivize drivers' safety and increase fuel savings, while taking the guesswork out of record keeping.
The IT solution also complies with the California Air Resources Board's (CARB) automated recordkeeping requirements for electric standby-equipped transport refrigeration units, Shessarre says. The rules govern the temperature from the time the product goes on the truck to when it is removed. If the truck stops, the driver must be able to report how long the temperature stays within a certain range.
Telematics technology also allows fleet managers to be alerted to open door durations in addition to reefer temperature and maintenance alerts, according to Chris Gilham, senior system support specialist at Cooltrax, a U.S.- and Australia-based provider of a wireless monitoring solution. Cooltrax has marketed its solution in the U.S. since 2009. United Natural Foods, Inc., the nation's largest distributor of organic and natural food products, is currently in the process of implementing the CoolTrax solution in its fleet of 700-plus refrigerated trailers.
Reefer fleet managers have historically had to trust their drivers to keep units running properly and limit the length of time doors are open while on route, Gilham notes.
Wireless technology that communicates data using cellular connections enables a fleet manager to remotely control the internal environment of every reefer unit via the company's FreshApp web portal. Wireless sensors collect data including the temperature of product throughout the duration of the route as well as the number and duration of door openings.
Fleet managers have more options to consider in choosing a telematics-based solution for complying with regulations. While the solutions require an upfront investment, fleet managers are finding they improve driver performance and enhance fleet management overall.
SIDEBAR:
ELD Helps Fleets Comply With HOS And Other Driver Safety Rules
The electronic logging device (ELD) mandate is one of several regulations for commercial truck drivers enforced by the U.S. Department of Transportation's Federal Motor Carrier Safety Administration (FMCSA).
The ELD, which takes effect is 2016, is a way to enforce the drivers' hours of service (HOS) mandate, which limits a driver's working hours to 70 hours in order to lessen the risk of fatigue-related accidents.
In addition to the HOS, every commercial driver must also record the name of the driver, duty status, date and time, location of their vehicle, distance traveled, and the USDOT number of the motor carrier.
Another regulation affecting the transportation sector is the Comprehensive Safety Analysis (CSA) 2010, a program administered by the FMCSA designed to improve truck safety and reduce accidents by tracking and evaluating carriers. CSA's Safety Measurement System (SMS) calculates the preceding two years of trucking violations and crash data, and determines a safety score. The information used to calculate a safety score includes crash reports, roadside inspection reports and violations discovered during interventions.
In addition, FMCSA's Driver Vehicle Inspection Report (DVIR) is requires drivers to create a report on their vehicle's equipment.
For more information:
Cadec Global, 800-252-2332, cadec.com
Cooling Concepts, 866-2225-7623, cooling-concepts.com
Cooltrax, 877-667-6868, cooltrax.com
Geotab, 877-436-8221, geotab.com
Greenmile, 855-504-4118, greenmile.com
International Telematics, 646-688-2350, internationaltelematics.com
PeopleNet, 888-346-3486, peoplenetonline.com
System Applications Engineering, 713-783-6020, saesystems.com
Telogis, 800-787-2337, telogis.com
XRS, 866-440-9282, xrscorp.com
Zonar, 877-843-3847, zonarsystems.com