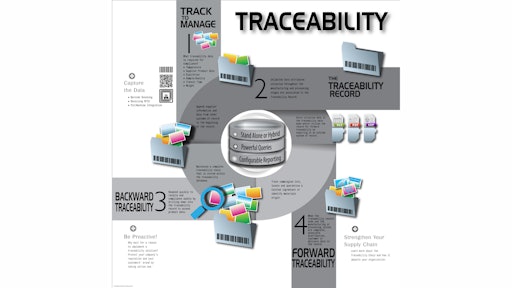 Radley Corp. has introduced x/DC4, the 4th generation of its technology platform to bring additional features and functionality that will assist with numerous Food Traceability Initiatives being driven by customer needs and requirements. Radley's enterprise-class solutions, including software and services for Traceability, EDI, Integrated Data Collection, and Asset Tracking, provide flexible software with a modern and sleek user interface.
With the list of contaminations and recalls on the nation's food supply continuing to grow each day, it's no surprise the Food Safety Modernization Act (FSMA) is quickly gaining importance within the Food & Beverage industry. Radley saw the focus shift from how best to respond to recalls to how best to prevent them and realized its software had already been helping many of its customers improve quality and maintain compliance for over 20 years. "By building upon our existing technology we knew we could expand our solution set and provide even greater assistance to organizations working to comply with the new food safety rules," said David Barks, vice president of Radley Data Collection.
Defining, building and storing traceability records throughout a manufacturing or processing cycle for reference in response to an audit, recall or quality issue can be labor intensive and require numerous steps in the traceability chain when done manually; a topic discussed in greater detail in Radley's recently published whitepaper "TRACEABILITY: Sourcing the Data." Identifying what data attributes are required to be compliant is tough enough, Radley noted, but add to that trying to determine where within the process data needs to be collected, how to collect it and where all that data will be stored for reporting purposes can be a daunting task. Many organizations simply get overwhelmed and choose to wait until an event forces them to respond.
Enhancements made to x/DC4 allow Radley's Traceability solutions to be implemented as a complete standalone system or as a hybrid; integrated to compliment an existing ERP or business system. It simplifies the collection of unlimited data attributes and stores them within a secure database where a robust query and configurable reporting options make it easy to drill down into the traceability record details and granular parent/child relationships. Radley can help evaluate manufacturing and processing cycles to suggest solutions for replacing manual efforts into lean, efficient and automated traceability systems that allow customers to be proactively compliant and protect their company's reputation and brand.