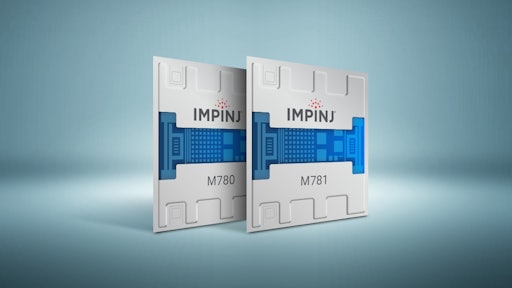 Impinj
Impinj, Inc. introduced the Impinj M780 and M781 RAIN RFID tag chips to connect everyday items, including automotive parts, pharmaceuticals, food and more that require extended product identifiers, large user memory or both. These new tag chips are designed to help enterprises manage product shelf life, reduce waste and comply with regulations.
"The Impinj M780 and M781 tag chips are the latest additions to the Impinj M700 series, adding large memory options to the proven performance, quality and reliability of the M700 product line," says Jeff Dossett, Impinj chief revenue officer. "Manufacturers can use the Impinj M780 and M781 tag chips' large product identifiers to meet regulatory compliance or industry-specific identification standards. Large user memory allows storing item-specific information, such as an expiration date, to manage product shelf life and reduce waste."
From BusinessWire:
The

Impinj

M780 chip includes 496-bit Electronic Product Code (EPC) memory and 128-bit user memory and the

Impinj

M781 chip includes 128-bit EPC and 512-bit user memory. These memory sizes are optimized for extended product attributes such as batch/lot data, production date, expiration date and weight. The new chips also support current GS1 tag encoding recommendations.

Both chips support next-generation RAIN solutions with best-in-class sensitivity and adaptive tuning that optimize tag performance on a broad set of materials.