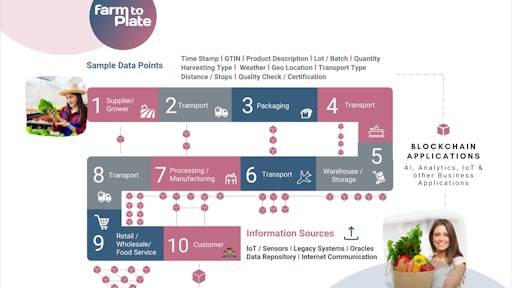 Paramount Software Solutions
Paramount Software Solutions developed Farm to Plate, a blockchain platform designed to enhance and extend data sharing transparency in the food supply industry.
"Activities in the physical world are well defined, like farming. To this point, digital food supply chain documentation has not included that primary origin stage," says Saptarshi Choudhury, director of emerging technology at Farm to Plate. "Farm to Plate converts those elements into trackable digital data, creating traceability going all the way back to the farmer. Ours is a grassroots level approach that is missing in other solutions."
"In addition to the logistical ramifications of a product being pulled off the shelves, there is a hit to consumer confidence," says Choudhury. "Farm to Plate enables a flexible, responsive solution to the logistical challenges of a recall and transparency available to consumers who want to know where their food is coming from."
From BusinessWire:
Farm to Plate's module design began with track and trace, and is scheduled to go live in September. From there, the company plans to add trade, transport and other modules one at a time, adjusting each to work in conjunction with the full end-to-end solution from farmer to consumer.
Modules can be used in conjunction with one another or individually as a microservice. Preliminary food demographics include meat, cheese and produce, with a geographic focus on the U.S., Mexico and Canada.