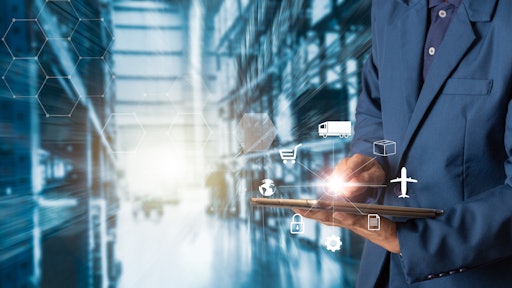 Getty Images
Evolving consumer expectations and the Coronavirus disease's (COVID-19) impact on the supply chain have accelerated the food industry's readiness to pioneer new technologies in inventory management. As seen in 2020, consumer loyalty was shaken loose and reshuffled according to what products were available when, where and how customers wanted to purchase them. Out-of-stocks, even pre-COVID-19, cost retailers billions in annual revenue.
A major speed bump in responding to the rapid-fire impacts of the pandemic was a lack of visibility across the supply chain, and 76% of retailers acknowledge this is a key area for improvement. There's a growing imperative for transparent access to information related to raw materials, finished goods, warehouse inventory, goods-in-transit, backroom and on-shelf availability, ideally integrated with sales transactions and demand forecasts. With a growing list of emerging technologies and a motivation to adopt them, we're approaching a much-needed era of programmatic commerce with an automated, integrated supply chain that can perform at speed and scale. Here are some important areas of innovation leading the cold food chain toward the future.
Automated replenishment
Automated replenishment is a particularly promising area of innovation in food retail. Linking sources across the supply chain establishes the foundation, allowing each player to respond to changes and trigger necessary actions to meet customer demand. The process starts by connecting an accurate picture of demand from real-time sales and forecasts to available inventory. The forecast can then be communicated to fulfillment engines that dynamically understand available-to-promise inventory and can execute fulfillment alerts when new inventory needs to be ready. This may trigger the rebalancing of existing inventory between locations and/or upstream operations to ensure timely production. All of this is made possible with machine learning, which eliminates the need for human trial and error and allows real-time data-based decision-making in response to changing circumstances.
Shopping has changed, and so will fulfillment
Now that e-commerce has hit the mainstream in grocery, the way we stock and store inventory is changing. Physical stores are increasingly becoming localized distribution facilities that allow consumers to choose how they get their groceries -- whether in-store, with curbside pickup or with same-day home delivery.
To enable this, inventory warehousing is moving closer to point of purchase. Re-thinking warehouse design, infrastructure and automation has become a top priority to support more efficient, effective order picking and fulfillment. Micro-fulfillment centers help retailers make e-commerce profitable by taking the responsibility off of stores while moving fulfillment closer to the point of delivery. They can also be optimized for primarily automated, rather than manual, picking. Other locations have already become hybrid stores that serve both in-person and online shoppers, with retailers rationalizing SKUs to make room for larger back-rooms that can support online ordering. Retailers are also turning select stores into dark stores, or online-only "click-and-collect" centers that no longer admit shoppers.
These advancements also have the potential to improve supplier relationships. Food brands will be able to collaborate with retailers to understand the evolution of their total store network in the short-, mid- and long-term, and consider how that will impact production and distribution plans. This means forecasting has to be accurate -- as a single figure that can be delivered regardless of when, where and how customers want to receive their products.
New hardware transforms the last 60 feet
A host of tools are being developed to close the data gap on the last 60 feet inside the store. The number of products providing sensing technology has ballooned.
In addition to helping retail operations, this information should be shared with customers -- at item selection, not just checkout. Mercatus/Incisiv research reports that 66% of shoppers rate real-time inventory visibility as very important. Smart shelves can help here, identifying a stock-out, promoting a substitute product, or even changing pricing in real-time to reflect a shortage or surplus. With updated information on hand-held mobile devices, frontline employees and order pickers can help customers get exactly what they're looking for.
Where sensing isn't available, modeling is. For players who don't have access to in-store hardware, modeling can provide a clear picture of real-time shelf availability. The IRI CPG Supply Index has developed a model to analyze point-of-store and inventory data to help a broader range of consumer packaged goods (CPG) players determine in-store availability.
Realizing the future of inventory
The key to realizing this new vision for inventory is connectivity. This means breaking down silos across the supply chain -- between forecasting and inventory; retailer and supplier; online and offline purchases; and on-shelf and backroom.
The challenges most difficult to overcome during the pandemic were those that required direct outreach to suppliers, external partners and customers, and existing procurement and sourcing agreements did not facilitate reasonable data access or exchange in a timely manner. But, this is changing to everyone's benefit.
Data connectivity has already become a top priority in digital transformation for many retailers. Many have already seen improved supplier relationships and responsiveness as a result of increased data-sharing. Others have even connected their inventory to their supply chain partners, helping both better serve their customers. When greater data collaboration is paired with emerging inventory management technology, we will see a supply chain that can keep shelves stocked and customers happy, regardless of what happens next.